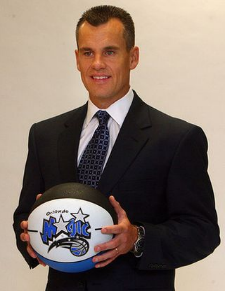 The marquee matchup of the season opening Global Sports Shootout happens tonight in Columbus, as part of the WWL's 24-hours of nonstop college hoops.
The same scenario played out last year in Gainesville, where Ohio State stunned the home crowd by easily taking down the Gators, 93-75. It was UF's worst loss on the season, but they rebounded to finish 29-8, losing to Butler in OT in the Elite Eight.
This will be the 12th meeting between the two schools, with OSU holding a 7-4 advantage. Both teams have been ranked in the top 10 in 3 of the last 4 meetings.
| # | Name | PTS | REB | ASST | POS | # | Name | PTS | REB | ASST |
| --- | --- | --- | --- | --- | --- | --- | --- | --- | --- | --- |
| 4 | Aaron Craft | 10.0 | 3.0 | 3.0 | G | 1 | Kenny Boynton | 19.0 | 3.0 | 3.0 |
| 32 | Lenzelle Smith Jr. | 8.0 | 7.0 | 1.0 | G | 11 | Erving Walker | 10.0 | 4.0 | 4.0 |
| 44 | William Buford | 13.0 | 2.0 | 4.0 | F | 23 | Bradley Beal | 14.0 | 2.0 | 3.0 |
| 1 | DeShaun Thomas | 9.0 | 5.0 | 0.0 | F | 33 | Erik Murphy | 6.0 | 4.0 | 2.0 |
| 0 | Jared Sullinger | 19.0 | 9.0 | 1.0 | C | 4 | Patric Young | 12.0 | 10.0 | 3.0 |
Opponent
Billy Donovon enters his 16th season (give or take a few days) at Florida and unlike Thad, has a somewhat veteran group. He lost 3 starters from last season, but starts 2 juniors and a senior, along with a junior 6th man. Five players scored in doubles firgures in Florida's 99-59 win over Jackson State and 10 players saw 10+ minutes of action. I expect both coaches to shorten their rotations tonight, but if Donovon does decide to use his bench, only 1 of the 10 is a freshman.
The Gators use an up and down attack, relying heavily on the 3-point shot at times. They took 30 bombs in their opener, hitting 13 of them, but also nailed 26/46 from inside the arc. The Gators controlled the glass 40-25 on Friday, while also forcing 23 TO's.
Coming off the bench first will be Rutgers transfer, Mike Rosario. The 6'3" junior averaged 16.7 PPG as a sophomore, after being named to a few freshman AA teams. He scored 19 points in 20 minutes off the bench Friday, hitting 5/8 from deep and 7/12 overall from the floor. With Boynton and Walker leading the Gators in scoring last year, adding Rosario and freshman Beal makes this one of the best backcourts in the nation.
Also, potentially seeing some time tonight will be a trio of sophomores, 6'6" Casey Prather, 6'7" Will Yequete and 6'2" Scottie Wilbekin. All three didn't play much last year, but combined for 15 points/12 boards in 45 minutes on Friday.
Buckeye Breakdown
As expected, Ohio State easily took care of Wright St. on Friday, 73-42. Nine players saw 10+ minutes and Evan Revenal played 9. As I mentioned earlier, Thad will more than likely shorten his bench tonight, to continue his "win at all cost" attitude.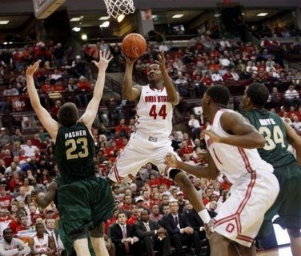 With 9 freshmen and sophomores in the potential rotation, Thad can't risk any scoring droughts when different combinations are used throughout the game. I think he has trust in Siebert and Ravenel, but it will be interesting to see how he uses Weatherspoon, Thompson, Scott and Williams.
Ohio State brought good defensive pressure against WSU, but that will need to be taken up another notch if they want to win tonight. The Buckeyes allowed Florida to shoot 62% from the floor last year, but forced 18 TO's, while commiting just 8 themselves. OSU held the Raiders to 32% shooting and forced 23 TO's.
I think Lenzelle has to be a difference maker on D tonight. He'll have a height/reach advantage regardless of who he guards, so hopefully he can hold Rosario or Beal to below 10 points. Another key player for tonight will be Ravenel. He's not going to be a scoring threat, but he has to give this team 8-12 quality minutes per game until Amir Williams gets the hang of things.
There are a couple of keys tonight for Ohio State, if they are going to avoid the early season upset. First, they need to control the boards. Florida snagged 21 offensive boards in their opener and there's going to be plenty of long rebounds off missed 3's tonight. If OSU can keep UF one and done, while grabbing a few O-boards of their own, it should help slow Florida down.
The other key is avoiding mental mistakes, including turnovers. Thankfully, we have Aaron Craft, who never seems to get rattled, but we also have DeShaun Thomas, who has a tendency to get lost on D. One of Ohio State's weaknesses at times over the last couple of years is perimeter defense, they simply can't let Florida get comfortable behind the line.
It's going to be one hell of a battle and I think it's closer than last year, but Ohio State still wins, 72-66, as the home crowd becomes a difference late.
Etc
Ohio State is 49-5 in their last 54 games and have held opponents to under 67 points in their last 10.
William Buford is now 21st on the scoring list, 4 behind Bill Hoskett and 21 behind David Lighty.