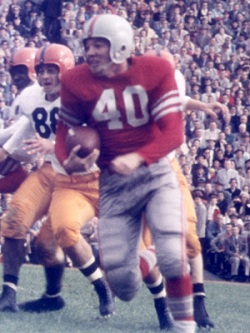 I have a standing rule regarding these flashback posts, one that says I never write about a game I did not watch or listen to either in person, on television, or on the radio. Since Ohio State has only played Nebraska twice, and both games were prior to my birth, I'll need to break my rule. In this case, it's a pleasure to break it because I get to talk about a couple of OSU's all-time greats.
Howard "Hopalong" Cassady was a hometown hero, having excelled at football and baseball at Central High School in Columbus. He became a star running back at Ohio State as a junior, winning All-American honors and finishing 3rd in the Heisman Trophy balloting. In those days, two-way players were the norm, and Cassady also played defensive back. It was said that no one ever beat him deep during his time at OSU. Cassady led the Buckeyes to a national championship in 1954, the first such championship for legendary coach Woody Hayes.
At that time, Hayes was beginning to perfect his famous three-yards-and-a-cloud-of-dust offense, and Cassady was the main beneficiary. But gaining all those yards on the ground was not possible without a powerful offensive line. Fortunately for Hayes, he had just discovered a young man who would become OSU's greatest offensive lineman, and one of the best of all time at any level.
Jim Parker hailed from Macon GA, but his family moved to Toledo prior to his senior year of high school and he played that year for Scott High School. Hayes took notice of the bruising blocker from Georgia and offered him a scholarship. Parker became a starter late in his sophomore season at OSU and led the way in blocking as Cassady rushed for 92 yards in the Rose Bowl against USC. Ohio State won that game 20-7 to cap an undefeated season and win the aforementioned national title. In 1955, both Cassady and Parker returned to give the Buckeyes a solid nucleus for their ground-based offense.
The 1955 OSU team would open their season with a home game against Nebraska. The Cornhuskers were coached by Lancaster OH native Bill Glassford, and their fortunes had improved somewhat during Glassford's tenure. Nebraska had been a national power during the 30's, but their roster was depleted during World War II (like most non-service academy schools) and they fell into obscurity for almost two decades. Glassford led them to a top 20 ranking in his second season, but then endured 3 mediocre-to-awful seasons before improving to 6-5 in 1954. The Cornhuskers went to the Orange Bowl that year, but lost 34-7 to Duke(!!).
Prior to facing Ohio State, Nebraska welcomed the University of Hawaii football team to Lincoln for what was expected to be an easy win. The 'Huskers had won 50-0 in Honolulu the previous season, and Hawaii was bringing only 28 players to Lincoln for the re-match. Ah, but that's why they play the games. Hawaii dominated the game and ultimately left with a 6-0 victory. Obviously, Nebraska was looking ahead to their trip to Columbus and the game against Ohio State. Buckeye fans no doubt anticipated an easy win for their team over the visitors from Lincoln, but it would not turn out that way.
The Nebraska players came out with a chip on their shoulders, determined to prove that they could play with the best of the Big Ten teams. In fact, they led briefly in the 2nd quarter after LB John Edwards intercepted an option pitch by OSU QB Frank Ellwood and returned it 87 yards for a touchdown. But in the end, there was too much Parker, too much Cassady, and too much of the famed Hayes ground game for Nebraska to handle. 
Cassady rushed for 170 yards and 3 touchdowns, breaking Chic Harley's OSU record for career rushing TD's in the process. He also broke off a 43-yard run to the Nebraska 2 that set up Ohio State's last touchdown. Overall, the Buckeyes rushed for 321 yards and held Nebraska to only 138. The defense also forced 4 turnovers to offset NU's 187 passing yards. The 'Huskers fought hard, but OSU prevailed for a 28-20 victory.
Nebraska would win 5 of their last 8 games to finish at a respectable 5-5 overall and 5-1 in the Big 8 Conference (2nd place). Glassford would retire at the end of the season to go into private business. The Nebraska program would continue to languish until the hiring of legendary coach Bob Devaney in 1962. Ironically, the man who hired Devaney was former Ohio State QB Tippy Dye, then serving as AD at Nebraska. Many of you may recall that until 2006, Dye was the only OSU QB to register 3 wins over Michigan.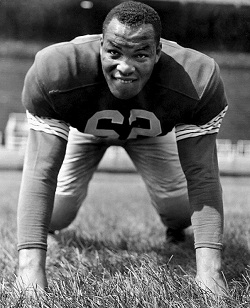 Ohio State's 11-game winning streak would end the next week when they dropped a 6-0 road contest to Stanford. Two weeks later, OSU would lose a home game to Duke(!!!) 20-14 and suddenly the defending national champs stood at 2-2, having beaten Illinois in the Big Ten opener the previous week. The Buckeyes rallied behind Cassady and Parker and they won their last 5 to capture another outright conference championship. However, there was a rule in those days that no team could appear in the Rose Bowl in consecutive seasons and so Michigan State went to Pasadena while OSU stayed home.
Cassady finished the season with a heroic 146-yard effort in a 17-0 win at Michigan. It was Ohio State's first win in Ann Arbor since 1937. "Hopalong" won the Heisman Trophy in a landslide, tallying the highest margin of victory up to that time. The man who informed Cassady that he had won was former OSU graduate assistant George Steinbrenner, a friend he had met playing baseball for the Buckeyes. After playing for 9 years in the NFL, Cassady worked for his old friend in both his shipping business and for the New York Yankees.
Jim Parker would be named All-American in 1955 and again in his senior season of 1956. As a senior, he would finish 8th in the Heisman Trophy balloting and would ultimately be drafted 8th overall by the Baltimore Colts. He also became the first Ohio State player to win the Outland Trophy, symbolic of the nations best interior lineman. Parker played both offensive and defensive line at Ohio State, but in the NFL he concentrated on playing offense, and it paid off big-time.
Parker played for 11 seasons with the Colts, was named All-Pro 10 of those seasons, and went to 8 consecutive Pro Bowls from 1958-1965. He retired from football after the 1967 season, and in 1973 he was named to the Pro Football Hall of Fame in his first year of eligibility, becoming the first full-time offensive lineman to be so honored. In 1994, Parker was named to the NFL's 75th Anniversary All-Time Team, and in 1999 he was listed at #24 on The Sporting News list of the 100 Greatest Football Players. He was also named the top offensive guard on Sports Illustrated's NCAA All-Century Team for the 20th century.