In 2008 there was Pryor, Brewster, Shugarts, Adams, Wells, Sabino, Sweat, Williams, and Posey. In 2009 it was both Halls, Newsome, Carter, Boren, Simon, Homan, Barnett, and Klein. In 2010 you saw Bryant, Norwell, Hankins, Brown, Basil, and Hyde. In 2011 who will you see?
If you haven't caught onto what we're talking about yet, the aforementioned names are all players who have had the opportunity to touch the field as freshmen at Ohio State in the last three recruiting classes.
While Jim Tressel was conservative and always leaned towards seniority in playing the more tenured personnel, he did put the best players on the field and the players just named all proved to be worthy of at least seeing time on special teams during their first seasons in Columbus.
With Luke Fickell at the helm, we're not sure what to expect, but something you can bet on is that with just one season to prove he deserves the permanent head coaching job, Luke will be putting his best team on the field each and every game.
When talking freshmen, that means you may be soon learning quite a few new names, as the 2011 recruiting class was one of the better, if not the best Tressel brought in during his tenure atop the Buckeyes football program.
Having up to six players suspended for a part of the season (Herron, Posey, Adams, Thomas, Whiting and possibly Linsley), three recent transfers (Newsome, Bell and Louis), and two players injured for the season (Evege and Crowell), and over twenty other players departing from last year's roster, there will be plenty of opportunities for some of the newcomers. While you know the obvious names expected to step up (see: Miller, Braxton), you may not be aware of some of the players operating under the radar at this point.
For the first part in our two-week season preview, we will introduce you to these newcomers and give you the scoop on who to expect to see, what you can expect from them, and how they can impact the overall success of the 2011 Ohio State football season. Join us after the jump to learn about the Scarlet and Gray's fresh meat.
Starting with the quarterback position, I believe you're all aware of Braxton Miller. At 6-3/210 Miller lacks the size to completely dominate defenders like his predecessor did, but he's already a more advanced passer than Pryor was in his sophomore season and his legs aren't something to worry about either. Miller is firmly entrenched in a quarterback battle with redshirt senior Joe Bauserman, redshirt sophomore Kenny Guiton, and redshirt freshman Taylor Graham, but many expect this to be a Bauserman-Braxton battle in the end, possibly running through the first game or two of the regular season. I think by season's end you will be seeing #5 behind center, as he will prove to be the best option for the team to win games, while also allowing the future to come now for Ohio State football.
Dane Sanzenbacher and Taurian Washington graduated, and DeVier Posey is suspended for the first five games, leaving the OSU wide receiver corps young and thin early on in camp. Verlon Reed and Philly Brown seemed to have emerge as the starters to begin the year, but Evan Spencer and Devin Smith are not going to let them off the hook easy. While it's unlikely either start this year, it's also unlikely either redshirt, as early reports from camp have been high on both of these stand out freshman.
Smith was an under-the-radar recruit for most of last season, but offering him a scholarship may be the best move the Buckeyes made for the class of 2011. He seems to have a work ethic many seniors even lack and has speed to burn, as he was a track star in high school as well. Smith has done an excellent job in camp so far in all areas of his game and I wouldn't be surprised to see him on the two-deep in time for the Miami game.
Spencer is the son of former Buckeye Tim Spencer and while his pedigree lead him to Columbus, his talent is something to talk about as well. He's everything you would expect from a former player and coach's son-hard working, determined, well behaved, student of the game-and being around the game for as long as he has seems to have paid off in camp thus far. Evan has shown a knack for being sure-handed, a precise route-runner, and a good blocker, something many veterans currently on the roster still struggle with. He reminds me a lot of Brian Robiskie and we all know how #80's Buckeye career turned out.
Speaking of wide receiver, it looks like Jake Stoneburner will be utilized in the slot often this season to help off-set the youth and thin depth at the position. That means Reid Fragel will be serving as the defacto first team tight end, with only two freshmen left to back him up in Jeff Heuerman and Nick Vannett. While I think Vannett will likely redshirt, the 6-5/240 Heuerman enrolled in classes back in January and quickly proved he should be given time immediately this upcoming season.
Heuerman's primary role in the offense this year will be to block, but during the reps he has received in spring ball and camp thus far, he has proven he can get out and catch the ball as well. The Naples, Florida native and son of former Michigan hoops star Paul Heuerman, Jeff is one of those names most Buckeye fans will learn during the first half of the year, as you can expect him to see a lot of playing time from the get-go. As previously mentioned, with Stoney used as more of a pass-catching threat this year (love it!), the Bucks will utilize three tight ends frequently, so when you see #86 trotting out, just know Jake Ballard has not decided to return for one more year. In Heuerman it looks like the Bucks have solidified their tight end position for the next four years and who knows, maybe wearing that #86 will bring us more than just one of these?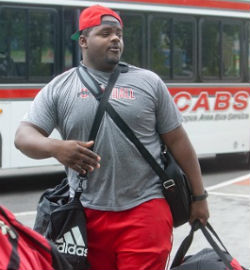 On the offensive line, Jim Bollman has four new faces to work into his rotation with Chris Carter, Brian Bobek, Antonio Underwood, and Tommy Brown. As of today, and this could change, it's looking like Underwood will redshirt and Bobek could join him as well, as many think he needs to get a little stronger before seeing consistent playing time at the college level. That leaves the massive 6-6/375 Carter and the 6-5/320 Brown to possibly see minutes in year one.
Carter may be 375 pounds at this point, but he holds his weight well and from what we've seen so far, can move pretty well for a guy his size. He is seeing reps at both tackle and guard, which is good as the Bucks will be thin in both positions early on with Adams and potentially Linsley suspended. He is easily the offensive lineman out of this young group that has impressed the veterans the most, and we expect that the coaches have to like what they've seen so far as well. The only thing that would keep him off the field this year is his weight, an enemy he may be battling throughout his career.
Brown enrolled in classes back in March, just in time for spring ball. While he certainly took his lumps during those practices (playing primarily right tackle), I think the experience of fall camp and being in the system longer than any of the other freshmen will allow him to see some time this season. I project Brown in the long term as a guard, but the ability to swing out to tackle on the strong side is certainly valuable, especially playing for Bollman, a coach who sees versatility as being extremely important.
Moving over to the defensive side of the ball, there are two young men on the line that stand out thus far and they are Joel Hale and Michael Bennett. Hale is a Johnny Simon disciple and has taken to hanging on the coat tails of All Flannel Tops. He came in back in January and impressed right away, likely earning himself a spot in the defensive tackle rotation this year. Bennett is an absolute monster and at 6-3/280 also figured to be in the mix at tackle. While he still may end up there down the road, big #63 is seeing a lot of time at strong side end, which is where Cameron Heyward played last season. I don't expect Hale or Bennett to be starters at any point this season, but both players add to what will be an extremely deep and talented defensive line rotation.
At linebacker, Ejuan Price ditched the Bucks for Pittsburgh and Conner Crowell is out for the year with an injury. That leaves Curtis Grant and Ryan Shazier as the only two healthy freshmen linebackers on the roster, but the good news there is that they are also the most talented of the 2011 haul as well.
Curtis Grant is a pure man-child. He was rated the #1 outside linebacker in the country last year, but at 6-3/247 will get most of his reps at the MIKE position this fall. With Storm Klein, Etienne Sabino, and Andrew Sweat holding down the starting spots, I expect Grant to mostly play on special teams, but his ability to play both the SAM and MIKE spots will help him crack the two-deep immediately and get a few defensive series in per game. There is no doubt in my mind Grant will be a stud during his career in Columbus and I wouldn't be shocked to frequently see him flying around and making plays at some point this season. To start though, when looking at the big hits on special teams each week, I have a good feeling #14 will be a standard on the highlight reel.
Many of us thanked Urban Meyer last year for leaving Florida as it enabled us to land Shazier, but we may have to thank him again after this season once we see #10 in action. Shazier, making the switch from high school defensive end to linebacker, is already the team's best pass-rushing linebacker and is extremely athletic at 6-2/215. He definitely has some work to do in coverage, but he has picked up both outside linebacker spots rather quickly and will be a mainstay on special teams and on the second team defense all year long. In earlier recruiting assessments I compared him to Jason Taylor and I think the Bucks will utilize him like the NFL star in special blitz packages at times this season. The future is bright for Ryan Shazier in Columbus and I'm sure glad he is ours.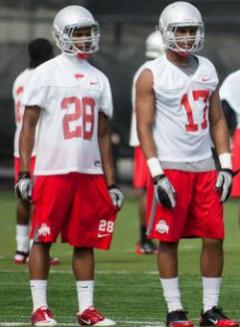 At defensive back there is a lot of playing time available and a number of worthy candidates for the position. The newcomers looking to emerge at defensive back include Doran Grant, DerJuan Gambrell, Jeremy Cash, and Ron Tanner. Interestingly enough I think at least three out of the four, if not all four, will definitely see some time this year, as they are an extremely talented group of freshmen.
Grant is the same most people recognize, as he had all the accolades coming out of high school. Rated a top five cornerback and an Under Armour All-American, Grant is a tremendous athlete who starred on both sides of the ball for St. Vincent-St. Mary's last year, leading people to compare him to former Buckeye Chris Gamble. I'm not sure Doran will play both sides of the ball like Chris did, but I do think he will vie for playing time at corner with Dionte Allen, Bradley Robey, and Dom Clarke opposite Howard Island. There is no doubt that Grant is too talented to keep off the field in year one, it will just be a question of whether he is limited to special teams or if he can break into the two-deep once he gets the playbook and schemes fully down.
Gambrell, who is called "Pee Wee" by everyone, was bitten by the injury bug last year, which may keep him off the field this season. If not for that injury, I think he would be the sleeper to watch in 2011 and I still think he could end up as the best value in this class. Gambrell is a big corner at 6-2/180, but has good speed and great hips, two trademarks of a lockdown corner. The early returns remind me of Malcolm Jenkins, so let's just hope he can even give us 75% of what MJ did during his four years in Columbus.
Jeremy Cash is best known for showing up to OSU's senior camp in a suit and tie to show he meant business. Since arriving on campus in January, Cash has meant nothing but business and has been a steady, consistent performer in both spring ball and camp. I tend to think Cash will see most of his time on special teams this season, but look out for #17 to be a big time playmaker at the safety position down the road for the Bucks, as this kid just has the "it" factor necessary to succeed at this level.
Tanner also enrolled early (March) and like Cash, has the benefit of having reps under his belt heading into fall camp. I think he too will also see his time mostly on special teams, an area the Bucks definitely need help in after last year's abysmal performance. I think Ron would normally be a strong candidate to redshirt, and still could be, but due to his experience of being here for spring, I think there is definitely a chance he will be someone who gets the chance to make some plays throughout the season.
Finally, the last newcomer to look out for is Bryce Haynes. Jake McQuaide has been so solid the last three years that the long snapper position has been taken for granted, but the staff showed you how valuable they find the spot, as Haynes was offered a full scholarship to come in and start  from day one. I expect Haynes to play a big role in the success of both Ben Buchanan and Drew Basil this year, as both players' problems (Buchanan release time and Basil kicks blocked) have been attributed to the snap. Bryce was regarded as the country's best and his coaches at Chris Sailer Kicking/Rubio Long Snapping have often referred to him as the best they have ever seen at the position, so expect things and some great snaps over the next four years from #54.