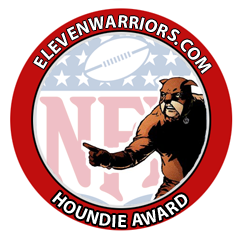 The Houndie is an award formerly known as the Buckeye NFLer of the Week. After 2 years of existence, we searched for a catchier name, so with the help of a well placed typo and the ensuing 11W comments, the current title was created.
The NFL has reached the halfway point of the season, with just 2 teams enjoying their bye this upcoming week, we can finally get back to a full slate of Buckeyes playing on Sundays.
Ted Ginn followed his record setting week with another blah performance in Miami's 27-17 loss to New England. You knew NE wasn't going to allow Teddy to beat them with returns, but he did have 4 for 97 yards and added a catch for 7 yards. On the season, Ginn has 19 catches for 218 yards and a score, but 11 of those grabs came in week 2, so if you were a Dolphin fan, you'd be pissed too at his lackluster receiving skills. Brian Hartline also caught just 1 pass Sunday, his going for 18 yards. On the other side of that field, Shawn Springs chipped in with 2 tackles.
Down in Tampa, Green Bay gave the Buccaneers their first win of the season, as Aaron Rodgers was picked 3 times in the 38-28 loss. AJ Hawk lead the Packer defense with 7 tackles, 6 of them solo, while also adding his first sack of the season. Hawk has stepped up over the last 3 weeks, accounting for 20 tackles over that span. Will Allen helped the Bucs cause with 3 solo tackles.
The Chiefs made a furious comeback, but still fell short in their 24-21 loss to Jacksonville, as Vrabel had 4 solo tackles. Bobby Carpenter chipped in with 2 tackles in Dallas's 20-16 win over Philly. Kenny Peterson had a good game on Monday night, recording 4 tackles, a sack and a forced fumble in Denver's loss to the Steelers.
Speaking of the Steelers, Santonio Holmes helped their cause, by snagging 6 catches for 93 yards, which now gives him 590 on the season, a pace that would allow him to top the 1,000 yard mark by season's end. Sticking with offense, Beanie Wells made the most of his limited carries, going for 72 yards on his 13 totes. The yardage was a career best for Beanie and he is now averaging 4.4 YPC on the season, but has busted loose for a 5.3 YPC over the last 3 games. Something tells me his first 100 yard game is right around the corner. The other offensive player in action, Michael Jenkins, had just 1 catch for 5 yards.
The battle for the Houndie though was centered in New Orleans, where Chris Gamble and Will Smith dueled in the Big Easy. Gamble tweaked his knee again early, but came back to register 6 solo tackles and his first pick of the season. The INT was key, as he picked it at the Carolina 4 and returned it out to the 45 yard line, from there the Panthers gained a FG and a 17-3 lead.
But the Saints defense allowed just 3 points the rest of the way and leading that charge was Will Smith, who takes home his second Houndie of the season. We mentioned last week how impressive Smith has been and he registered 2 sacks for the second straight game, now giving him 6.5 on the season, good for 8th in the league. Smith also recorded 4 tackles and forced a fumble in the Saints 30-20 victory, to keep them undefeated at 8-0. Smith's teammate, Malcolm Jenkins was credited with 2 tackles, his first since week 3.
With schedule ahead facing the Saints, there is a realistic possibility that they could flirt with an undefeated season, so more than likely this isn't the last time we will be hearing from Smith...nah nah nah nah nah nah.