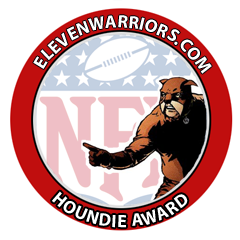 The Houndie is an award formerly known as the Buckeye NFLer of the Week. After 2 years of existence, we searched for a catchier name, so with the help of a well placed typo and the ensuing 11W comments, the current title was created.
The Buckeye alums playing on Sunday were the lucky ones this past weekend, as they were legally allowed to go out and hit someone to help take out their frustration from Saturday night. As a collective group, they are almost back to full strength with Anthony Gonzalez, Ryan Pickett and Will Smith still nursing injuries, while Beanie, Nuge, Whitner and Gamble all had byes.
In Green Bay, the Dolphins came away with a hard fought 23-20 OT victory, after the Packers scored with 15 seconds left. Brian Hartline caught 4 passes for 44 yards, which was good for 2nd on the team and also toted the rock once for -3 yards. For the Packers, A.J. Hawk had his second double digit tackle day in the last 3 games, recording 5 solo and 8 assists, as the defense continues to be hurt by injuries and GB lost their 3rd in the last 4. It came down Tuesday morning that bobby Carpenter has been released by the Dolphins.
The NY Jets won their fifth straight heading into their bye week, with a 24-20 road win in Denver. Santonio brushed off the SI report of him taking money while at OSU and caught 4 balls for 44 yards, but lost a fumble. The Jets offense struggled overall, with Sanchez throwing 2 picks, but Mangold and Hartstock helped allow just 2 sacks and 129 yards rushing, which was just enough to pull out the victory. Vernon Gholston eluded the box score for a third straight week.
In Philly, Michael Jenkins made his season debut for the Falcons, leading the team with 99 yards on 5 catches in their 17-31 loss to the Eagles. While on the other side, Kurt Coleman registered a solo and an assist on the day, as the Eagles defense continues to improve, winning 4 of their last 5.
In other receiver news, Brian Robiskie caught 2 for 13 yards in Cleveland's 10-28 loss to Pittsburgh and Joey Galloway caught just 1 for 18 yards in Washington's 24-27 loss to Indy. While in San Fran, the 49ers finally got their first win, a 17-9 win over Oakland. Teddy Ginn caught 2 for 23 yards, while returning 4 punts for a 9 yard average and 2 kicks for an average of 24 yards. On defense, Nate Clements had 3 solo stops and a forced fumble, helping hold Oakland to 8 completions and 83 yards passing.
The only Buckeye to score Sunday was Mike Vrabel, who caught his first TD of the season on a throwback play from OC Charlie Weiss, as the Chiefs let one slip away in Houston, 35-31. Vrabel caught a 2 yard bomb from Matt Cassel to begin the scoring after a 15 play opening drive and also added a solo stop on defense. Donald Washington had his best game as a pro with 5 total tackles in the loss.
In the most hyped matchup of the day, a pair of 1-3 teams battled in Minnesota, as Antoine Winfield and his Vikings came out on top of the Cowboys, 24-21. Winfield tied for the team lead with 8 solo tackles and added 2 assists, as the Vikings D picked off Romo twice and held Dallas's top 3 wideouts to a combined 6 catches.
In Tampa, the Saints marched in and exposed the Bucs, 31-6 to keep pace with Atlanta atop the division. Will Smith is still limited with his groin, but Malcolm Jenkins was second on the team with 5 solo stops and also the cause of a post game rant by Josh Freeman of Tampa, who took exception to Malcolm's late hit at his knees after going out of bounds.
For me, the Buckeye feel good story of the NFL season thus far has been the 3-3 start for the Rams, who stayed within a game of the division lead, with a surprising 20-17 win over San Diego. St. Louis has matched their win total from the past 2 years and the Buckeye flavored LB's had a lot to do with the win. The Rams harassed Rivers all day, registering 8 sacks and holding the Chargers to 287 yards. Little Animal had 5 solo stops, while Na'il Diggs had 2 himself, but this week's award goes to Larry Grant, who becomes our first 2-time winner of the Houndie in 2010.
Though he won in week 1 with 2 FF, he had his best game on Sunday, registering 5 total tackles and 2 sacks, his first on the season. His first one came halfway through the first quarter, dropping Rivers for a 10 yard loss on first down and the Rams picked Rivers off in the endzone on the next play. His second sack came on the next possession, which helped lead to a 3 and out. The Rams take on Tampa and Carolina over the next 2 weeks, before heading into their bye week.