Nearly eight months to the day after leading Ohio State to a 26-17 victory over Oregon in the Rose Bowl, Buckeye fans, excited by the career highs he put up in yards and passing attempts in that game, will finally get to witness the beginning of Act III of the Terrelle Pryor era in Columbus.
The feeling of high expectations is similar to that which accompanied the start of last season, except there are two major differences this time: Pryor actually compiled a body of work that showed improvement down the stretch the previous season, most notably in the way he and the team rebounded from the Purdue debacle to capture the conference championship and he's back with a marked talent upgrade, primarily due to seasoning within the much-hyped class of 2008.
With nine of his closest friends back to join him on offense and a defense that features a mix of grizzled vets and talented youngsters, this team is primed to do some damage and with a visit from Miami looming in week two, the need to get off to a crisp, damage-dealing start cannot be overstated.
New Marshall coach Doc Holliday, fresh off stints at West Virginia, and before that, Florida, brings his team to Columbus as heavy underdogs, but he has two things working for him if you're into weird, not at all relevant connections. Marshall's only other meeting with Ohio State, in Columbus four years ago, nearly sent half of the city to the ER before Mike Nugent saved the day, and as the associate head coach and secondary coach of the Gators from '05 to '07, Holliday was on the other team's sideline as part of the biggest on field disaster of the Tressel era at the 2007 BCS Championship.
Obviously, neither of those things will affect tonight's outcome, but if Tressel is looking for a new whipping boy in lieu of not getting to play Northwestern for at least the next three years, what better candidate than a guy that shared some laughs and likely a cigar after the 41-14 bludgeoning in Glendale.
Opponent
After compiling a 22-37 record over five years, culminating with a career-best 6-6 mark to end the 2009 season, former Buckeye defensive coordinator Mark Snyder found himself out as head coach at Marshall before his team could make an appearance in the Little Caesr's Pizza Bowl. Two months and a bowl win over Ohio University under interim coach Rick Minter later, the Herd had their guy when they announced the hiring of Holliday in January of this year. Holliday's first significant work was on the recruiting trail where he used his Florida connections to help bring in a decent class (C-USA decent, at least) on short notice.
As for what to expect out of Marshall, Jim Tressel said it best this week when he highlighted the fact that it was not easy to prepare for a team with an entirely new staff, but the Thundering Herd will come out like an overmatched team might against OSU, spreading the field from the shotgun and settling for short passes (mostly as a function of the lack of protection they figure to get) in the hopes of breaking something off longer. Quarterback Brian Anderson (#12) returns after fending off Clemon transfer Willie Korn, forcing his move to FCS. On the season last year, Anderson threw for 2,646 yards and 14/13 while completing 58% of his throws. He'll look most often to sophomore wide receiver Antavious Wilson (#9), back from earning freshman all C-USA honors for a season that saw him haul in 60 receptions for 724 yards and three touchdowns.
The Thundering Herd won't be lining up in the power I and hammering the Buckeyes behind their running game, though Andre Booker (#19) and Martin Ward (#29) bring experience to the position and will be options out of the backfield for Anderson when he receives pressure. Ward, in particular, is coming off of a fine showing, having been named MVP of the Herd's bowl win after racking up 75 yards and two touchdowns on the ground.
Marshall's offensive line, while not exactly heralded, has good mass, featuring four guys that tip the scales at over 300 pounds, led by senior center Chad Schofield (#71), senior right tackle Brandon Campbell (#78) and junior left tackle Ryan Tillman (#73). The unit did surrender nearly two sacks a game last season (1.92), but with the new staff and scheme, it's probably not wise to read too much into that.
On the defensive side of the ball, linebacker Mario "Thumper" Harvey (#30), known as the team's hardest hitter, returns at linebacker behind a defensive front tht has great size for a non-BCS squad. Harvey has size of his own, tipping the scale at 250 pounds while standing just 6'0". You'll also want to keep your eye on end Vinny Curry (#99) at end. The junior started all 13 games as a sophomore for the Herd last season, racking up 59 tackles, 8.5 TFLs and 3.5 sacks on the way to earning honorable mention all-conference honors.
The Thundering Herd secondary took a bit of a hit in the spring when defensive backs T.J. Drakeford and DeQuan Bembry were dismissed from the team due to off-the-field issues. Captain Omar Brown (#31) is back at safety, and... that's about it for that unit, which has to be a huge concern for Holliday entering tonight's game against an Ohio State offense that will likely go to the air early and often.
Buckeye Breakdown
As is always the case in these games in which there seems to be more to lose than to win, the top three goals for the Buckeyes this evening should be: Get off to a good start on the offensive side of the ball, try to get a look at a lot of the youngsters that have impressed in camp up to this point to see what they can do on the field, and finally and probably most importantly, avoid key injuries to star players.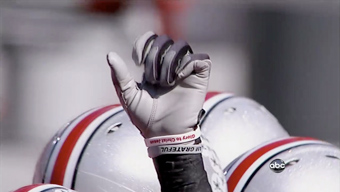 It's been four years since we've entered a season with the type of offensive firepower a team like this one will field and to say I'm excited to get a first look at things is an understatement. After hearing all year about how Jake Stoneburner at tight end will be utilized as a receiver instead of the more traditional OSU tight role as a blocker this season, and seeing some confirmation of that during the spring game, don't be surprised to see him haul in a catch on the Buckeyes' first reception. Complimenting Stoneburner, we already know what Posey and Sanzenbacher can do, but I'll be interested to see who steps up as the third wide receiver tonight. Will Taurian Washington finally put it together or will it be a youngster like Chris Fields or someone else. Whoever it is will likely have their chances going against the overmatched Herd secondary.
A lot of folks are anticipating both Buckeye lines being among the better units to appear in Tressel's time in Columbus. The offensiev line will get a good early test against a the Marshall defensive front, which appears to be the strength of that defense. Is this the beginning of a 25+ game starting streak for left tackle Mike Adams? I think so, and it's important for him to get off to a good start to ensure that happens. On the other side, Heacock's trench grinders will receive stiff resistence, but in the end, the depth and talent of the unit should have no problem wearing down the Marshall line and getting pressure on Anderson pretty much all night, even without end Nathan Williams.
At linebacker, I'm most excited to see what Andrew Sweat will do after earning the start at the Sam spot after a stellar fall camp. We know what Rolle and Homan can do and with Marshall's offense likely more than well aware of where those two should be, it should give Sweat some space to operate and maybe make an early mark towards locking down the position. Beyond that, the pups in the unit figure to see plenty of action and it will be fun to see who wants to step up (looking at you to get it done JNEWS).
Similarly, with C.J. Barnett getting the start over Orhian Johnson at the strong safety spot, eyes will be on him to see what he brings to the secondary and whether it's a spot he'll be able to hold onto once Johnson returns 100% from injury. On that note, I don't think you'll be able to find a Buckeye fan not excited for the return of Tyler Moeller. It's going to be a sweet, sweet feeling to see him dart in from the edge on his first blitz of the night. Whether he gets to the quarterback or not, someone will get hit on the play.
Prediction
If this is your first time with us, we arrive at our predicted score by polling all of the members of the 11W team and arriving at a composite predicion of sorts. As you would expect, almost to a man, we don't see tonight being really all that close. Ohio State, especially the 2010 team, simply has too much talent for Marshall to make this game close beyond the first quarter.
Saying that, it's easy to compare this team to the 2006 team, which I think is appropriate in that the offense will be opened up early, but that year OSU only beat Northern Illinois in the opener 28-9 - in fact, NIU actually did three points better against OSU that year than Penn State did (28-6), so while we think there's a clear talent edge on one side of the ball, we have to be careful not to get to carried away and stick with a blowout that has the Jim Tressel signature. Meaning it might be closer for longer than we would like, but in the end, the depht, talent, and size will take over putting distance on the scoreboard between the two teams.
Ohio State 35, Marshall 6