The last two years brought USC and all of the hype of playing Pete Carroll and the preeminent team of the last decade as the marquee out of conference foe on the Buckeyes' schedule. Tomorrow, the Miami Hurricanes step into that role and bring with them more storylines than perhaps any game in recent memory.
The teams have met a total of three times in the past, with Ohio State taking two. More significantly, the last two meetings have served as bellwethers for the direction of each program. Coming off an 11-1 season, John Cooper's Buckeyes were basically trucked by Miami in the 1999 Kickoff Classic at The Meadowlands. James Jackson ripped off a 45-yard touchdown on Miami's second play, emphatically declaring the Canes, under Butch Davis were back. Meanwhile, the Bucks would finish 6-6 that year and Cooper was out of a job the following season.
I don't have to rehash the events of January 3rd, 2003, but that game, too, seemed to signal turning points in both programs. After snapping Miami's 34-game winning streak, Ohio State would capture its first national championship in 34 seasons with the team taking up what seems to be permanent residency in a BCS bowl ever since. The Hurricanes, on the other hand, would sputter a bit in 2003, handing Larry Coker his first regular season loss by way of a 31-7 drubbing at the hands of Virginia Tech, only to follow it up with a 10-6 loss to Tennessee at home the following week, leading to the Little Soldier's tirade. They went on to suffer three defeats in both the 2004 and 2005 seasons, before the disastrous six-loss campaign of 2006, ultimately costing Coker his job.
The Canes and the Miami media have played up the revenge angle all week. Veterans have been imploring current players to remember the Fiestamo and exact some sort of revenge against the Buckeyes despite the fact that a) it was the correct call and b) most of the current starters were 12 at the time. They're also doing their best to belittle the Buckeyes and the people of Ohio, like skewing population figures, calling the Shoe quiet, talking up the Canes getting off the plane in Columbus wearing LeBron Heat jerseys, thinking of Columbus as a small college town while pointing out the competitive advantages of seeing a Wayan on South Beach, and lastly, just downright guaranteeing a victory.
If all of that isn't enough, consider the matchup of two of the nation's best recruiting classes from 2008 squaring off against each other in what should be the prime of their careers. Both depth charts are littered with key contributors from that class, and a few of them know each other from their days playing in the all-star circuit that season. It's almost a shame these two have to play so early in the season. When it's all said and done, they might be two of the better teams in the nation in 2010.
Opponent
Randy Shannon, a starting linebacker on the 1987 National Championship team along with Michael Irvin and Bennie Blades, is in his fourth year of yet another rebuilding project in Coral Gables. So far, the results have been positive, with Shannon improving on his win total by two in each season, going from 5-7 in 2007 to 9-4 and a Champs Sports Bowl berth against Wisconsin last year. His work off the field has been just as impressive, with APR numbers for the football team rivaling Harvard's and a sharp decline in off the field run-ins with law enforcement. A defensive guy at heart -- he was Miami's defensive coordinator in the 2003 Fiesta Bowl against the Buckeyes -- Shannon has done a great job of building a talented staff, starting with offensive coordinator Mark Whipple.
Most recently with the Philadelphia Eagles and before that, the quarterback coach for the Pittsburgh Steelers, Whipple is Ivy-educated and has experience in the college ranks as well, collecting a I-AA national championship in 1998 with UMass -- one year after Tressel won his fourth and final crown with Youngstown State. His Miami offense, behind junior quarterback Jacory Harris (#12), got off to a pretty quick start to 2010, putting up 35 first half points on the way to a 45-0 opening night thrashing of FAMU. It was the first time Miami had scored 35 in the first half since 2002 and the strikes came with a quickness. Scoring touchdowns on their first four offensive possessions, including three series that clocked in at under two minutes.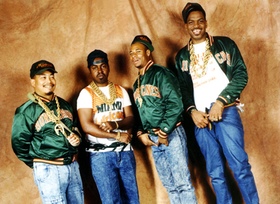 Presenting Ohio State with a traditional offense that likely mirrors what Jim Tressel would like to put out in terms of run/pass split, Harris is the engine that keeps things purring for Miami. He started 2009 with a bang, averaging 328 yards in his first two games before taking one on the chin against Virginia Tech in week three. He battled injuries, including one to his thumb and his numbers took a hit, leading to a particularly poor outing in the loss to North Carolina. The thumb likely played a role in his performance in the bowl loss to Wisconsin, but he's 100% healthy for tomorrow's game, and as such, we must respect his deep ball. He's not much of a threat with his legs in the pocket, but if he comes out and turns 10 of his first 12 completions into first downs like he did against FAMU, it's going to be a long afternoon.
The tailbacks Miami will use to setup Harris' throws will not include Graig Cooper, a senior that led the team in rushing with 695 yards (5.18/per) last season, as he's doubtful for tomorrow after suffering an ankle injury in the opener. Instead, senior Damien Berry (#20) and freshman burner Lamar Miller (#6) will shoulder most of the load. Berry, the team's second-leading rusher last season with 616 on 93 carries, and chief trash-talker this season with his "if" clarification, is all of a sudden a receiving threat, having hauled in his first career touchdown reception last week on a 32-yard second quarter touchdown from Harris. Miller is getting enters with a good amount of hype after rushing 11 times for 65 yards and a touchdown on the way to being named ACC's Rookie of the Week for his performance against FAMU.
Wide receiver is where the talent really begins to shine through for Miami. Captain Leonard Hankerson is a beast, returning after an 801 yard junior season. He didn't play around in the opener, scoring Miami's first two touchdowns and accounting for 115 receiving yards just nine minutes into the second quarter. He'll be paired with junior Travis Benjamin (#3), a smaller, quicker receiver in the Santana Moss mold (though thankfully not as quick). When the Canes bring in four wide receivers, you can expect to see Laron Byrd (#47), rocking Irvin's old number, and Aldarius Johnson (#4). What really concerns me about this bunch is their size. Hankerson, Byrd and Johnson all stand at least 6-3 or taller. Thankfully, Kellen Winslow, won't be around the terrorize the Buckeyes like he did in '03, and it appears as if he took the significance of that position with him when he left as Miami's tight ends serve to block first and second, catch passes third.
Miami's offensive line is decent, but is rebuilt from a unit that was prone to surrendering sacks last (35 in all). Gone is all-ACC left tackle Jason Fox and sliding over from guard to take his place is Orlando Franklin (#74). Franklin is a highly coveted NFL prospect and figures to be a first round selection next April, but is still adjusting to the outside. Regardless, he's huge (6-7/312), so don't count on anything coming easy on his edge. Joining him on the line are Harland Gunn (#66) at LG, Tyler Horn (#63) at C making his second career start, sophomore and first year starterBrian Washington (#72) at RG, and senior and converted guard Joel Figueroa (#61) at right tackle. Bad news for all of you recruitniks: Don't expect to see freshman Seantrel Henderson unless the score gets ugly.
The Buckeyes will go up against several great defensive fronts this season, but Miami might have the most talented group across the board. They exploded for eight sacks (three in the first quarter) in the opener last Thursday, 3.5 of them coming form sophomore first year starter Olivier Vernon (#35). Allen Bailey (#57), freak of nature, anchors the other side of the defensive line, back from earning All-ACC First Team honors in '09. Plugging the middle will be sophomore Marcus Forston (#99), back off a redshirt season after earning freshman all-American honors in 2008, and junior Micanor Regis (#54). They each tip the scales at over 300 pounds and will be a handful for the interior of the Ohio State offensive line.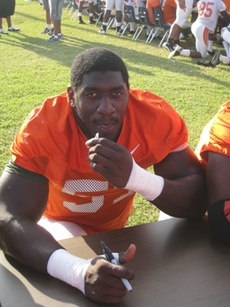 Miami's starting linebackers are made up of junior Sean Spence (#31) and seniors Colin McCarthy (#44) (a captain) and Kylan Robinson (#36). It's Robinson's first season as a starter, but Spence and McCarthy have plenty of game come in with plenty of game experience.
After feasting on the depleted Marshall secondary last weekend, the Ohio State passing game will have to step up against a couple of veteran Miami cornerbacks. Senior DeMarcus Van Dyke (#8) has 11 career starts under his belt, while junior Brandon Harris (#1) returns as an All-ACC First Team selection looking to capture the Thorpe Award. Sophomore Brandon McGee (#21) earned his first career start last week against FAMU with the Canes opening with their nickel package. Look for him to appear in similar situations against the Buckeyes. The Miami safeties are a little greener than their counterparts at corner, though not by much. Strong safety Ray Ray Armstrong (#26) saw action in 10 games last year as a freshman and is a tank running around at 6-4/220. At free safety is Vaughn Telemaque (#7), one of the few Hurricanes to see significant playing time as a freshman (albeit RS) last year.
Interestingly, Miami likely enters the game with a pronounced special teams advantage. Senior kicker/punter Matt Boshner (#25) (also a captain), is All-ACC stock and has connected on 96-straight extra points and 13-straight field goals, meaning the typical turtled-up Tresselball approach may not work.
Buckeye Breakdown
As in most contests, the key for Ohio State will be their play in the trenches. The Ohio State offensive line, long suspected to be a sleeping giant, will get its first real chance to awaken this season against the formidable Hurricane front. Will Mike Adams and J.B. Shugarts be up to the challenge of Allen Bailey and Olivier Vernon? We better hope so. One thing they'll realize right away is the pace of the game will be about 30% quicker and more intense than what they saw in the opener against Marshall. Likewise, can the Buckeye defensive front get penetration on Harris? Giving him time to throw could lead to disaster as he has the touch to place balls into tight coverage or continually beat zones. We expect Cam Heyward and Nathan Williams to show up, but getting good penetration up the middle from Dex Larimore and John Simon would go a long way towards thwarting what the Canes intend to do.
Miami teams under Shannon have shown a weakness handling running quarterbacks. I highly doubt we see too many designed runs for Pryor and I expect the team to come out throwing much like they did last week, but when a play breaks down, Pryor creating something out of nothing could be the difference in the game. It won't be easy because Miami has the speed and likely discipline to keep Terrelle in the pocket and contain the damage he could do on the outside. That's why it's important for Saine, Boom, Berry and Hall to get the running game on track early. If the Buckeyes can take control on the ground, they can attempt to pound away at the Miami front and wear it down, possibly opening up bigger things through the air.
Even though Posey will be going against one of the nation's top corners in Brandon Harris, he's too much of an elite talent not to make a mark in some way. Sanzenbacher will also draw attention whenever he's on the field, so it's critical one of the younger receivers steps up and becomes another option for Pryor on the edge. I could be wrong, but I have a feeling that third receiver is not Grant Schwartz as the Marshall game would indicate. Expounding on that a bit, Stoneburner must see passes early and often. Wisconsin was able to exploit this tight end matchup in their bowl victory and you have to think Ohio State will try to do the same. Whatever happens, expect to see a few more blitzes than you saw last Thursday and perhaps more man-to-man defense than the team is used to getting.
Ohio State must continue to show the signs of life they showed in the red zone last week and it's important to get out to another fast start. Doing so will allow the crowd to get into the game sooner and might even show Sun Sentinel scribes what a bouncing stadium sounds like. You have to think special teams were a big part of practice this week -- fixing whatever led to Justin Boren getting smoked on the block that was returned for six in the Marshall game.
I do like the fact that the team didn't engage in any trash-talking with the Canes in the run-up to the game, instead choosing to stick quotes out of Coral Gables up on the bulletin board. Brewster's quote about doing the talking between the white lines shows a level of maturity you like to see in a team like this. That should be enough to offset any type of home cooking the Canes will receive from the ACC crew doing the game. We kid. Mostly.
Prediction
In the end, we're not sold on the revenge angle. Revenge is only really effective when you're earning it for yourself, not guys a decade removed from your institution. Sure both young and old Canes will discuss revenge, but discussing doesn't always translate into doing. I have to also believe the prevailing wisdom in Miami that Columbus is a ghost town with a quiet stadium will work to our advantage. I expect nothing less out of the crowd than what we saw last year against USC.
The line for this one is really weird. By the time you read this, it will be hovering somewhere in the eight point range, which seems high -- I can honestly see this one going down to the wire -- but at the same time, when you sit back and try to view the talent and conditions with a bit of impartiality, you can't help but see a victoryin which we're nervous for three and a half quarters before pulling away at the end -- much like the Rose Bowl.
Tressel schools Shannon. Again.
Ohio State 28, Miami 17