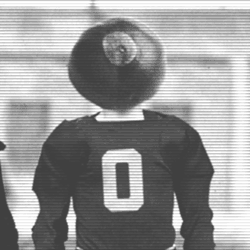 Zone
---
MEMBER SINCE January 22, 2018
Recent Activity
Are you kidding me?
I will cry the day LJ retires or leaves OSU. The man is nothing short but incredible.
That's general pricing at movie theaters and zoo parks. No one is forcing you to go or buy water.
Booster money helps pays for these renovations.
Coach Washington has swag talk. Truth. All the straight lace coach rhetoric that we all can formulate how questions will be answered.
I agree, take the best Ohio has to offer but with Urban, there may have been a need but went after the best available at that time. We need numbers at OL, but a 3* DB?
The kid has a motor for his size, always looking to make a play and has heart. With 100,000 strong of his kind, he will move mountains. I love it!
Hahahahaha
Should be fun to watch.
Correction uniforms bring in the talent
I thought they were at 85 scholarships?
Haven't looked but I am sure Mgoblog is in flames.
They offered him later than 15 other schools like Michigan and Nebraska and Jakob kept sending in his film to Day.
Sign these two kids plus the Rutgers transfer or does that put them over?
So in other words, they're stacked looking for sack sandwiches.
Being from Cincinnati I hear a lot about the lack of Buckeye presences in the area and how a stand out isn't getting any looks. I have personally watched Jakob James play twice and was blown away by his play, and the Buckeyes extended a late offer which was accepted shortly after. He's a 3* now but will be a 4* and possibly 5* on some ranking sites. This is so true, A lot of schools overlook the intangibles and spend too much time on the measurables.
Damn, great write up. Thank you.
Brain Snead is a loss no question. He is quick, shifty with great vision. I believe Crowley has similar traits and running style. Everything will be fine.
Hahaha
Whoops
So much winning on that roster. Really interested to see Gills development. KJ, Gill and Demario in the H-back is flat out scary.
This isn't a total surprise. He's behind Malik Harrison who finished strong and the team has good depth at the LB position. With staff changes on the defensive side of the ball I wonder if they will look for a hybrid safety/ linebacker player like Jabrill Peppers. Best of luck!
Would have been in his corner if he simply left without throwing shady. Would have pulled for him and Miami if he competed and showed backbone. I haven't seen players react or reach out to a "brother" like they did Joe B. He has character issues and will fit nicely at Miami. Go Bucks!
Glad to see this, finally. He's a very dynamic player and nightmare match up for linebackers.
247 is reporting a three way race between WV , Louisville, Miami.