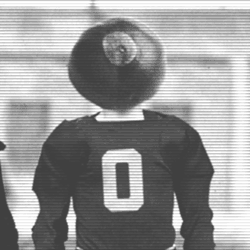 Zone
---
MEMBER SINCE January 22, 2018
Recent Activity
This.
Hopefully Jake Sawyer makes a connection.
Thought it could not be right, OU having a better defense than LSU and they dont, by a large margin. LSU is 17th OU 46th. This is going to be another 55-48 game.
Throw Josh in there for some heavy run packages. He deserves to get some film in.
Agree.
Just finished watching MSU vs. Indiana. MSU offensive and defensive lines are not impressive as Indiana controlled the line of scrimmage most of the game. MSU center and left tackle are definitely vulnerable and certainly will have a long night. I expect Chase to play primarily on the left tackle, Lewerke blind side. Lewerke is much improved. He sees the weak spots in the defense and gets the ball out quickly, and is accurate. He also has live legs. Their run game is anemic which goes back to the play of Oline. MSU defense plays a lot of different fronts from 2,3,4 down linemen and do a good job mixing up the coverage. With that said, Penix (Indiana Qb) did a good job seeing the field and their WR were able to get YAC. MSU tackling is average in space. Penix and company could have sent the dagger if he connected with his reciever, wide open, in the 4th quarter with 13:30 remaining of this catch was made. I don't necessarily see this being a offensive test. They are very comparable to Indiana. Last but not least, MSU special team is suspect. I am calling for a punt block/return or return kickoff. Garret Wilson may be that player to take one to the house. I really stay away from, this team beat that team-we beat that team because it is all about personel and match ups. If OSU plays the game they have shown thus far, there is no chance for MSU. I am all in... They pass the eye test. If they play their game on all 3 phases- 48-3. 2017 repeat, but better.
Scott Frost and their offensive coordinator called him a "Creature".
Clearly you haven't studied MSU.
Not sold on MSU defense this year, nor believe this team has a Urban slip against them or anyone else. They are laser focused and it shows as they clearly look the part of a number 1 team in the country. No East Lansing cold rain to question. Their offense is not good and this defense is making statements, they answered the questions and pass the eye test.... So I'll make one, 55-6 OSU. Larry Johnson throwing his headset in the 4th quarter with the 2nd string says everything. Every facet has incrementally gotten better and haven't unleashed the tool box because the TE have been out of play in the passing game.
Garret Wilson is a special player. That was NFL toe tapping on that TD catch. Hate to say this, but Wilson should be Fielding our catches, not McCall. He has better vision and just goes.
Screw it, let Michigan continue on their path. No truer words have been spoken when Braylon said, "they hate us". Buckeye Nation is bigger than the Big House, and yes, fuck the whole state of Michigan when it comes to football. I have no question Ryan day and this offensive staff is "light years" ahead of Don Brown defense. Ryan day will find the "fish" based on Urban analysis. Brandon Watson was the fish in 2018.
It huge advantage SEC for only playing 8 conference games and playing a FCS / bye week school the week before your rivalry game late in the season is convenient as well.
I believe Alabama has a Home and Away with Wisconsin in the coming years, but yes, they never travel north of the Mason Dixie line.
Tommy, Cade, and Reid... Look out.
I am sure Michigan fans feel like they got sold a bag of goods with Gattis seeing how Locksley completely changed Maryland's offense and Michigan emphasis on "speed in space". I love seeing this team fumble around (literally and figuratively).
Boom! Does he play as a linebacker with his frame is the question.
Proof read.
Alford, in his Buckeye tenure as has coached 1,000 yard running backs solo and dual every year. Put some respect on his name. JK Dobbins will be fine, relax people.
Middle Tenn appeared to match well with Michigan in the speed department considering Michigan's Moto is "speed in space". MT was attacking and for having a new offensive philosophy they seemed pretty prepared, especially out the gate.
I am almost certain most of these outrageous comments are from people who do not know the second string players or recruits who were on a high school field last fall taking snaps in this game. I mean, Zach Harrison lost his black strip in April and took 20-30 snaps (?) While FAU offense called 60-70 plays?
I believe with all the versatility it will make it difficult for teams to hone in on how the players are deployed. Also playing players to their strong suit will be refreshing.
Through this article I get a sense Day is really happy with where this team is and how he's managed everything for his first go-round.
60 points?
Let's see what this team is all about.
I am all about giving these guys a chance to prove themselves and they want to. When Tuff first stepped in for Chris at Mike the defense changed for the better. He solidified the middle at that point, especially against the run. I'm am chalking last year up to an issue with Alex Grinch thinking that he was going to be the defensive coordinator when Greg was anticipating to take another job, and Greg and Alex did not jive. Wasn't too high on Tavor either. It was a hot mess.