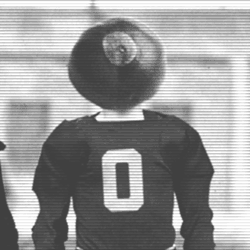 Zone
---
MEMBER SINCE January 22, 2018
Recent Activity
They're stacked. All of these guys could be starters for teams this year.
If this photo could speak hahaha
It's a just a feeling.
Maaaay be.
If Fields is not the starter in the first game of the year I'll donate my paycheck to Michigan Athletics.
Our kickers have saved the day or provided field advantage that was key in a win. Having a talented kicker who thrives under pressure is just as much a weapon and important as the best players on the team. Boom!
Hoping for a BOOM tomorrow!!!
Unfortunately, I don't see either coming to OSU, but Milton would be my pick.
I don't miss Bill Davis
Paul will bring this back up the week before THE Game to simply diminish it's value and importance while in the same breath mention how far greater Auburn vs Alabama is as they both come off their bye week.
Are you kidding me?
I will cry the day LJ retires or leaves OSU. The man is nothing short but incredible.
That's general pricing at movie theaters and zoo parks. No one is forcing you to go or buy water.
Booster money helps pays for these renovations.
Coach Washington has swag talk. Truth. All the straight lace coach rhetoric that we all can formulate how questions will be answered.
I agree, take the best Ohio has to offer but with Urban, there may have been a need but went after the best available at that time. We need numbers at OL, but a 3* DB?
The kid has a motor for his size, always looking to make a play and has heart. With 100,000 strong of his kind, he will move mountains. I love it!
Hahahahaha
Should be fun to watch.
Correction uniforms bring in the talent
I thought they were at 85 scholarships?
Haven't looked but I am sure Mgoblog is in flames.
They offered him later than 15 other schools like Michigan and Nebraska and Jakob kept sending in his film to Day.
Sign these two kids plus the Rutgers transfer or does that put them over?
So in other words, they're stacked looking for sack sandwiches.