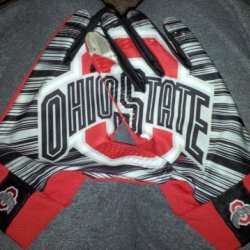 ZMBucks
---
MEMBER SINCE October 03, 2014
Recent Activity
I'd sacrifice a live chicken
Because that's exactly what a millionaire receiver thinks about doing in his free time. Let's print out fake money, then pass it out to players at my former school after they just won the championship.
There are way too many ifs to look into it all and come out with any real conclusions. What if Joe stayed and won the starting job, and put up similar numbers to Dwayne did in 2018, and he left for the NFL? It's all how you look at each individual choice and how they each play out. Everything lined up pretty dang perfect for LSU this year where Bama had a down year with Tua getting hurt, Georgia's offense was average, and no one else in the SEC was threatening then they get a cake walk of a 1st playoff matchup. LSU was a great team this year and earned their championship, but a lot of factors aided them.
So, to sum it all up, there are too many variants and alternate paths where we can conclude Joe would have had better success at OSU or LSU.
I agree that he could have been which is why I stated it as a 'maybe'. But to claim that
He's the best QB to ever wear scarlet and grey
is revisionist history since he did not do any of this in the scarlet and gray or even the year after leaving the team.
2018 Dwayne Haskins
4831 yds, 70% Comp, 50 TD, 8 Int
2018 Joe Burrow
2894 yds, 58 % Comp, 16 TD, 5 Int
Yes, Joe turned into a fantastic QB this season, but that was after a full year at LSU. Maybe he does the same thing at OSU if he stays, but that is an unkown. Dwayne was fantastic his first year starting right out the gate so it's hard to say that the wrong person won the job. I'm happy Joe found success at LSU.
I want LSU to blow them out of the water while also having the refs fuck Clemson on every call. Having their fans pile on after the loss stating that the refs made the right calls aggravated me like crazy so I want them to receive a taste of it in this game.
Officially Nope
Good luck Chase
Good luck, amazing year to end your OSU career.
They do photoshoots during official visits.
Taylor: 279 carries, 1,761 yards, 20 touchdowns (20 carries for 52 yards and zero touchdowns against Ohio State)

Dobbins: 250 carries, 1,657 yards, 19 touchdowns (20 carries for 163 yards and two touchdowns against Wisconsin)
https://lettermenrow.com/ohio-state-football/ohio-state-buckeyes-all-big-ten-team-offense-jk-dobbins/
So JK had 29 fewer carries and was only 104 yards short and 1 TD short of Taylor's numbers, but Taylor deserved it more?
Dobbins averaged 6.6 ypc. So, lets round that down to 6 ypc just to make it a nice round number, if you give him 29 more rushes, he now has 1,831 yards even with the reduction of his overall ypc.
I didn't even mention their head-to-head numbers as listed in the quoted numbers.
2 QB system!!!
But will Braxton throw?
The glaring ignorance in this view that you're on top until you get knocked off is that, especially in college sports, your team changes yearly. Kids graduate, leave for the NFL, etc so there is not a single year where a team remains the same. Your team can change for better or worse and the same goes for the other teams around the country.
You do realize this was a different sack right? On the flag planting one, he hits him at the waste then slides down to his feet as Baker is trying to run away.
I know the one that you are talking about, and he was blocked to the ground so he really had no other option but to get him where he got him.
It actually should have been a sack because the ball was not out of his hands when his knee hit. They showed a replay right as they were going to halftime. But since it was halftime, they didn't even consider going to replay to review it.
Edit:
Missed 2nd message. Price isn't outrageous, just out of my range right now.