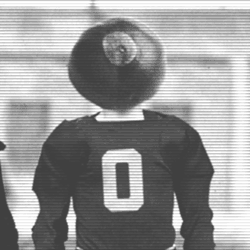 zjhousley
---
Buffalo, Ohio (via Noble County, Ohio)
Member since 29 May 2012 | Blog
Teacher, Curriculum Director, and Future Superintendent. Live and Breathe everything Buckeyes!!!
Favorites
SPORTS MOMENT: Being in Dallas for the 2014 National title game. What an experience...
COLLEGE FOOTBALL PLAYER: John Simon, Eddie Georige, Carlos Hyde, Joey Bosa, EzE
COLLEGE BASKETBALL PLAYER: Aaron Craft and D'angelo Russell
NFL TEAM: Browns and Packers
NHL TEAM: Blue Jackets
NBA TEAM: Cavaliers
MLB TEAM: Braves
SOCCER TEAM: Is that really a sport???
Recent Activity
No mention of Baron Browning at LB is worrisome!!!
Munford, Pridgeon, Jordan, Knox/Bowen, and Prince is a huge line with a ton of potential to be dominant.
But will Meyer let his wife take the fall for him?
I'm going to go with the two guys in the picture with him who are clearly Pitt fans?!?!?
Lucky for Smith, one of the best two college football coaches in the last 50 years disagrees with you.
Being held? For what? A misdemeanor 4. Dude has a squeaky clean record. He will pay a fine and some court costs. Get real dude.
Did you miss the Oklahoma game? What makes you think we are winning it all? We better find an offense and a secondary if we're even going to win the B1G!!
The judge who was shot had zero to do with Malik Richmond's case as a special prosecutor and judge were brought in for that case. Local authorities have said the shooting has zero to do with the rape case. Still sucks for Malik, but it's not like this was a father out for revenge for his son.
Heard this name very early yesterday from an assistant coach on the women's basketball team. He said this will be the next coach.
I can think of $140 million reasons why. If OU leaves the Big 12, you can almost guarantee that Texas will too. If they both joined the B1G West and you moved a team over to the East you would then have a pretty balanced B1G consisting of 16 teams. Hey, a guy can dream right.
That may shut down 11W...
Best of luck to this kid, but I think in the long run Garrett will end up being the better DT.
Excited to see what this kid has as a qb. Am I wrong when I say he should be able to compete for the starting job almost immediately?
Really great kid. Best of luck to him in whatever he chooses to do in life.
Beat me to it. I love coach Fickell and since Herman seems to not be an option anymore, I too, hope he replaces Meyer. Guy is a Buckeye for life regardless of where he is.
Highest ranked team gets the closest game to home. Been like that all 3 years.
Doesn't matter how good your WRs are if you can't get them the ball...
If JT returns he is your starter without a doubt. I get what you're saying, but the offense as a whole has been down since Herman left. You don't bench a 5th year captain.
I really think Kevin Wilson from Indiana may be the guy.
Mark Helfrich
Kelly, although this is probably a huge long shot.
Donnie Kirkpatrick - OC at James Madison
Phil Longo - OC at Sam Houston State
Those last two guys are long shots, but they run offenses that are similar in nature to OSU and have been in the top 5 in overall offense the last 2 years in FCS
I really think Beck will thrive down there. I don't know how strong of a QB coach he is, but I think if he's given full play calling duties, he'll do a good job there. Now it's time for Warriner to be moved back to OL coach or move on. At this point, we may as well have a clean break on offense. I like Smith and Alford at their positions. I don't think this will happen this year, but I look for Meyer to increase Smith's role at some point and make room for his son-in-law. Just a hunch. Got to keep that grandson close to Columbus.
Didn't those 12 recruiting stars fill up the 2016 class, not 2017?? Seeing as it isn't even full yet lol
I really want this kid in this class. I think he is underrated and is better than some of the DB commits that we already have, but with the large number of DBs already committed, I'm not holding my breath. This kid stays healthy he's going to be a stud anywhere he goes.
While Cam Akers would be nice, I don't see him leaving the South. The one I want the most and have probably paid the most attention to is Bubba Bolden. Guy is a huge DB and I think could push for playing time right away if Conley, Hooker, and Lattimore turn pro.
Agreed. I think it's very well deserved and think UC is a great opportunity. My only concern is how much OSU staff he'll take with him. Not necessarily assistant coaches, but support staff looking to move up.