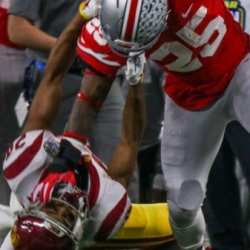 Zimmy07
---
MEMBER SINCE November 26, 2013
Favorites
COLLEGE FOOTBALL PLAYER: Mike Weber / JK Dobbins
COLLEGE BASKETBALL PLAYER: Kaleb Wesson
NFL TEAM: Houston Texans
NBA TEAM: Rockets
MLB TEAM: Astros
SOCCER TEAM: Dynamo
Recent Activity
Iowa falls 83-77. Epic comeback to get to OT, though.
Jeez, man. 0-3 from the FT line late? They'll hack him next time he touches it
The B10 is now 10-2 in the post season.
IMHO - Force them to to shoot over the top is Coach Speak.
I'm 5-11 & can't shoot for &@$? Contested but I could defend. 5'-3?
Attending La Salle High School, the five-foot, three-inch Cronin, playing for his dad,[5]earned all-city honors in basketball at LaSalle. He led the city in assists and was second in 3-point shooting percentage during the 1989–90 season. A knee injury near the end of his junior season ended his playing career.[6][7]
FIVE FOOT THREE?
Warlock is the correct term
I went to a wedding in Deer Park. It was in flames for 3 days.
#6 - another refinery fire happened.
Oh, no worries, it's just mild chemical burnoff's....
Same as Every accident - they downplayed it.
Major cancerous chemical release - (me: shocked) - shelter indoors, immediately - I am lucky I am far away
I went to one of their games with my guys when my twins were still on the way. They were playing Tulane - I went to Tulane, so I had a biased rooting interest.
Shouting out the shot clock seconds countdown left about 4 seconds ahead of reality really worked.
Shouting "Make up Call!" During the foul shout worked as well.
i was advised to shut the eff up by my best friend at one point. I took his advice. Game AT HOUSTON.
my pregnant wife was at that game & he mentioned just how many people I was pissing off.
You're really breaking up my perceptions, man.
A guy I used to work with grew up in Iowa. He claimed it was an acronym for Idiots Out Walking Around.
I hated working with him when Iowa kicked our ass in basketball.
Shayok was denied the ball a majority of the game.
MUSA Jallow was Huge.
We shouldn't have won. We were badly overmatched .
I'm fine with not letting Shayok touch it
I fully expected a loss.
there is no logical reason why we win.
i am so happy!
I thot that was a bad call - I missed the other hand I guess
NIT made it 5 this year, I think.
We're gonna win this. Somehow, someway. We've played better.