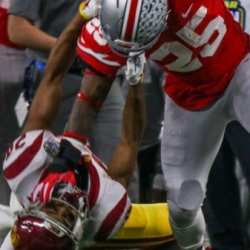 Zimmy07
---
Member since 26 November 2013 | Blog
Favorites
COLLEGE FOOTBALL PLAYER: Mike Weber / JK Dobbins
COLLEGE BASKETBALL PLAYER: Kaleb Wesson
NFL TEAM: Not the Texans
NBA TEAM: Rockets
MLB TEAM: Astros
SOCCER TEAM: Dynamo
Recent Activity
You can also set it to delete after 30 days.
6 figure income and you need to improve on finishing assignments. Clown show.
There's a secret about this that some colleges are using to game the rankings systems.
Only incoming Freshman's scores, etc. are reported to these ranking metrics. From my understanding a great number of schools will let people in with much lower scores if they transfer in as Sophomores as their numbers don't effect the average test scores / gpa that get used to rank the school.
"WSJ, and stop sounding like a tabloid."
SOP for NewsCorp assets.
Louisville & Washington St's head coaches. Though I suspect Leach got railroaded by the hooker murderer and his network.
A Clockwork Orange? A bit of the old ultra violence.
It's not fair I should feel sick when I hear lovely, lovely Ludwig Van.
Alabama. A mad dwarf king, evil armies of goons and savages, and an invincible being. Someone should make a movie. Maybe call it The Desolation of Smaug.
Gee, Who was ineligible for the post season in 1957 & claims a split title with us? Freaking Auburn.
Initially I thought this was Election Day. Fortunately it's the day after.
- wondering if NOLA ever cut Zimmy07 off.
"boat shoes you wore without socks between 8th through 11th grade if you lived in Central Ohio back when Jimmy Buffett didn't have gray hair."
Whoa.
"at The Boot after a raucous evening"
Whoa, again. Behind The Boot was The Boot Store. About 10' from campus. You could buy bottles of hard alcohol there with a student ID that said you were at least 18. Louisiana has since changed the age to 21. Thanks, LSU students.
- Also, I can't believe The Boot is still open. I wonder if the floors are still perpetually sticky.
Attacking defenses do give up big plays from time to time. It's nearly unavoidable. They also make big plays.
I'll take giving up a few in place of getting nickel and dimed all the way down the field the whole game & giving up 40 points like 2013.
Pursuit angles need work though & possibly a LB needs to get a better feel for things.
They actually have more SEC titles than half the current members, as does Georgia Tech.
What about 1899, 1916 & 17, 1944, & 1973? All undefeated seasons for Ohio St.
I can't find any organization that awarded us one in 2012. Kind of surprising. 2 of them picked us in 2006.
I'll see if I can find one but I bet there was. Some organization named us champs in 2006 if I remember right.
The cost of attendance went from $14 K a year in the early 90's to $64 K a year now. No break for in State students. It's unholy expensive and probably the biggest mistake I ever made was to go there.
I'm hoping the Buckeyes annihalate the Green Wave.
I have a shirt that says it's the Harvard of the South.
One reason to hate them is Rich Rodriguez got his first OC gig there.
The header photo reminded me of something in Fear and Loathing in Las Vegas.
I can't find or remember the quote. I'll do a disservice to HST by trying to paraphrase it.
'The very idea that any drunk bastard can pay $10 and have a 500' tall image projected on downtown Las Vegas - saying whatever nonsense comes into his mind really shook me to the core, man. What is wrong with people here that they would allow such a thing?'
"Howdy, Dammit" in some parts.
I've read that this injury could be any where from 2 weeks to 3 months depending upon the severity. I hope it's the minor version
If you want to see Tulane's offense score you should probably wait until Sunday night at AT2's. (Joke doesn't work as well since they closed that bar I guess).
Secret agent Beaureaux is going to take them both out.
What amazes me is that after 3 starts Haskins name is already occupying places in the Ohio St record books. 200 yd games, 300 yd games & TD's per game.
Never-nevermind. SMU scores after replay took away the last one.