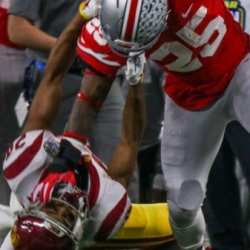 Zimmy07
---
Member since 26 November 2013 | Blog
Favorites
COLLEGE FOOTBALL PLAYER: Mike Weber / JK Dobbins
COLLEGE BASKETBALL PLAYER: Kaleb Wesson
NFL TEAM: Not the Texans
NBA TEAM: Rockets
MLB TEAM: Astros
SOCCER TEAM: Dynamo
Recent Activity
Also that ball didn't touch C.J. - bad call for a turnover
I saw a replay where we screwed up on 3 pick & Rolls. Was that mostly Ledee?
I tried to record at home using my phone. It did not work. Very annoyed.
I guess in public opinion we're still 8th in conference.
DISRESPECTED!
This is a spectacular comment considering your user name.
Or they would have beaten the Big West Champ like a MAC team did.
Tulane, Marshall, Boise St, Hawaii. Let them play.
ok, Hawaii effed it up for everyone, but man did I want them to win.
Who beat Auburn when Auburn was good.
I kind of don't like the implications of that gif.
more than a decade ago I worked at home. For a year. I am technically our companies longest serving employee. I think there are over 100 people now. I worked for the company longer than the ownership did.
Seriously. Gigantic plotter set up in the spare bedroom. On call 24/7 - at any time the endeavor could crash & burn.
i used to work during huge bowl games w/ the 15" TV on behind me. Working at home is not something to mock.
if so, ..... let the mocked laugh on their way to the bank
I have no idea who downvoted you. I was too angry to be clever on the boots - but I did think about it for a minute
We're just gonna have to get used to it.
I'm pulling for Iowa St, then. Especially against Tom Herman. I hope I can find something in Texas' Friday game that could help Iowa St.
This makes me wonder & not very long if I know what set off Zach on the Twitter rampage.
I just saw something a few minutes ago that quoted Urban as exploring legal options.
If their advertisers have 3 million Buckeye fans boycotting them - their BS will stop real quick.
I also contacted them via this email.