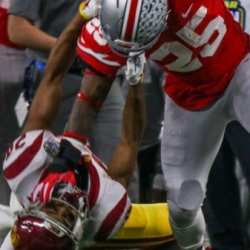 Zimmy07
---
MEMBER SINCE November 26, 2013
Favorites
COLLEGE FOOTBALL PLAYER: Mike Weber / JK Dobbins
COLLEGE BASKETBALL PLAYER: Kaleb Wesson
NFL TEAM: Houston Texans
NBA TEAM: Rockets
MLB TEAM: Astros
SOCCER TEAM: Dynamo
Recent Activity
I found out just now that he left for the NFL. I'm actually surprised by that.
He took a blow to the head trying to get a rebound. Nebraska took a timeout after his 3rd 3 & he wasn't open much after that it seemed.
I had a triple option air raid offense designed in the early '90's.
life got me.
Overload one side with receivers - send them deep, but one curls in space.
as soon as they secure the catch they pitch to the leaking TE or TB. Out the sideline
- L WR RUNS INSIDE SLANT.
L WR breaks back outside. Out & up.
pitch man lofts it to LWR
Be honest. 4 wides spreads a 335 out.
the motion indrawd the defense in.
the 5 back - theyre're thereto stop short passes.
what if the jet guy catche a backwards pitch?
The 335 can not deal with a full speed motion jet threat and also an opposite side sprint option
Stop that. I have a few others that manipulate tendencies.
Thanks. I always thought I could.
the 434 Trident wasn't a good idea, either, I guess.
maybe 'tis why Oregon, Boise St, Ohio St & others ACTUALLY used it.
Thank you for a realistic opinion.
I don't like the defense, but I don't know it's intricacies
1000 people would have done my job if there were no computers.
the change happened within 20 years.
I want to say this.
I started drawing lines with multiple different hardness leads on a board.
during free time I would sneak into the engineering building to play text games about nerd stuff.
wasn't really a nerd, i just costumes myself to be one to get into the computer
lab to play that game against anyone in the world in 1991
Glad to hear this. Let's get a W.
The motioned in TE will bloxk
the free DE in one version of the play. Th H will get him on the other.
I guess I'll watch a replay of it all then.
Thanks for choosing my wedding anniversary, dammit.
I wonder how many people request the isle seat just because of that episode.
I think you misspelled MSG.
Nice try, ABC. I'm still not going to watch it.
Marcus Hall probably needs to put out a PSA on the proper method to give a team the finger to prevent things like this from happening in the future.
I looked that up & it seems to be rumored that he got physical with a coach after the coach was enforcing a no cell phone rule for game nights.
It seems he was suspended early in the season for something similar.
Hard pass.
I'm quite interested to see the kickoff play out. I'm not entirely sure it will reduce high speed collisions as there are a lot of players who can get to near full speed in a short distance. It seems like there may end up being a lot of holding calls by trying to keep the gunners blocked.
I didn't realize just how many people were on the football coaching staff. It looks like there are 4 other strength coaches under Mariotti. I also didn't remember that Lou Holtz's grandson was on the staff.
My wife - of all people, beats me down over "what -if's"
I'm sure it'd be different .... (no, my wife isn't like that - if there were no "what - if's 10 years ago, how's your kids even be?"