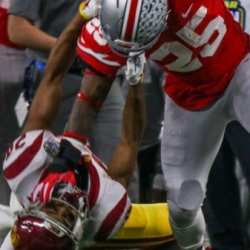 Zimmy07
---
MEMBER SINCE November 26, 2013
Favorites
COLLEGE FOOTBALL PLAYER: Mike Weber / JK Dobbins
COLLEGE BASKETBALL PLAYER: Kaleb Wesson
NFL TEAM: Houston Texans
NBA TEAM: Rockets
MLB TEAM: Astros
SOCCER TEAM: Dynamo
Recent Activity
I don't want to give accidental death to others.
I've worn a mask for 9 months now.
im tiring.
cover your God Damn Fucking Nose, Coach
Can't raise the arm up.
It's a little bit painful, despite how Sermon made it look.
& you crazy, insane wrestlers. I can never trust you guys. Every one of you I knew were absolutely mad.
Corso should wear glasses.
I was somewhat training someone today while trying to do other stuff to. I wasn't nervous until about an hour ago & I get nervous when OSU plays MAC teams.
Now I hope he has 2 pick 6's & gets MVP.
I say we blitz Wade off the corner every time they come out in 2 WR sets. less than 2 seconds to read & react.
TCU in 1957. Wisconsin was the only other unless you count Stanford in 1970.
Off the top of my head, do you have to go back to the 40's to find another team that did?
I hope that prediction turns out like your Clemson prediction (which was almost the same score).
Bummer, this. Still glad we get to play.
https://m.youtube.com/watch?v=g2HlrkoC-mM
horrible
"Yardage" is more polite than what I was thinking. Bama isn't exactly a finesse team.
I had tickets to a Broncos - Browns game in Cleveland.
The NFL strike canceled that game.
I was a huge Broncos fan, then.

Hahahaha! My kids used to watch Blues Clues.
LMAO! Someone didn't take prob-stat I presume.
Hey! Great to see you post again BamaMike!
No need to apologize. Of course Saban's daughter is going to be overly biased. I bet they had a father daughter phone call though with Nick explaining bulletin boards and rat poison.
If the press cover I hope we use the Olave pop pass to loosen it up. I would think it would be a lot easier to get the blocks on the outside if they're trying to jam the receivers.