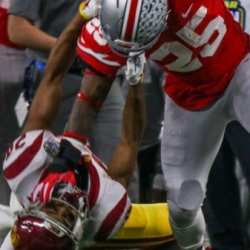 Zimmy07
---
MEMBER SINCE November 26, 2013
Favorites
COLLEGE FOOTBALL PLAYER: Mike Weber / JK Dobbins
COLLEGE BASKETBALL PLAYER: Kaleb Wesson
NFL TEAM: Houston Texans
NBA TEAM: Rockets
MLB TEAM: Astros
SOCCER TEAM: Dynamo
Recent Activity
Picking a low comment thread jiust to see if I got completely banned from the internet.
"We've got to evaluate the film and learn what we can learn from this, flush it, press on."
I have to admit, I'm really impressed by that take. It almost seems like my company's motto when there's a screw up - it's just that he forgot the 2nd part: We need to make sure we never do that again! The importance of that is critical.
We play Wisconsin this year. I thought Michigan St would be tough until yesterday.
I knew it was coming as soon as I saw where he caught the ball. I just couldn't believe we got caught with our pants down. I was expecting it to be thrown out of bounds.
Thanks for showing the pic of the guy on the 50.
I couldn't find punt's blocked as a stat in the record book so it's got to be pretty rare. They have number of punts had blocked by the punter.
I also saw that Arnette's INT return is #4 by yards only because 3 people have 100 yard returns.
ASU guy was on his back & while the MSU player was landing on top of him it looked like he aimed his had to have his weight come down right on the guy's nuts. ASU got called for a penalty because their guy hit him after that & May have tried to drive the MAU GUY's head into the ground, but he deserved it.
Michigan State is looking pretty beatable. Minnesota & Northwestern look bad.
Massive hold by Pitt lineman not called.
I thought taking 2 time outs in a row was a penalty. Illinois prolonging the agony.
What the hell happened to Maryland?
Largest margin of victory against Indiana since 2006. 1984 was the last time we beat Indiana by more than 41
Our defense is very well coached on tackling
That's at least the 2nd dropped pick. Maybe the 3rd.
I'd like to see Hoak at this point.
I just realized that's Lee Corso in the photo at the top. He had black hair once.
Freaking awesome. It looked like a 10 man escort too
Teague has 92. I think it's been a while since we had 2 backs go for 100+.
I have Dobbins at 197. I don't know why they keep saying 194. Edit: I am bad at math, that's why.
140 more for the single game record. I'd be tempted to go for it.