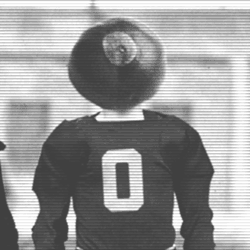 ZeroDimension
---
Florida (via Pickerington)
MEMBER SINCE June 28, 2014
Favorites
SPORTS MOMENT: 31 tackles in first game playing defense... It was all down hill from there
COLLEGE FOOTBALL PLAYER: The walk ons working their butts off
COLLEGE BASKETBALL PLAYER: The walk ons working their butts off
NFL TEAM: Bengals
NHL TEAM: Blue jackets
NBA TEAM: Cavs
MLB TEAM: Reds
SOCCER TEAM: Crew
Recent Activity
If scrimmages count, this is the undisputed #1 team
I thought it was bad all around.

we ran into the kicker Not sure they would have wanted to pu t again though
and one of victors catches looked like it hit the ground.

fields fumble was close but I can't fault anyone but fields for that
the end zone fumble looked like an obvious fumble to me.
psu did seem to false start ALOT
still think our offense wasn't prepAred for PSU hard hitting in second half. I fully expect Harbaugh to use Bobby bowdens hit to the echo of the whistle against us next week.
I like the video of Woody saying. Whoever hits the hardest for the longest... wins that game.

this will be a desperate war for Harbaugh and their program. They have to win and have nothing to loose, an odd combination.

This will show if Ryan Day is Urban Meyer 2.0 or John Cooper 2.0. Been waiting all year to find out. Our offense didn't seem ready for PSU level of hitting in second half... as much as I hate PSU, I might have to thank them this happened at home and not on the road.

if fields and dobbins are bruised up too much, Harbaugh will be thanking PSU.

the Cooper years are way too real for me.

I'll take a 2-0 win with a chase young safety on their first snap. And you can skip the big ten champ and playoff for all I care.
I hate people who brown nose moderators or try to post things in-line with what they think moderators agree with... and I think my posting history and some run ins with certain moderators can prove that...
however. If I ever win the lottery, I plan to retro actively pay The moderator Navy91xxx (sorry will verify right identity before cutting the check) back to his first day of moderating. Minimum of min wage for 40 hours a week(you're worth more, but I'm cheap). You've earned that money in my book, several times over.

Thank you for doing this.
Can you extend the lists to include ttun?
A nice sample of posts you generally see before an OSU upset
This team hasn't been punched in the mouth yet, nor has anyone pressured the QB.

great defenses love freshmen quarterbacks.
What I'm looking at...
1. Nebraska first road game with freshmen Qb and crowd will be into it early on. Early mistakes could start a downhill trend that could be hard to over come. Nebraksa coach is desperate for a program win. Still should be a 3 td win. But we haven't seen a pick 6, special teams critical time of game blunder etc. we also haven't seen a team that could maybe take advantage of defenders out of position.
2. MsU game the following week. MSU seems to have crazy mojo at the shoe with great defenses and bad offenses. That's Fields real first major test. It's dumb to look ahead, but that's the game that scares the crap out of me. Great defense, freshmen Qb. please no bad weather I also don't have faith in dobbins in short yardage running plays
3. Wisconsin - we might actually be the hunter in this game. Pete Werner tackling any wisky rb terrifies me. But I still think wisky finds a way to lose. If we go up 14-0 early. Ghosts of bad history will come to mind.
4. Psu - I never think they will be able to stay within 2 tds of us, yet it's always a dog fight
5. Michigan ... 1994. John Cooper 0-5-1 versus Michigan , after a 63-14 September loss at PSU, one of the worst if not the worst in modern program history, John Cooper was already fired after the season. He rallied the troops and finally made everything about the Michigan game. 24-6. I was really hoping wisky would flub the end of their game, which they did so it didn't look as bad as it was. But I think Jim Cooperbaugh is in the same situation as coop was in 1994... he is gone already unless he beats Ohio State and he knows it. I expect Michigan to drop 3 more games because he has to finally treat OSU game as do or die. If he doesn't they may not let him coach the second half.

6. Bad weather road games
7. Northwestern winning that one game they never should. Good news for us, that is probably going to be wisconsin, if their history holds true.

8. Ohio stadium running out of dipndots. This is really number 1 concern for me each home game, but I get it . Some people are lactose intolerant so I moved it down the last.

I would love to see all the other state universities in Ohio create " AN" Ohio state university labels under their university signs just to piss Ohio state admin off. .
To make things more unnecessarily complex, I would like to see 3 different polls. I'm basing this on something I think I read in the sporting news years ago, they did their poll based who would win the national title, not just the best team. So schedule was factored in.
The three polls I would like to see are
1. Best team. Who would really have the best chance to beat everyone else on a neutral field. Defector win-loss. The illusion of being undefeated in college football masks quality of schedule and where and when you play your opponents, as well as injuries, and development of a team over the course of a season. Not saying the team at the top of this list deserves a title, but a true power ranking is informative.
2. The earned rankings. Defactor the name on the jersey. Rank the teams based on what they did on the fields. Allow smart humans to program computers to come up with a very good algorithm. Once that ranking is produced. Allow a committee of humans to adjust rankings using a consensus discussion versus individual polling with averaging.
3. The Vegas ranking. Who really has the best shot to win the title, a lot of intangibles and historical perception will be included (valid or not) that happens in all of the polls now But, this really factors in schedule and perception, and is probably what is really happening every year.
If I were prognosticating college football to "guess" who would have good seasons, I would look at the following criteria in this order :
1. Coaching from head coach down to position coaches And continuity would be a big factor
2. Qb, this is the most impt position and I wouldn't just look at who the top qbs are, but which qb fits the system, can lead, and his heart and soul of team This can over come a lot of other deficiencies on a team And a qb with obvious deficiencies can make the rest of a team look worse than it is
3. Overall team talent and experience (1-44) how does the 2 deep look
4. Defensive line - these guys can make good opponents look bad
5. O-line, 10 years ago I would have flipped d and o. But with more passing the d line is more impt for disrupting
6. Schedule Who you play and when you play them
So "fanny" pack. The British definition of that word is not the same as the American one. I guess it depends if you wear it in the front of the back
remember when michigan decided to put a basketball player on their football jerseys?
As someone mentioned. Bush got hurt during our game and it did hurt their defense. He's good imho ...
but...
didn't we just hire the two coaches responsible for Bush's and Gary's respective positions for those saying players development is an issue?
CB Rambos... You might like the movie ...joyride.
Yeah, but it is kind of fun to go back and try to figure out which part the article could have set off the rant... I upvoted him for the pure entertainment value it has provided me going through the excercise.
We lost the offensive coach responsible for Cardale'success. That was the difference for Cardale, and was predicted by many before the season.
I'm sure it was just coach speak when he said it, or At least I hope it was. But after last spring he said he was agonizing over which qb to play. Haskins or Martel.
Spin it how you want. Urban had some blind spots. Just like everyone else. He just has less imho.
I wish I could up-vote this a lot more. It always cracks me up when people criticize someone during an interview(unless you are trained in public speaking, it is not an easy thing to do without lots of practice).
I thank Jesus (literally) for the people who are native French, Russian, Bulgarian, Indian, Japanese, German, Romanian and Hebrew speakers, who have patiently helped me through some of my attempts at speaking their language...
In some of those cases, I might not be here (literally) without there help. I love learning new languages. It is one thing practicing it; it is quite another doing it face to face when you really need something, or need help.
1. are we talking about practice? practice?
2. jumpman
I am pretty sure he is an expert in "no class"... so he might really know...
I absolutely love this...
i completely underestimated Kalebs ability to transition from high school to college Becuase of weight issues. He proved me wrong and I've thoroughly enjoyed his high level of basketball skill. There are very few college players with his basketball skill. His athleticism is sub par for a college player though, or he would be a legit nba draft pick this year.
So why do I love this, there are some things about Kaleb that won't change, and I refer to them above. That is what it is. But there are some things that he could really improve on. I'm saying this directed at him on his personal journey in basketball, he is already the best basketball player on this team and it's not close or even debatable.
1. Weight and getting in even better shape. To me that will be the feedback he gets first and most often. He did a great job from high school to college. Maybe this feedback from the Pros motivates him to do more.
2. Related to 1 more than likely. His fouls are not because of bad technique, he has a high basketball IQ. However when he gets tired his IQ and skill diminish quickly making him commit lazy fouls. Coaches did a better job later in the year giving him more rest to avoid this.
3. Now. He is my favorite player. I thoroughly appreciate how much he does for this team that most people don't even realize. But! But! I have noticed a tendency for some cheap shots similar to a bill laimbeer, you get away with most of them, but once you get the reputation, it costs you at critical times. I absolutely belive he was at least 3rd team all big ten, but the suspension and some of his on court elbows don't make him a likeable guy for media and coaches.
If he can address those issues. I think he his first team all big ten next year. I did predict that this year. So I guess take it with a grain of salt.
He is one of the most underrated players we have ever had. I will appreciate him greatly for the next 2 years.
That said, stay clean and make that transition to upper classman leader and role model. Get in better shape(it's notnlike he was lazy, he literally has worked his ass off, or this tream would not have been in the ncaa).
Just think... some of those twitter "buckeye" fans post on here...
I don't tweet.. so I'm having to "assume" people didn't like Jt and Cardale wearing Texas gear...
This won't go over here well.. but... Just like it isn't hard for them to slide Texas gear on ... it isn't hard for some of our "fans" to just slide on an Ohio State shirt or hat then call themselves a buckeye...
I'm that a-hole that likes to remind some of those "fans".. they aren't really fans... because the most recent band-wagoners, always seem to be the loudest and most obnoxious to everyone else...(and that is the same for every team in every sport)....
I agree, but there is never really a great period of time, to use an analogy like " if rape is inevitable, then lie back and enjoy it.."... Most people through out history know that is way out of bounds..
Very nice article, thank you.
I really enjoy watching Holtman's teams... but I would like to see him emphasize better passing angles, and stronger passing.. Entry passing to the post was good until Houston, so that might not be an issue, just something Houston forced some issues.
It also seems, defenses sit on the passing lanes when we run the weave at the top of the key... We seem to pass the ball just assuming our guy will get it... by the end of the year I would tense up waiting for the defense to jump the pass...
Im a big Musa Jallow fan... but he looks lost on some of his passes...
I didn't check FT numbers... but it sure feels like we have made major improvements in that area... and I am grateful...
I get that "a lot" of our fan base are "football only" fans... but comments like some of the fan base being indifferent to the basketball team being in the ncaa tournament irks me to the point ...
...to remind some of our fans that having a chance to win the tournament is not the only aspect of enjoyment for the tournament...
...Becuase if I applied that logic to football... since we had zero chance to win the national title by playing in the rose bowl... we should have been indifferent to any bowl game not in the playoff.