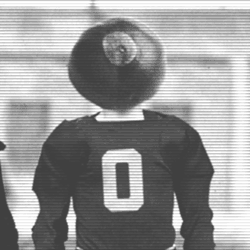 ZeroDimension
---
Florida (via Pickerington)
MEMBER SINCE June 28, 2014
Favorites
SPORTS MOMENT: 31 tackles in first game playing defense... It was all down hill from there
COLLEGE FOOTBALL PLAYER: The walk ons working their butts off
COLLEGE BASKETBALL PLAYER: The walk ons working their butts off
NFL TEAM: Bengals
NHL TEAM: Blue jackets
NBA TEAM: Cavs
MLB TEAM: Reds
SOCCER TEAM: Crew
Recent Activity
Actually izzo gets the Indiana treatment. They founded the movement
There are some things I think Kaleb has working against him besides the officials...
1. He is "basically" our whole team, we are completely different with him off the court.. every team going into games knows to spend extra effort getting him into foul trouble even if it costs you first half points. This was obvious from the first couple weeks of the season... It is a good strategy and works.
2. Kaleb, picks up cheap fouls when tired.. and this happens alot. some is not his fault.. we depend on him so much, his minutes are more exhausting that most players...
- Do to this situation.. I would like to see Holtman call more time outs,... and pull Kaleb out a little earlier... pull him at the 15 minute mark no matter what... slow game down for 2 mintues.. put him back in.... Call time out at 10 minute mark.. unless there is a TV timeout... Then pull him at the 7 minute mark for 1 minute... and I would make sure I had an under 5 timeout... This obviously is not exactly how it would look... but his rest time is far more critical than any other player we have had in the last 15 years... I would get the coaches together to figure this out... Use those timeouts for kaleb, and I think it would help with some "tired" and "reaching" fouls he starts to get... (And everyone is looking for them now, so more are being called).
If you don't like officials.. you are going to hate them tomorrow at Indiana... Indiana is notorious for their official's induced home court advantage... I really really hate playing there.... I hate them more than michigan...
Does anyone have Jamie Skelton's phone number? I am trying to see if I can get him to play tomorrow :-)... I know Indiana fans love him :-). If you hate Indiana... then his name brings a smile to your face...
I hope they pee down their stupid candy-striper pants tomorrow...
Good news.. Minnesota lost.. so we should finish no worse than 7th in the big ten... hoping we can steal 6th place from Iowa by the time it is over... Good grief.. just don't let Purdue win a title... need to hold them in check till Holtman can get us back in Championship form...
My favorite article on 11 warriors... ever (and I am a basketball guy)... Probably the best OSU football article I have ever read... And I hate all the GOAT crap people use nowadays...
I'm Shocked! There is gambling going on here...
MSU, UM, and Purdue are the only big ten teams without a home loss this year... Odds are ... they each will get one... That is the only thing I am pinning my hopes on tonight... fate?
But Just keep fighting buckeyes.. February is almost here... and it will be the opposite of January.. we will get 5-6 wins in Feb... Just keep fighting...
It always amazes me how people(including paid analysts on TV) in football and basketball don't seem to pay much attention to timing and schedules for teams...
This is the time of year, when some of the higher ranked teams start losing, because their favorable schedule turned unfavorable... It happened early for OSU....
I was one of those people... And Beverly just would not have helped us(we are deficient at guard play), he is good, much better than I thought.. Right now NC State has 3 of Matta's recruits on the team.. (Johnson, Funderburke, Beverly)... I think 2 of the 3 had some issues... But I was very down on Thad's last recruiting class, including an overweight Wesson.... It would appear I was extremely wrong about the talent ...
I am not unhappy with Holtman... in Last years big ten, and with the nice schedule we had on top of that... this team would not be 0-4 in big ten play staring down 0-7... The big ten is ridiculously good... Our January schedule is much much worse than February... I was hoping for a 4-3 Jan, because I thought 6 win Feb was highly possibly...
Just wait it out...
Also... It appeared like CJ Jackson really started playing bad, at the Illinois game.. Did he get injured? at first I thought it might have just been that Illinois made him the focal point of their defense... But he has played "different" ever since that game...
Also, Was it around that Illinois game, when we moved Young to the bench... I get why I think Holtman did it... We have no height.. and when Wesson goes out, you need an energized young... But at this point.. I think you have to abandon that strategy..
Does Bauserman have eligibility left?
Actially im excited to see the second coming of what could have been a long reign of big ten dominance by Walt Harris coached quarterbacks. I was understandably deprived that in the mid 90s, but now I feel like I will get to see it first hand. And I firmly belive Walt Harris staying for another year would have been an mnc, coop had the worst luck.
This! We may not want to admit it, but it's true.
It would be an interesting article to write to cover the subject matter from a couple different angles and more in depth.
Schedule and timing are very key in the basketball season... I was nervous about the first 3 games.. A great team at home, followed by a desperate team on the road, and a very good team on the road(that could not afford another loss)...
Now, we get the benefit of timing and schedule.. we get a hot Maryland team that just played on a Monday and has to turn around and play on Friday night, where we have been off since early Saturday... That is a hard thing to ask of Maryland, but it benefits us... Then we get Purdue at Home.. followed by a tough by winnable game at Nebraska... These 3 games are difficult, but more favorable than the first 3.(I am not saying Rutgers is better than Maryland, Purdue or Nebraska.. just the timing of when and where that game occured).
Don't call me a homer... because I fully expect the good vibes at this predicted 3 game win streak, will come to a screeching and painful halt in that 4th game... but so goes the basketball season... there are usually mitigating circumstances to big unexpected wins, and big losses...
We waited too late, didn't do it, right after the season.. waited till June... IT was an odd time of year to fire a coach...
I have no issue with that. I signed a contract to work for a company becuase of the director I interviewed with. They didn't andnhendidnt tell me he was retiring until my second week on the job. I gave them my two weeks notice. He was the person I wanted to learn from and why I turned down other jobs.
To me it is very shady to sign kids and then have head coaches or position coaches leave right after signing day.
Was fields in the Portal?
I'm worried a lot less about mass and more about how he tries to tackle. I've seen some very bad angles , which is a better excuse than what looked like running away from contact .
I don't know the difference in special teams tackling versus linebacker, but he is one of the worst tacklers on the defnese. Maybe special teams is more about getting there and running into someone since you are flying down field that force knocks them down.
I don't want the current Pete Werner on the defnese, but if he learns how to tackle I could see some huge upsides. But I had more issues with him than Borland, but unless his speed was severely impacted due to injuries and needed more time to recover that he was not given, I'm not sure how you play him
That wasn't completely unexpected, the loss that is, the way it happened, a little.
Rutgers is a long team, that had been playong well in tough losses. That game was close to a must win for them. Go back and read other basketball posts, many people were pointing out our deficiencies well before now... it really is a testament to the effort of coaches and players getting to this point, now refocus and keep pushing. We are who we are, and have what we have. We have been maximizing a lot of that up to the Illinois game, then we started struggling a little, Last night we struggled a lot.
i want to address our fans, a certain subset. When you try to make constructive or even subjective criticisms of the team or players when things are going well they act like you are a hater. They react like you think the sky is falling, irrationally opposing your viewpoint with colorful change of subject responses... are these the same people who then jump off the ledge and act like the world is ending when the team performs poorly? I hope not.
its contradictory to FANatiscm, I know.. but i like to be critical of flaws during a win, and look for the positives in a loss.
Yet, at the same time. I'm happy as hell so many people are pissed off about a bad basketball performance instead of being indifferent!
"after passing on several opportunities, and mutually agreed' sounds a little desperate for me to say that was a completely classy exit.. but it wasn't an awful statement..
Good luck in the future...
The one thing I will always wonder is.. if Urban, (with his love for special team performers) might have forced Borland and Werner into the starting lineup...
Quick question, will Les Miles still be able to do the fansville commercials next year as michigans next coach.
To me Michigan was just a completely different team on the road versus at home. (<—-that's not a good thing if you want to be in the playoffs)
We will see early on if that trend extends to next year.
It will be interesting to see in the future... but my buddy made an interesting comment once the game got ouy of hand... does this shut the door on bamas one loss non conf champ automatic invite to the playoff. (<— I'm not even saying they weren't deserving of that consideration before last night). But I think this broadens the committee conversation going forward)
on a side note which will be unpopular, I've never been a fan of thinking beating a lower ranked worse team somehow means you would beat the teams that lost to better teams.
I was thinking something similar... lucky for us, people who vote in polls, it usually takes them a few weeks, to realize your two biggest wins just lost games they should not have...
I think we are a little over ranked... but Ill take it... There are a couple of teams ranked ahead of us, I think we could beat, but not many. There are some teams behind us, I know that we would struggle to beat.
With all that said... We deserve to be ranked relative to what the other teams have done as well...Not many have a great case to leap us.
We are a totally different team without Wesson on the court (He is a pleasure and joy to watch, His Bball IQ and skillset are excellent, and we get it for 4 years)... with him on the court, we are legit top 20(how many people that possible this year)...
without him.. we go down to the 40-60 range... It will be interesting to see if other teams can start to sacrifice first half points just to try to get Wesson in foul trouble... Michigan State was one team I thought we do it earlier than they did. They may have felt like their overall talent was more than OSU, so they didnt have to resort to that. There is a noticiable talent GAP at OSU and MSU now.. it is a testament to what Holtman is doing...
I will say... getting leaped by NC state is interesting.. I dont follow them alot.. but they have two former Matta recruits playing...
Rankings are fluid... you play great teams and lose, you fall... you play bad teams and win and you rise... (basketball usually better than football when evaluating quality losses versus cupcake wins).
I'm very interested in Purdue and Indiana this year... those two teams are the ones who can overtake OSU in combined big ten titles the easiest... So I was hoping for Purdue to take a step back... and I really do not want miller to start an IU resurgance... I dont like Michigan State, but I will openly root for them to win the big ten and BTT to keep IU or Purdue from getting another notch... Ill even settle for any other big ten team winning it all for a year or two, to keep those two down, until Holtman has his recruits rolling.. Im playing the long game... Historical Pride at stake...
I would start with not getting blown out. If we avoid losing by ~30 pts the last two years. Each of those teams is in the playoffs.
I have no problem not inviting a team who has shown the potential to lay an ugly ugly egg in the regular Season to the tournament.
Take responsibility, and I think that is what Ohio state and Ryan day are doing. Correcting a non championship defense. Our defense was spotty at best last year too... we just assumed the usc performance would be the trajectory for this year, instead it was an aberration.
This is the best assessment
would be interesting to see a comparison of football to basketball, based on a ratio of number of players that can play for each sport.. like 5 starters in basketball, versus 22+(3-4 special teamers) for football.. so like 1/5.. for everyone one Basketball player listed do we have an equivalent of 5 football players...
Big ten east 1-3, and we didn't play whisky and Iowa from the west. The version of the big ten we played did not play well. I'm really not fan of mega conferences and split divisions.
I know we are only looking for the positives...