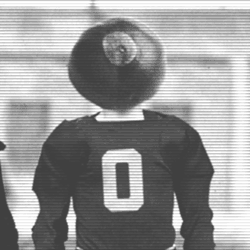 zeeman60657
---
Member since 21 August 2014 | Blog
Favorites
SPORTS MOMENT: 2002 NC Game in Tempe.
2014 NC Game in Arlington.
NFL TEAM: Dallas Cowboys
Recent Activity
As someone who lives in Chicago, that will be like two home games for Wisconsin.
FSU is overrated. Being picked by default in an overrated ACC. Alabama will rip them a new one. Bama 45 FSU 17
I am sure he isn't the only one, but my favorite traitor: Kyle Kalis 0-5 LOL
Simply said, it takes a Buckeye to take down a wolverine.
I work with a guy who is friends with his dad. I remember he was a freshman in HS and had no interest in any school but UM. At one point in his HS career, he made an unofficial visit to OSU. His dad told my co-worker that he was not going there and that Urban didn't seem like a good person or something shit like that. I think ND also tried to get him to do an official visit but he didn't bother. After he was cut, both Urban and Brian Kelly called him to say they were sorry but neither had room to offer. Too bad he didn't visit initially. Karma can be a bitch.
Kenny G
Make B1G Great Again
You can compare all the numbers in the world, but the fact is that we need a change at QB. The Spring game gave us a JT who looked like he did all year long. Ineffective. On the opposite side you saw Joe Burrow getting rid of the ball quickly and with ease, while scoring TDs in the process. Change must happen or 2017 will look a lot like 2016.
Chip Kelly for a year as OC?
Chance for TSUN to go 0-2 against teams from Ohio next year.
Emmert has no control over FBS football, so his opinion is as important as mine is in this matter. If it were up to the NCAA, in time we would have 68 teams in the playoff and the regular season would be as useless as basketball is.
There are a lot of people in AZ with Ohio roots. Look for a 70-30 Buckeye edge.
Sounds like lil Jimmy still isn't over The Game. No wonder he doesn't last more than 4 years anywhwre he has coached.
Fuck Penn State too. Their whiny bitch of a coach tried making a case for them last night. Didn't happen. Even the commish saw to that.
Would LOVE to see Clemson lose and PSU get in at number 4. It will be a repeat of last year's Sparty version of "why not us"
In 2014 the commish proclaimed OSU is one of the 4 best teams...and they got in. Today he proclaimed OSU has done enough and two spots are locked up for OSU and Alabama. So let it be written, so let it be done.
Phil Knight was at The Game, probably trying to take Urban back as Oregon HC. Don't trust him.
The two teams in the B1G title game both lost to UM, and have a total of 1 win vs top 15 teams. I would not even drop UM below them.
3rd time's a charm. He finally got it right.
Why does Galloway hate OSU? Does he have some beef with Urban Meyer or something. Listening to him hating on the Buckeyes.
Whatever happened to the jetsweep? Herman used it often, very successfully. No sign of it anymore.
Got up to EL last night. Weather is gonna be very similar to last year. Only one thing Buckeyes need to do. Run, run, and run some more. Wind gusts up to 40mph expected. Let's set a record for rush yards in a game. Ever. Go Bucks.
They ruined it last year for us. Had they beaten Sparty instead of the blocked punt, The Game would have decided the B1G East.