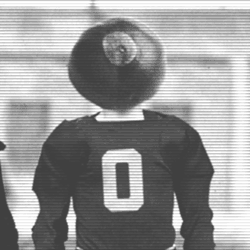 Zdog4307
---
from Columbus Ohio
MEMBER SINCE February 28, 2016
Favorites
SPORTS MOMENT: Ohio State winning 2015 nation championship and beating Alabama.
COLLEGE FOOTBALL PLAYER: Braxton Miller
COLLEGE BASKETBALL PLAYER: Aaron Craft
NFL TEAM: Cincinnati Bengals
NHL TEAM: Columbus Blue Jackets
NBA TEAM: Cleveland Cavilers
MLB TEAM: Cleveland Indians and Cincinnati Reds
SOCCER TEAM: Columbus Crew and US national teams
Recent Activity
Great game. Totally banner worthy.
Really high level of basketball being played in this game.
Dang that was a punt return? I suppose my memory failed me into wishful thinking it was a kick return. We haven't seen one of those in like a million years at Ohio State. I suppose this is basic info I probably could have looked up myself.
Damn am I starting a trend lol. I like this idea. My first Ohio State game was in 2008 against Ohio. I was pretty young at the time but it was actually a really close game. I remember watching Ray Small return a kick for a touchdown to seal the win. The game that really upstarted my fandom was the Rose Bowl vs Oregon. The 2010 season is the first season I followed closely and what really hooked me (shut up NCAA it happened I saw it.)
Looks like a ND insider (not Tom Loy) Crystal balled Clark Phillips to Ohio State.
Any chance Cam Large gets taken as a defensive end or is his future at tight end?
Like Rodgers and Pilgram but would rather see real Ohio State alum like Jackson, Tate or Woods on the team. Buford and Sullinger would obviously be great as well.
It also appears Noah Potter reaffirmed via twitter as well.
Ryan Jacoby reaffirmed via twitter.
Per his Twitter Cade Stover has been named Ohio Mr. Football
Dang can't watch the game. Why does BTN have to play stupid soccer instead.
Buying that OSU doesn't get in the playoffs I want Wazzu to some how get in and win the whole thing. Mike Leach is a god.
Drue Chrisman was the games MVP and had one of the best punting games I have ever seen, but I don't want to take anything away from the defense. The defense was great from the linebackers to the DB's to the D-line. MSU isn't exactly a juggernaut offensively and shot themselves in the foot multiple times but the defense was still rock solid. Haskins wasn't too good but this game proves Ohio State doesn't him throwing dimes left and right to win. The run game was better not great but better and I was happy to see Tate Martell getting involved. This may have been a hard game to watch, but it's encouraging and if the defense plays like this constantly and the run game and OL comes together this team still has a real chance to be something special.
Look on the bright side we are the dream crusher for literally every team in the big ten.
Kinda getting tired of seeing all this Zach Harrison stuff but I have a few things to say on the matter. I have some connections to Zach's recruitment thanks to a family member knowing Zach's dad Jimmy from work. He has only talked to Jimmy about it a few times and hasn't been able to talk to him in a few mounths. When he first talked to Jimmy about it about a year ago he had a feeling it was all Ohio State. At least at the time it looked like his parents preferred him to go to Ohio State and that nobody was a real threat. The most recent time he talked him about Zach's recruitment was a few mounths ago. Definitely got the impression he and his family like Urban and LJ a lot. At the time didn't get the impression they liked Harbaugh all that much he even mentioned Harbaugh picking his nose while they were in his office. At the time it didn't seem as though Michigan was a threat but Penn State was a threat and arguably the favorite. Have not heard anything for awhile. We have also gotten the impression that he wants to go away for college. Ultimately after each of his visits to Penn State and Michigan both of whom were thought to be the leader after the visit. He still is planning a visit to Ohio State and no other schools. He literally just visited Ohio State to check out academics. He has visited Ohio State numourious times sone of which haven't even been reported. Morally of the story is stop freaking out, it's not over. Don't count of Urban and LJ especially with the number one recruit in the state.
Once again metal acts like Iron Maiden and Judas Priest get shelved. Overall think this class lacks but there's a few big ones. I have a hard time seeing a scenario in which Def Leppard does not get in. They are going to destroy the fan vote much like Bob Jovi last year. I think ether Stevie Nicks and Janet Jackson are competing for a spot and since Jackson isn't rock I think Nicks should get in. Radiohead, Rage, The Zombies, The Cure, Roxy Music, Kraftwerk, The MC5, Devo and Todd Rungren are all solid options and I think three among those should get in. LL Cool J is a complete disgrace of a nomination. He flopped in the fan vote and finished thousands of votes below the likes of Judas Priest and The J Geils Band and yet he still some how gets nominated. Rap/Hip Hop is not Rock.
Tua is literally so over rated. Across the board Haskins has way better stats.Tua has like 16 TD passes while Haskins has 25. Haskins has also not played a schedule full of high school teams like Tua and has played some tough competition.
Lots of CB's for him towards Ohio State too.
Corey In The House is the best anime ever.