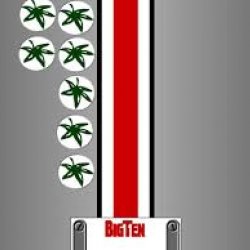 Zaphod Beeblebrox
---
Restaurant at the End of the Universe
Member since 09 December 2013 | Blog
Lifelong Ohio State fan. I will always miss Fall Saturday's at Ohio Stadium.

O-H I-O...GO BUCKEYES!!!
Favorites
SPORTS MOMENT: Being at The Shoe on 11-23-02. And watching the Buckeyes shock The U for the national title.
COLLEGE FOOTBALL PLAYER: Antoine Winfield, Beanie Wells, Chris Spielman
COLLEGE BASKETBALL PLAYER: Jimmy Jackson, Michael Redd
NFL TEAM: Cleveland Browns
MLB TEAM: Cleveland Indians
Recent Activity
Any truth to the rumor that the remainder of Charlie's contract will be paid off in Krispy Kreme Donuts?
Does ESPN have every SEC team ranked in the top 25 yet?
meeeechegan is in trouble. And barring some kind of miracle this will probably be Fat Boy's last year in ann arbor. Which will suck, I don't want to see Jim Harbaugh anywhere near that so-called football program.
Hoke is doing a great job @ meeeechegan!
Just disappointed in his desisions & what it ended up costing Ohio State football.
Johnny Foosball has nothing to do w/ what TP did. And I'm pretty sure Tricky Tressel lost his job due to his cover-up of what he knew was going on at the time. Although to be fair it just wasn't TP. Don't remember most of the others involved but I think Dan 'Boom' Heron (spelling?) was one of them.
Well I just puked. My vacation is ruined!
Figures that the Buckeyes finally beat a damn SEC team & the bowl W was taken away due to some really poor decisions.
Hey thanks, I don't know how to post stuff on this site.
Current article up on espn.com I ran across.
That map is wrong. I used to be a UNLV season ticket holder (hoops) & the Runnin' Rebels hated two schools... first That Team Up North, Nevada-Reeeno (they really call them that) & BYU. Although BYU tucked their tail between their legs & left the MWC for the WCC a few years ago so it's not a rivalry anymore.
That jersey is a damn joke...just like meeeechegan football!
I miss Fall Saturday's at Ohio Stadium.
Yes it is. Hey did you know that the inventor of the Leisure Suit passed away after a very long battle w/ bad taste?
8-30-14 can't get here fast enough.
I can't blame the entire state of Ohio for one Clevelanders really bad idea. Although I'm not sure if John Glenn ever got a plate, he sure as hell deserved one though.
Not sure about that. When I lived in Las Vegas & was a UNLV season ticket holder their main rival is Nevada-Reeeeeno, the Runnin' Rebels even refer to the Wolf Pack as that Team Up North. Although before BYU tucked their tails between their legs & ran away from the MWC & joined the WCC those two schools hated one another.
I think State Rep. Bill Patmon is drinking directly outta Lake Erie.
Rock gut whiskey & Swisher Sweets?