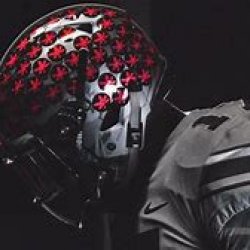 Zakb911
---
from Toledo
MEMBER SINCE July 10, 2018
Recent Activity
I think Tony wants us all to start sending Demarckus Bowman envelopes of cash in secret.
The truth is Miyan Williams is very underrated. Watch it again or find a better clip.
Andrew Thomas GA or Bryce Hall UVA. Perhaps the best OL and CB in college football. Would make either unit the best in the country most likely.

I agree but think we'll get one of the running backs.
Why would someone use being homesick as an excuse lol You'd think he'd just say I want a chance to start somewhere else.
I definitely agree he wasn't starting. I think Baldwin looked smaller than Tate in pads during the spring game. I'm not glad or happy he's leaving but I never seen anything at OSU where I was like dang I can't wait for Baldwin to start.
Maybe Vanatsky ends up being a little special with more work. Honestly do not want a homesick kid as my backup anyway.. he could have maybe mentioned something a little sooner. Probably taking who we can get at this point. 72 passing TD's for Vanatsky in HS.
Hilarious dog. No salt needed here. Most college aged folks' can only recall the modern era. I think UM has had a few good seasons over the last quarter century, however the ugliness you've witnessed I've never experienced. Losing to a 3 win mac program at home etc... .. I feel like your fans are now celebrating the fact they are out of the dumpster fire decade but still can't beat a team worth a whatever .. it's funny how every time UM is torched in a big game (every time they play one) the dumpster fire gets re-lit at MGO (didn't realize there was still football talk there) and everyone remembers what it really is up north.. not much. Congrats on winning some games I didn't know.
I sure hope we land another top corner before its all said and done, I'm not so much worried about next years roster (Wade appears to be a future star plus others with great potential), but two years without a top recruit at the position is hard. I'm pretty confident and its extremely early, but I hope its not a 50-50 situation where were waiting for something to go our way on signing day. I'm glad we made a great coaching change.
Over. We'll see how it all comes together but.. the talent differential isn't very debatable. I love the new coaching staff. Less points, much better defense.
This is where I'm at. I think well beat up a few of those teams. We wont score as many points, but our defense won't be on the fields as much either.
Demarkcus Bowman, even though he might be a longshot. I like him just behind or ahead of Evans. Ran all over and around St Thomas Aquinas in the State Championship (211 yards and a breakaway TD). https://www.youtube.com/watch?v=VV1YMA_oNug
I think he should be one of the top players in college football next year, with leadership skills. Fuller and Hill returning is HUGE for us.
Love this class from top to bottom. Its hard to judge from highlight tapes but I do not see McKenzie as more of a project than 'most' others. I did not rewatch but I remember forwarding his tape. I thought he was very underrated. I'm also excited about Bryson Shaw. Love them all.
I watched all the media interviews with the new coaches and I'm excited about everyone. They all said the right things, I'm expecting a much improved defense.
I like the 'plain' black cannonball helmet .. ala 2016 TTUN (probably my favorite combo thus far). I also like the wide stripe with stickers.. and as a few mentioned above the cocaine whites with possibly a different helmet. The best is yet to be seen, 100's of great possibilities.
Dobbins would have been higher (I hate to speculate but sorry Najee), had he played a snap his senior year. He absolutely destroyed Texas his junior season. I remember following his short recruitment and watching the highlight tapes of the top 10 RB's and was like yah ok he's hurt.
https://www.youtube.com/watch?v=zglLGUmNF2w
https://www.youtube.com/watch?v=gZOssBuGAQE
I said I wanted him to stay and win the job, before he announced that was his plan, then he quit like a kid and I found out there's a pattern. No thanks, I'll take Fields and Baldwin.
Recruiting holds as long as we keep winning. Urban Meyer is assistant AD. Day's reputation is growing among QB's, receivers will follow plus Hartline is really good.. LJ is still here.. I miss Coombs like everyone else. Schiano reeled in some big dogs, he will also be missed. More OL and DB's.
I've wanted to see TM get snaps since he got here (a winner with all the tools who is exciting to watch) so I struggle with it, but.. it's whatever is best for the team. If TM is beaten out I hope its decisive.
I'm only through the first half of this but it is very simply just the truth, thank you. The refs were awful in this game, in my mind it will always be a 40 to 50 pt. bludgeoning. I wouldn't say the worse officiated game I've ever seen, but top 5-10 without a doubt. It was a massacre or indeed a "beatdown of biblical proportions". I'm happy educated Michigan fans agree All the hype about that defense, those guys will now forever be a bunch of overrated no-names who couldn't beat anyone. All those top guys lead that team to a victory over nobody for there career. Have fun getting thrown around in the pros for a season before you get cut.
We have the largest percentage of fans for a #2 ranked team, ever, to be nervous about a game against Purdue. I have been a huge fan of college football and OSU for forever and someone has to say West Lafayette for me to remember Purdue is in Indiana. I couldn't have guessed it on multiple choice last week. Cincinnati should join the BIG.
Bucks should win because we are better everywhere, Penn State is the only close or competitive game we've seen in the 4th quarter. I'm hoping to see a more polished and professional team, but don't care how much we win bye. I'd also like to see a big play or two from one of the freshman on defense, those guys were all animals.