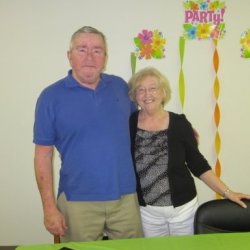 zacisone
---
Ross County, Ohio
Member since 09 September 2011 | Blog
Favorites
SPORTS MOMENT: 2006- OSU 42 UM 39
COLLEGE FOOTBALL PLAYER: A new one every year.
NFL TEAM: none
NHL TEAM: none
NBA TEAM: none
MLB TEAM: none
Recent Activity
I seriously doubt Tiger wins a tournament of any kind in the future.
A good story and thank you for sharing.
I wanted to let you know, I used to belong to Bucknuts.247 and I passed a similar message along and asked if anyone had Urban Myer's OSU e-mail address. This young man was 6 or 7, had terminal cancer, and loved the Buckeyes.
Anyway, the story was barely posted when the link lit up! I got about 30 comments from negative to extremely rude on the order of "what, you think Urban has nothing better to do" "idiot", etc, etc. Even Dave Biddle one of the moderators jumped in with all his buddys. Anyway, I was so pissed I called them, told them what had happened, and to immediately cancel my membership. The guy was apologizing and offering me 3 months free, etc. I told him to jam it up his ***.
If anyone here is also a member of bucknuts, and you care, go to their message board and do a search on Zacisone.
I am happy for the messages you got and all the best for your great step nephew!
That guy should never wear a cap!
Well Boone wasn't always the cleanest pot in the pantry.
Is it just me or does he have one of the most narrow heads I have ever seen?
You got it Buctor. Luke had a great hook shot among other shots. Smooth as silk. I watched their first game as sophomores, Larry was a junior. We beat Wake Forest by close to 30.
Flair and Brady. One washed up, the other heading down hill.
Of course I will Pray for the whole family.
I totally agree and that is the exact reason I cancelled a 4 year subscription to 247.bucknuts. Don't regret it either.
Nah, he'll get it anyway.
I never saw any blood on the field. Did you Kyle Kalik?
I posted to Bucknuts a story about a Central Michigan freshman player hit and killed by a car after pushing a girl out of the way. 90 days prior to that his brother was killed in a car collision.
I checked back a little bit later and saw I had 24 down votes, and quite a few of the rudest comments I have ever had in my 3 years of membership supposedly because I had asked if anyone new how to get the news to Urban Meyer primarily because he has shown an interest in that type of thing. You would have thought I shot the Pope. So I called Bucknuts and told them to canx my subscription. He asked why and I told him I will be 68 next week and been a fan since the mid 50's and I don't feel the need to pay $10 a month to be criticized by a bunch of wise asses including the mod that day Duane Long. Anyone here who wants to criticize me here have at it.
I just dumped Bucknuts. Eleven Warriors is home now.
I agree Jerry Lucas was the best I ever saw. At the low post he reminded me of a juggler with a half dozen balls and pinpoint passes going every which way.
The way it works is he doesn't pay all that much, UNTIL she leaves. That is when it gets pricey.
Until they get win number one I am not prepared to predict the season record.
...And that Huge Ring was for????
He must have whacked her with an ugly stick a few times!
Noah was an *ss in college. I didn't expect anything else in the NBA.
You raised a boy, the girl is no problem. When she gets about 12 you want all the neighbor boys to know that if someone hurts her in any way that you will either kill them or make them pray that you will. :O
A tie! Mr Nicklaus and Mr Jerry Lucas, Middletown, Middies. Talking about dominant, it was those two!
Somewhere, Jack's father is smiling.
Jerry Lucas. He was like a 6'8" magician.