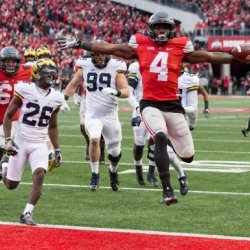 ZachBuckeye5
from Beloit Wisconsin
MEMBER SINCE August 26, 2015
Lifelong Buckeye Fan. Air Force Firefighter.
Favorites
SPORTS MOMENT: Running onto the field with the student section after tOSU beat the Badgers in 2011 on the late TD throw by Braxton.
COLLEGE FOOTBALL PLAYER: Braxton Miller
COLLEGE BASKETBALL PLAYER: Aaron Craft
NFL TEAM: Green Bay Packers
NBA TEAM: Milwaukee Bucks
MLB TEAM: Milwaukee Brewers
SOCCER TEAM: Liverpool
Recent Activity
Braxton Miller to Philly Brown vs Wisconsin in 2011
Probably qualifying for State in the High Jump in Track or playing in the Wisconsin All Star Game for basketball. Crazy the amount of high level players I got to play with and against like Diamond Stone, Henry Ellenson, Brevin Pritz, and a host of other Division 1-2 players.
Sitting first row in 2011 vs Wisconsin.... Need I say more? As a 14 year old to witness a field storming and getting to high five a few players was incredible.
Thing is, the newer guys arent good enough to compete for a title.... Those older guys went to a Final Four and an Elite 8, they had real talent. Either way, will root for them
Disagree with you, Borland was out of position numerous times because he couldn't get off a block or wasn't fast enough to get to the ball. He's got his strengths, but as OP said, I wonder if his weaknesses are bigger than his strengths. I guess time will tell
I'm a huge Liverpool supporter... Would of loved to see them clinch the title at Anfield. However, I would settle for watching them play in a Champions League Final. Unreal atmosphere
We never seem to get big games at night at home.... But big games on the road? Automatic night game.
College football wise? Badger tailgates. Nobody parties harder than UW Madison. Whew, lotta good memories I won't forget, and some I don't remember.
Hate to be that guy but its "affect" not effect lol.
Although the location of the Twin Cities isn't very good, especially for recruiting, the cities themselves are actually really cool. UM's campus is really nice too, almost attended school there. Only drawback is its cold as shit
By better talent, that includes development of recruits. Obviously their recruiting rankings are similar year in and year out, but Penn St has produced more "stars" if you will. Gesicki, the DE this year who I won't even try to spell his name, etc. Who from Michigan has been a star in the Big Ten besides Peppers... And he was overrated anyways. I would take Zeke's college career over Saquan btw lol.
Regarding your comment on other DB's not looking as good as you'd like in early playing time. Lattimore and Vonn Bell both struggled at times their Freshman (or RS Freshman) year. Both turned out to be pretty good players... Early playing time provides lots of opportunity to get better and get rid of the jitters of playing in front of 105k+
PSU has better talent than TTUN, no doubt. Micah Parsons and Barkley are better than anyone TTUN has produced in a decade. However, their coaching is a bit behind ours, as well as recruiting. Those combined are why we have seen a lot of close games, but us win usually.
Being from Wisconsin, and an hour from Marquette, I am familiar with the program. They run a guard heavy offense. Markus Howard led or was one of the leaders in scoring in the country for a reason, he could do whatever he wanted... Big part of the Houser brothers transferring. My guess is Carton will take over a similar role for them. He wanted to showcase his abilities more.
If Devin Gage is willing to come off the bench, I would more than welcome him. Guys from Chicago are known to be competitive and tough, would be a welcome presence off the bench, especially as a defender.
UV to counter the DV... I think you make a very valid point, and I think most Buckeye fans would agree that we shoot too many contested shots.
Here is a post from one of their fans on "Sooner Scoop"
"When can you lose a player of his skill set, talent, and drive... and not be too worried about it.... it really shows how deep at RB OU is really sitting. It's amazing really.

I really liked this kid. Loved his tOSU game. Good luck to him going forward"
Many other posts echoed this sentiment.
We will miss his presence inside no doubt. But I believe the additions of Sueing and Towns more than offset the loss of him. Those are 2 proven scorers who will be alongside Washington and Duane who will be in their 3rd year
Disagree. Sermon has already proven himself at the highest level. 2000 yards in 3 years, while sharing time all 3 years.
I'd say Sermon is the starting back until/unless Teague proves he's better.
He's also a 22 or 23 year old man. Much different than a 18-19 YO who needs to physically and mentally adjust. I get your point, but I think he'll be just fine.
If he can stay healthy, look out. Even if he can provide us only 10-12 carries a game, 6-7 ypg is to be expected. Dobbins may not be missed as hard as we thought.
I agree with most of you post besides Sueing… I've seen and read hes a great slasher who can finish at the rim well, not a great shooter. But his game should mesh very well with Towns
I won't dv you but that is incredibly false dude. I personally know a few guys who were solid D3 players lighting it up overseas. Gaffney was a TOP 50 recruit... He has the talent to play in the NBA, much less in some 2nd or 3rd league in Sweden. The issue with him is focus and mental toughness it appears, not skill level.
I disagree with the last part. A skilled, 6'9 lengthy wing can find a team somewhere in the world who will take him. Now whether he has the mental fortitude is a whole different argument.