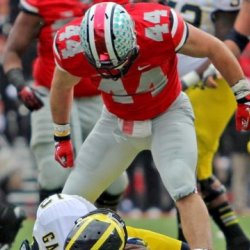 Zac313
Columbus (via Detroit)
Member since 08 November 2013 | Blog
Favorites
SPORTS MOMENT: Rushing the field after beating TSUN in 2012
COLLEGE FOOTBALL PLAYER: Carlos Hyde
COLLEGE BASKETBALL PLAYER: Victor Oladipo
NFL TEAM: Detroit Lions
NHL TEAM: Detroit Red Wings
NBA TEAM: Detroit Pistons
MLB TEAM: Detroit Tigers
SOCCER TEAM: Chelsea and the Crew
Recent Activity
I didn't even notice the one on the far left for runners up last. But I suppose that's by design
Best part is Petrino for sure. I almost lost it
I clicked on the video to watch the play that's been discussed and ended up watching the entire game again...
But actually, can we double Warriner's pay? Make him the highest paid position coach in the country. That man deserves it.
I don't think I'll ever get tired of watching this. Fireworks were literally going off a few blocks from me after this game
Doesn't look as blatant as Michigan State's Jack Allen trying to eye-gouge Jonathan Hankins in 2012.
Great read. We're lucky to have Coach Johnson here.
That would make sense. And agreed there's no way they'd approve of it.
They could potentially be gorgeous. I just wouldn't want to waste them on any game remaining on our schedule this season. Night game against Illinois is still against Illinois. I doubt we'd wear black away at MSU, and alternate jerseys against this year's TSUN team just doesn't seem right for some reason
Pat Fitzgerald, a lot of respect for his loyalty to his alma mater and consistent commitment to improve the football culture at Northwestern, even if they've fallen off the face of the Earth since we beat them last year. And you have to love the personalities of guys like Bo Pelini, Les Miles, and Steve Spurrier.
This is just phenomenal, I would upvote if I could
Any idea if the spring game is free to students?
I can get on board with that
Very interesting. But, as much as it'd be fun to see things crash and burn up north, the last thing we need is a further crippled Big Ten.
Half of me wants to compare this story to the relative pettiness of tattoo-gate, but there is nothing positive that can be taken out of such a horrible situation. I just hope justice is served for all involved parties.