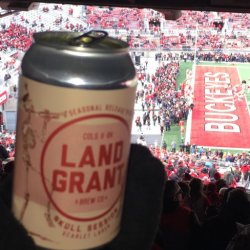 Yuman
---
Yuma Az (via Caldwell,OH)
MEMBER SINCE August 18, 2014
Recent Activity
Clowney is a player, yet I always feel like the hype was bigger than his production.
That's pretty much how it works, isn't it?
example: Russ Wilson and Patrick Mahomes.


I didn't research it, just my thoughts. I agree that puts UGA in top tier. I would argue that Arizona St is recruiting better than UM right now.
Everyone is behind those 3 right now. I would say Michigan is in the 3rd tier. The second tier is Georgia, LSU, Oregon, Oklahoma, and Penn St.
i think that can be tracked back to style of coverage being deployed at the time. DB's were not taught to look for the ball.
King has to beat Tathum for the job first.
WTF was he doing on bail?
What a great no call by the referees letting the hand fighting go!!
Actual discussions are rare indeed.
this is saddest and most factual thing I've read today.
Some of The power 5 Has reduced to a 10 game schedule. There is a chance some power 5 will cancel. So Less games to be televised, that should give the opportunity for MAC, CUSA, to sell games to the networks if they decide to play. People will watch them especially if power 5 isn't playing.
I don't necessarily agree with pac12 B1G decisions to play conference only, yet. I think SEC's wait and see approach is the better non decision at this point. Why not wait 3 weeks see what's going on? Also I would be OK if they said we are only playing conference games and non conference games of schools that are within the Conference footprint. This would allow much of the MAC to play against B1G teams. It also protects some good ACC/SEC rivalries. Clemson/SC, UF/FSU, UGA/GT, and more.
Z-List
Are you suggesting that the 2nd largest University system in nation, located in the state of California, did not do a proper vetting of Drake before hiring him?
Should the track and the rowing team form a union also? Or should they join the football/basketball union?
It makes me wonder what TP could have been with Ryan Day coaching him.
a handful who earned the title of "winner" due to their determination and leadership (Rex Kern, Troy Smith, J.T. Barrett).

when I starting reading that sentence my first though was Krenzel. How do you leave him out of that example?
Hoying should be in the discussion.
In 96 we couldn't always get the Buckeye Games out west. I was watching a USC game with Keyshawn Johnson and he was having a good game. SC must have had a noon west coast start and OSU a 3:30 start, I will never forget they showed a studio highlight from the Buckeye game of Glenn making a long diving catch. The studio guy says Keyshawn is the Best Receiver in the Nation this side of Terry Glenn!
I suspect the majority of seniors wont come back.
I disagree, the regular season was complete. Its like granting another year because the team didn't make a bowl game.
Kaleb should come back he is not ready for the NBA
Hopefully the CV threat will have ended by summer and The NCAA allows additional fall practices to make up for lost spring.
I wonder how many schools will try to claim a Natty. It works in Football.
I was shocked to see comments were allowed on this. after scrolling down some I see Bbb is on a roll.
Cop: you are a dangerous driver
me: never had a ticket
cop: you were speeding yesterday when I wasn't there and last week you made a right turn without using a blinker