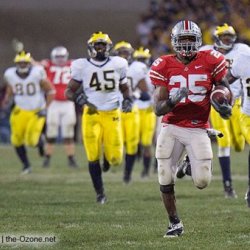 Yoyoma
---
Member since 28 February 2013 | Blog
Recent Activity
I might be interested in that action. Year & mileage?
I feel you. It's hard to get mad because business increased over 50% but damn!
I can attest that they do. I had several friends that went to EKU and visited many, many times in the early 2000's. I'll say this: I lived a rock and roll lifestyle at OSU and EKU was just as crazy. In fact, I thought that drugs were more prevalent in Richmond than they were in Columbus.
Saw them in Chi-town at the Metro. I know this because I still have the ticket stub, otherwise zero memory of the event.
I'm sorry to correct everyone, but tOSU is #1. We beat the #2 & #4 teams back-to-back.
Is it me or is it harder to work today than it was yesterday???
Guided By Voices
3-hour, drunken sets are commonplace.
OSU never had a shot at either Hicks or Depriest. They had family located in their respective landing places and were only in Ohio to finish school. I know a couple of boosters who talked to both of them at various events and it was very obvious that neither one would stay in Ohio very early on.
I'm currently sucked into the Dark Tower series by Stephen King. Not a giant King guy, and these books aren't super fantastic, but they're really good and really piss you off because there's like eight of them and you have to keep reading to see what happens and they average over 500 pages each...so yeah, over 4000 pages to see how it ends. The only other King novels that I liked were The Stand, It, and The Shining.
Other good novels: 1984, Animal Farm, Fear and Loathing in Las Vegas, Shit My Dad Says, I Hope They Serve Beer in Hell.
I think everyone needs to calm down about Kraemer. He's a catholic kid, from a catholic high school, who committed to a catholic college. When is everyone going to learn that this is the main reason Notre Dame has so much pull in Cincy???? They are heavy on catholic schools. Do the math people!!!
In related news, Ohio University is leading the push for legalization of marijuana in the state of Ohio. University officials have recognized an enormous demand for marijuana at university sporting events.
Gotta ask: is "the youtubes" in the original comment block a shout out to Chip Chipperson?
As someone who has coached defenses in the past, I can tell you that there are two main components to defending an option based offense. First the ENTIRE defensive line must be able to, at minimum, "absorb" the offensive line preventing second level blocking. Then you must have a fast reacting second level run support. Beyond that, on the perimeter, one of the options must be eliminated as quick as possible with second-level run support right behind. The basic term for all of this is "disruption."
The three friendliest(football environments) that I've been to are Northwestern, Purdue, and Indiana.
This one's tough because, like so many others on here, there are so many to choose from:
'95 Notre Dame - Glenn's long TD...found out when I got home it was during Regis Philbin's sideline interview!
'02 Penn State - Gamble's INT TD
'04 Marshall - NUUUUG!
'05 Michigan State - FG block for a TD as the 1st half expires...turned the tide in that game.
'06 Penn State - Troy's scramble and bomb.
'06 The Game - best game I've ever been to in any sport...and I've seen a perfect game in baseball!!!
'10 Iowa - OT Thrillers are always fun
'11 Wisconsin - Hail Mary!
'12 Nebraska - the entire second half curb stomp.
I lived in Yellow Springs for three years. Used to run into Chappelle every once in a while. Super cool, and very real...just don't act like a fan-boy.
Yeah I thought the same thing. 700 tons won't even come close to filling that lake.