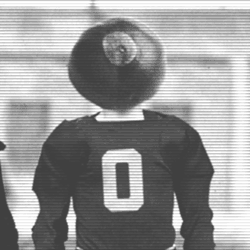 youra6
---
Boulder, Colorado
MEMBER SINCE October 14, 2013
Favorites
COLLEGE FOOTBALL PLAYER: Xbrax One
COLLEGE BASKETBALL PLAYER: Evan Turner
NBA TEAM: Lakers
Recent Activity
Curious, what speech was that?
His shoulder pads do seem to be higher. Could be a deceptive angle or due to the fact that Zach isn't standing fully straight in that picture.
Yep, no doubt in my mind that our S&C coaches will make him even faster. There is no way he has peaked yet.
Does anyone know the WR situation at Jacksonville? Aside from Dede Westbrook, I can't name another WR on their roster. Pryor might be coming into a pretty decent situation.
Coaches make a ton more than refs and are the faces of their respective programs. Therefore they are subjected to a lot more public scrutiny.
Player announcements are only made public if a school has to disclose the violation like a police report. A lot of times reprimands are behind closed doors, ie: "Player X is suspended because he/she violated student/team conduct" and we never get to hear or see what happened.
It was in a straight line. 275 stock tires are way to skinny for a 700+ HP car.
I test drove the Hell Cat (I had no intention of buying) and good grief it desperately needs wider tires. It could not hook worth a darn even when the tires are warm.
Might as well mark the 4 Ls right now on your calendar Mr. McGregor.
Did Desmond Howard write this article?
3. Swap out the Explorer for a 4runner. The latter has much better resale value.
Reeks of Ole Piss...
Even her tan lines are out of my league.
Not Daniel Jones. My top pick would have to be Mike Meyers. I watched SNL re runs as a kid back in the mid to late 90s and he was always my favorite. Chris Farley is probably my runner up.
Oh man what could have been had Conner stayed healthy.
Better than last year's B1G QB of the year, Alex Hornibrook.
There is a big chance that only 1 or 2 out of the 4 mentioned here will go in first round.
What about exploring one's options do you not understand?
Redskins got a freakin steal.
I seriously think that if Gary came to Ohio State, he and Bosa would have been 1 and 2 this year in the draft.
Except every one knew Rosen was terrible.
Rashan Gary who has averaged 3 sacks in last 3 years got drafted earlier than Haskins. Lol
The Giants subreddit is fucking gold right now. Top post was 'FIRE THIS MAN". I'm laughing so hard right now.
I can't wait when nothing comes out of this.
I think this is ultimately the correct take. Murray is going to be an instant upgrade over Rosen but I don't think he is going to last in the NFL. Haskins depending on where he goes may not even start his first year. There is no way of telling how any of this will play out but I do know that Howard will always be a moron.