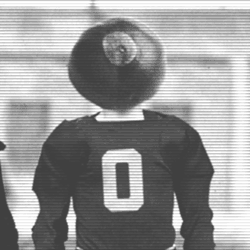 youra6
---
Boulder, Colorado
MEMBER SINCE October 14, 2013
Favorites
COLLEGE FOOTBALL PLAYER: Xbrax One
COLLEGE BASKETBALL PLAYER: Evan Turner
NBA TEAM: Lakers
Recent Activity
As long as he gets to call him Jimmy Boy.
The importance of fast LBs are becoming more and more evident in today's game as LB's are asked to cover TEs, WRs in addition to their normal gap filling duties.
I'm not saying Tuf need to run a 4.45 forty, but he needs to be one of the shiftier LB on the field if he is tasked to cover sideline to sideline.
Pack it up folks, nothing is beating this comment.
Maybe its time for him to find a new position because if he can't win the QB job at a second rate Florida school, he won't win the job at any FBS school.
I'm.... okay with this actually.
That move at :15 by Craft was most likely a double dribble (second hand may have touched the ball) but that was a sweet move nonetheless!
That's the problem. There is no reason for Alford not to be a Ferrari as well.
Looks like some people don't know what the italics mean. Upvoted.
Sorry to hear, that's terrible! Have you tried posting this on Nextdoor? It's a community of people who live around you so you will have a much higher chance of getting something.
Good luck!
this thread is turning into cesspool. I'll check back in a couple of weeks when all of this blows over and everyone is happy again.
No no... TSUN can go 0-12 as well.
Is that pretty inline with what most 2nd picks make? Per year he is making roughly 8.4 million.
If we go 11-1 In that scenario, we would most likely go to the B1G Championship game instead.
And lets be honest, the odds of us going 11-1 is much higher than TSUN going 11-1.
Will do!
The Supra at a starting price of 50K is a little out of my budget. I imagine it would be a mid life car for me in some years. My GT was only 32K before taxes and fees. I'm not sure if there is 20K difference in performance but I've always wanted a Supra ever since watching Fast and the Furious (like every other kid in the 2000s).
I know his name but this guy:
I've been a 4 banger guy for the longest time owned Evos, WRXs, MazdaSpeed6, etc and recently made the jump to the V8 world with my 2018 Mustang GT. However, since the purchase, my Mustang has been nothing but a headache.
While I love the Coyote engine, The MT82 transmission has been just a pain. I've had metal grinding sounds while shifting at high RPMs, lockouts going into third gear and Ford refuses to acknowledge anything wrong. I was hoping the superior transmission on the GT350 could be bolted on to the GT but nope its not that simple.
Also I wanted to eventually slap on a supercharger kit on it eventually but not anymore. Shame, because it would have been a Hellcat killer at nearly 20K less.
My next car would probably be the Supra, as I don't want to go back to 4 cylinder turbo cars, and my experience with American Muscle has been pretty awful.
Pretty sure you're wrong.
Sincerely,
"Millennial, aka wimp"
People overlooking Corn this year draws a lot of parallels to some of us overlooking Purdue last year. Nebraska lost to Colorado on a fluke last second play. The only bad losses were to Michigan and Troy. They nearly beat Iowa at the end of the season and played us very close. Nebraska could have finished their last 6 games 6-0 and looked like a 8-4 team by the end. Nebraska is returning a lot of players and one can only assume they will be better going forward given their trajectory last year. I honestly think they could contend with Iowa and Wisconsin for the West division this season. I would not overlook them at all.
Lol, one reporter tried to bait KJ Hill to speak more on that bizarre Arkansas story. Pretty sure the coaching staff told him to put a lid on that based on KJ's response.
Not a fan of these off-topic questions that can get players into trouble. Glad he chose to dodge that one.
Subarus. Great in snow and has really good resale value. Be sure to buy snow tires for the winter. AWD gives people false sense of confidence in the snow.
Nebraska started out really cold and lost some really close games early on. Not saying they were good but you could tell they would have been a bowl eligible team by the end of the season.
I don't believe you postered a 6 foot 2 eight year old Shaq.
Volnation is almost as pathetic as mgoblow
I compare it to tidal waves. It's the monsoon season right now and the waves are going to crash in hard. As time goes by the waves will start to subside but every now and then you'll get a big one that might wipe you out. Stay strong and don't feel like you have to fight the current. It's okay to be sad and angry. Just be sure to surround yourself with a healthy support group.