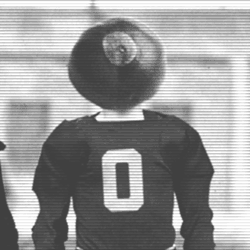 youra6
---
Boulder, Colorado
MEMBER SINCE October 14, 2013
Favorites
COLLEGE FOOTBALL PLAYER: Xbrax One
COLLEGE BASKETBALL PLAYER: Evan Turner
NBA TEAM: Lakers
Recent Activity
The other 4 must have picked Minnesota right? /s
He's like every good WRs we have had in the past 10 years rolled into one. He has speed, he can go catch the deep ball, he can catch inside routes, hes got good foot work and route running skills. Dude has it all.
Bert trying to cancel his official to OSU is probably the funniest recruiting story I've ever heard.
Texas never checked that first box anyways. UT is ranked 22nd in number of pros in the NFL. That's behind UCLA just for perspective. Ohio State is 2nd, only behind Bama. Now that I think about it, Texas doesn't check any of those boxes...
Those poor kids definitely got the raw end of that gene pool deal.
Yes, but her brother already called dibs
Put the championship game in Lucas Oil Stadium you butternut cowards!
Desmond Howard, too stupid to realize he's an unwilling "I" in the OH-IO
I wanted to cap it at 3, but yes those 2 firmly deserve a spot in the Axis of Evil. I included Mark May because he has been anti-OSU for longer than anyone on that list. A reprieve from Mark May these last few years doesn't change the fact he is still a biased, panty-wearing ahole.
I would wife Kristen Bell so hard.
OSU Axis of Evil
1.Mark May
2.Clay Travis
3.Desmond Howard
Okay so the ONE year Bama is outside looking in, they cry for 8 teams. Go fuck yourselves.
I want to thank Maryland for making Chase Young as pissed off as possible.
In other breaking news:
Clifford self reports to NCAA for taking money from boosters
BREAKING NEWS:
Clifford self reports to the NCAA for taking money from boosters.
No way Rutgers score 13 on us. Maryland beat these guys 48-7
All we have to do is look at the number of Pros we unleash into the league... we stand at #2.
Texas is behind UCLA for god's sake at #22. Just statiscially speaking, Bijan has a much higher probability of making millions of dollars if he comes to OSU. But I guess that isn't important enough to his grandparents. Oh well.
but I would cut off my own penis if we lost this game.
Saving this for later just in case.
Case open and shut Johnson
Did Kentucky just lose to a high school team?
If we played Georgia in the CFP, it would be a live execution on national TV.
The SEC is like hydra. You take one out another takes its place. Bama only 1 spot from getting in is a joke. Get ready for at least two SEC teams in the CFP again...