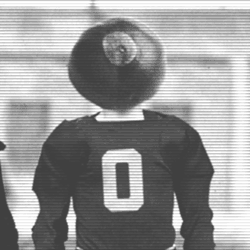 Youngbuck85
---
Member since 22 November 2013 | Blog
Favorites
NFL TEAM: Bengals
NBA TEAM: Cavaliers
Recent Activity
Jesus you must really have it out for Pryor.... A kid who won you 3 big ten championships a sugar bowl and a rose bowl.... If you think that Pryor was the only one driving around loaner cars and getting free stuff..... You're truly naive to how college football works. Kid gave it all on the field for his school, it was 5 years ago, and now we have the best coach in college football. Get over it.
There's a saying in recruiting that it's not the players you miss out on that hurt you, it's the players you take that don't pan out that do. Not having a running back in the class probably isn't a big deal. Having a roster spot taken up by one who will never see the field is .
Someone mentioned this but is Tyjon Lindsay still considered a must take by the staff? Or will they be happy with just grimes and Harris or DPJ
It sucks that they're basically kicking sibley out of the class. He seems like a great kid and I can't imagine being forced out of an opportunity to fulfill a dream. That being said... Do you think that when we play Alabama in the national championship , they're going to take it easier on us because we were nice and only recruited local kids? Look at our draft this year.... Bosa from Florida, Eli from NJ, Elliot from Missouri, etc. you have to take the best players to be the best. And most consider Akers to be a top 3 running back at this point. It's just part of the business that is college football at this point
Victor or Torrance Gibson , maybe the corner who went to STA
This is cool as hell. Would love to put a pair in to see what they're like
That really happened? Jeeze... Makes me sick even thinking about trying to do that
For clays we usually shoot a Charles Daly 20 and a Browning 12, both over-unders. A larger shot like the 12 is going to kick a little bit more and be a bit heavier, but it will also make hiring the clays easier. Something smaller like the 20 is much lighter and has less kick, and also makes hitting the clays a little more challenging. It's really a preference thing, but I would say once you're experienced a smaller gun is favorable. Have fun!
"Yah but it's not a quarterback draw "- Tim beck
A little naive to blame 5 players for something that athletes at every school in America does
I am of the firm belief that these violations happen at every single school.... But good lord Ole Miss has really been pushing it the last few years. They get some of these guys who never considered Ole Miss to commit on OVs that they have no business getting. What exactly is convincing all these 5 stars to leave their home states to play in.... Mississippi for what has been a mediocre program for years. When the SEC turns you in for cheating... You know it's BAD
The video will certainly get headlines as all news stories are meant to do but dig a bit deeper into the testing research done on DCA. The video left out that only 3 types of cancer were tested, that there was high inconsistency in the data, that dosages were not stated, that long term effects were not tested, and that DCA only slowed the growth of cancerous cells, it didn't kill them.
Think of yourself being in there position.... If you own that company or part of that company.... You can INSTANTLY become one of the richest men in the world. Why would you not take all that money so people down the road can make money? If you're doing something corrupt it's for your own profit, not of others. Plus the man that discovers the "cure" to cancer would be instantly recognized as a worldwide hero.
NOPE. This is by far the worst one out there. First of all we have a cure to most cancers.... It's called chemotherapy.... So if you're saying "slow playing a cure" I suppose that means you mean a cancer prevention cure or vaccine. In that case it would be something that 1, every person in the world would want to buy 2. The company could charge whatever the hell they wanted for it. The company that would come up with this cure would instantly become the richest in the medical industry.... And why the hell would a company spend hundreds of millions of dollars to find a cure that they never intend on using? Give me a break. It makes more sense from a financial standpoint to come out with the cure and make trillions.
There have definitely been some sketchy things going on at the university. The firings of Gee and Waters were both a little fishy
But you're missing the point..... Why would you rig a game like an NFL or NBA playoff game if you were the mob...... It would cost a ton more to rig a game like that then it would to pay some MAC quarterback to blow a conference game. Gamblers can make just as much money with a lower chance of being caught and lower cost rigging games that the entire country aren't watching. The mob or corrupt gamblers no doubt have the ability to rig games but they're not the ones that you would give a damn about. It's just not logical for them to do so.
There is no way in hell that pro sports are rigged. First of all, do you know how hard it would be to get 22 players on each team to either play better or worse than normal and just be ok with it? Do you know how hard these guys work to get to the super bowl? If the NFL were the ones paying players to "rig" games they would pay an ENORMOUS amount of money. Second, if it was happening... We would know about it. Players would eventually fess up to it, and what could the NFL do about it? Bribe players or put hit men on them to shut them up? Give me a break. Third, how does Payton manning winning a Super Bowl make the NFL more profitable... You're getting the same number of viewers one way or another. The only time sports could reasonable be rigged are by gamblers who pay players, and that wouldn't happen in the big NBA and NFL games because the amount to pay players to blow games would be huge. It would happen in small games no one pays attention to .
Outstanding class. Not disappointed that we didn't get Bruce or Lawrence necessarily, more disappointed that we let guys like Eichenberg Kraemer and Ferns get out of our own state. Throw in one of those two linemen and it takes this class to the next level in my opinion. But even as is a really really good class. Love the wideouts and D line
I would rather have one national championship and only one big ten title in 4 years than have 4 big ten titles and no national championship and it's not even close.... Couldn't win the big one Connor.... Shoutout to darron Lee for tweeting like an absolute savage
There is no way in hell an urban Meyer team is going to go 7-4 or even 8-3. We're still the most talented team in the big ten and it's not even close. Also one of the few teams in the conference returning a QB. We will be competing for a playoff spot.
Not to take away from his football abilities but I think he would be one hell of a TV personality. Would love to see him join Kirk and the other Buckeyes on ESPN