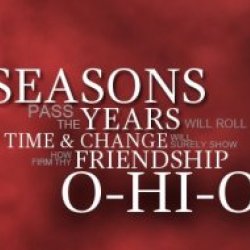 youngbuck32
---
from ashland, oh
MEMBER SINCE February 07, 2014
Born in Indiana but made it to the promised land by age 3 I am all buckeye.
Favorites
COLLEGE FOOTBALL PLAYER: old school:Eddie George. currently:joey bosa
COLLEGE BASKETBALL PLAYER: all time: Michael redd currently: Aaron craft
NFL TEAM: Browns
NHL TEAM: Red Wings
NBA TEAM: Cavs
MLB TEAM: Indians
SOCCER TEAM: Crew
Recent Activity
But can't catch a wide open screen pass and walk into the end zone.
Some men just want to watch the world burn. The joker Hannibal lecter Tom Herman
So we're just ignoring the Clemson and Penn State games then?
Fuck. That. Shit. (And by shit I of course mean Alabama) We aren't some placeholder til you think you can get a better offer. I know we will be fine but still stings of disrespect. Go bucks.
Plays for a small town team but is a heck of an athlete. Started playing g safety and was moved to linebacker and has enough of a frame/speed to possibly play d end. For sure at the HS level but not 100% sure for college. He's only a sophomore so give him a chance to develop at a position. Also yes he IS absolutely a great kid and comes from a great family.
He's on an incentive based deal with 2 mil of that 8 in incentives. Last I checked the browns offered between 17-23 in guaranteed $ over 4 years. Pryor wanted to get done here but rosenhaus told him to walk because he could get him more. Agents are supposed to make their clients money not lose it for them. It's not a smart move at all. You can sugar coat it however... Rosenhaus was wrong and it cost Pryor. Too many things can. Happen in the NFL In One season. Again best of luck to Pryor but rosenhaus screwed him this time. It might work out it might not, but I guarantee you Pryor did not walk out of Cleveland expecting a show me deal.
Fuck drew rosenhaus. According to reports Pryor had a multi year deal worth 8 mil per from the browns and Pryor's agents told him to walk and that he'd get more. Now he has to play on a show me deal. Best of luck to him. Again fuck rosenhaus.
Pinpoint passing and the ability to take a shot and keep going to the rim... also one of the more brilliant minds in the game... should I go on?
For most of the 40+ bench points livingston had 20 and since he's the backup of I would hazard a guess that it's possible curry wasn't on the floor during most of that scoring and out of the 20-25 shots those guys took only 6 could have possibly been assisted by curry... therefore yes it is most likely that curry was in fact carried by his bench.
So curry has ice in his veins by being carried by his bench players the whole game and made one shot when the game was already (arguably) out of reach? That's not clutch. That's not even good. That's jr Smith level ball there. Curry had a bad game. The cavs put physicality to him and he struggled. He might be better in game 2 and he might not but he will have to be better to maintain unanimous MVP status.
Game one just proved how average curry is when he is allowed to get manhandled in a game. Just like the 80s and 90s. This is why lebrons game fits any era And why yes you can prove he is the better player.
So what was the reason that curry just happened to start going off when Delly was taken to the hospital for dehydration? Delly is a strong defender and smart too. In his 20 min a game role he is playing even better this year so... Don't understand the nail in the coffin comment
Craft was a hard nosed defender whom many "experts" rated as the top defender in the college landscape for 2+ years. Last I checked he was also on a d league team affiliated with the GS warriors. Hit a game winner buzzer beater in the NCAA tournament in college. Worked hard every game, was very smart and didn't have any off court issues. But he's not a leader in your book? I'll take that every day of the week. He may not have been our most talented player ever but he had talent. Kj hill isn't in the d league.
Urban giveth and urban taketh away... Blessed be the name of urban! Go bucks.
I actually like to think of it as the recruits that "missed" on ohio state. I don't think urban has any regrets!
This is why I can't travel to Alabama......
I don't hate curry in particular but I did openly advocate (not in this forum) for him to be fouled extremely hard after bogut sent lebron into the cameraman. That's called protecting your own players and I was extremely pissed at coach blatt for failing to do so. It sends a message especially to someone who is afraid of contact. And btw it isn't dirty either.
Roll buckeyes roll! Win the day bucks!! Its your time!!! Make them remember... FOREVER... the night they played the buckeyes!!! RUN IT UP URBAN... LEAVE NO DOUBT!!! (Realistically though I like the good guys 45-35)
Yes missed tackles hurt us but remember sometimes that has more to do with the skill on that msu team. They got guys on schollies too. That's a good offense our defense just beat now.
If the buckeyes start slow I could see them scoring high twenties to low thirties... However... This offense starts fast (Penn state) and can score forty by blinking... Urban knows we need a good showing and I'm thinking 42-13 with a couple defensive touchdowns in there...
I faintly recall some comments to fire warriner after the va tech loss. Glad he's still here... Hopefully for awhile...
Just. Win. Baby.