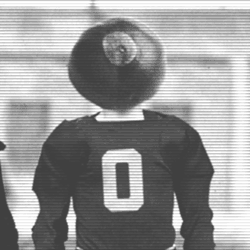 yepiwentthere
---
MEMBER SINCE August 26, 2017
Recent Activity
ESPN wants to punish the conference that rejected it as an owner for broadcast rights. It would do the same to any other Big Ten team. If anyone thinks ESPN is an honest journalist outlet, they are mistaken. Every action they take is to enhance their economic empire or punish those that rejected it.
Not a bad seat at Nipper. It's a great place to see a game.
Time to out Fields in the witness protection program!
He spent millions of dollars to slander a vietnam veteran for no other reason than he didn't like the man's politics. He represented the worse of those that use their money to control others.
He dominated his finals match. He's an absolute beast. He's going to be something special.
He's an absolute beast. Most phenomenal big freshmen that I've ever seen.
I rip everything from CD's to FLAC then store on USB drive attached to my router and it acts as a DLNA server. Then my receivers attach to the DLNA server. I can listen to all my music from multiple points, without using external bandwidth, and it's a lossless.
Logged in just to vote for this. Next would be tickets to Gilmour's next, which I doubt will ever happen.
Second car, first one would be a 1967 Corvette Stingray.
In a sport that has struggled so much in the last few decades, super teams are not good for the sport. Part of the reason that few communities get into wrestling is because few have had success. Thie Iowa run was boring and the PSU run is boring as well. To me, the most exciting part of the weekend was Mekhi Lewis.
True story: When I was at OSU, the class I was in was watching a film on on how the brain handles depth perception. It showed a quarterback wearing glasses that altered his perception; the quarterback then missed all his passes. I said out loud "hey, there's Herbstreit". It turns out Herbstreit was sitting right behind me.

The next day at role call I learned that Herbie was sitting right behind. Not only did he not get mad, he actually started a conversation with me and was quite kind. I have to say he was a class act.

He was out at her house to drop of his kids. A draconian interpretation of the law resulted in his arrest for trespassing. The reality is that a man was arrested for parking in ex's driveway to drop off his children. Courtney Smith would rather her kids walked across the street or exited from the street than to be logical with her children's father. But such is the bitterness in family court.
For those with a draconian interpretation of the law, he did trespass. For those who have the ability to see nuance, the reality is that a man was arrested for parking in his ex's driveway to drop off his children.
Not one of those upset fans are going to give him a dime thirty years from know if he is in need and his body is crippled (including mind). They are just concerned with their team's season this year. This is his chance to make what will support him for the rest of his life and he has to look out for his tong term interest.
Gamble was a receiver who stepped up and played corner because E.J. Underwood was getting abused; He was good that played both ways for the rest of the year. With him OSU does not win that game or quite a few others, let alone the national championship. He should have special place in every buckeye fan's heart.
This issue is so overblown when you consider all that is being alleged right now is Zach Smith parked in his ex's driveway when dropping off his kids. That right there shows you how vindictive this woman is. She wanted to have her kids father arrested for parking in her driveway. Based off of that arrest she was given a restraining order which are incredibly easy for anyone to get. I should know I had two put on my ex in the last year. Everyone that has ever been involved in family court knows how the hole system is screwed up beyond repair.
As someone who just spent 30k on a family lawyer, I can tell you most will do whatever it takes to win. Every family lawyer knows that the silver bullet is any DV accusation. It's a game changer and almost always works.
Or you can change a contact name for a number that is not the real number, say a friend or second line, and have a conversation that looks legitimate.
They're waiting for the next media storm to remove for this story to fade. If it wasn't for recruiting, they'd let this drag on later
One big difference between this match and the last one is that Snyder didn't get a bs stalling call in the first. The calling call forced Kyle to wrestle Coon's style and with a doubt affected the match. I will never never understand refs that call a much smaller wrestler for stalling when they are merely being overpowered. Way too many idiots think pushing is wrestling.
High school has a light heavy weight and I wish college ha one too. I think that if college had a 220 weigh class that Tommy Rowlands would have been a four time NCAA champion and might have never lost a match. With a 220 weight class Kyle is probably never within 8 of anyone.
Everyone keeps talking about Coon weighing 286. Coon weighed in at 286; for the match he probably weighed in the low 290s. That is a ton of weight to give up! With that Match being in Michigan and the local fans working working the ref Kyle was at a huge disadvantage. The early bullshit stalling call placed Kyle in a tough spot and forced him on the offense against a much larger wrestler who was content to counter. When a wrestler with a 70 pound advantage blocks off and just pushes and overpowers you it's NOT stalling. Coon may may not have lied like a fish but there is no doubt that he took no offensive risks and tried to rely mainly on countering from his huge size advantage.
The two will likely wrestle again twice. The more they wrestle the more I like Kyle's chance to develop a winning strategy. Next time they wrestle Kyle will probably be more defensive and will chose his shots. He may also work his duck-unders and snaps and spin behind and other strategies where he does not have to go under Coon to score. And hopefully next time he gets a competent ref.
Gene Mills was also on the 1980 team that did not get to participate because of the Olympic ban.
New Jersey State Champ and HS National Champ
Syracuse University's 1st 4 time All American
2 time NCAA Champion
voted outstanding wrestler NCAA's
Division I NCAA career pin record of 107 pins
3 time World Cup Champion
1980 World Super Champion in Japan and voted the Outstanding Wrestler
1980 Tbilisi (USSR) Champion and voted the Outstanding Wrestler
Cerra Pellado Champion in Cuba and voted the Outstanding Wrestler
Roger Goulon Champion in France and voted the Outstanding Wrestler
Rokoczi Cup Champ in Hungary and voted the Outstanding Wrestler
1980 US Olympian and voted the "Athlete of the Year" by the US Olympic Committee
Career record of 1356-46-1
Distinguished Member of the National Wrestling Hall of Fame in Stillwater, Oklahoma