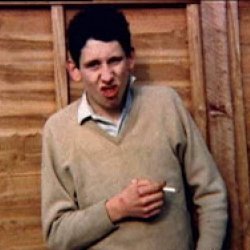 yankeescum
---
Member since 24 October 2011 | Blog
Recent Activity
And of course you are forgetting about the best coaching move ever: the infamous Buttslap.
I guess that I do not think of it as a political statement. I think that segregation, whether based on economics, or bigotry is not a good thing. I hope that statement could be said by a member of either political party. While not saying that all police officers are monsters, police brutality does exist, and some of the brutality is race based and that is bad. I also hope that this could be said by republican or democrat. If those statements are politically divisive, there are some serious problems in our nation.
Yo Alaskabuckeye! I live in Fairbanks, and would love to have some other Buckeye fans to watch games within here in the frozen north. Love the comment and couldn't agree more. Anyhow, if you are in Squarebanks sometime this fall, hit me up.
O-H...
Isn't Jon Gruden an old Dayton QB?
Man fuck yes on Ward. I remember watching his high school tape, and being impressed with his Charles Woodsonesque (sorry for bringing up horrid memories) aggression when playing the run. The kid still has that and that damn speed. He's a player.
Pardon me for throwing out a little Zach Smith defense, but how many schools have had six wideouts drafted in the last three years? I mean he can't be doing that bad.
Don't we have a name for passes that sail out of bounds?
This guy needs a WayCraken.
And those who have been on here long enough know exactly what I am talking about.
I haven't gotten that stupid excited over a kids high school highlight tape since Shazier.
That first step and explosiveness translates to any level. So does hard work and ambition. Consider my bags packed and the porter is throwing them on the hype train.
I would think that Booker is not, and never has been an option in the middle. I have always thought of his skill set and body type as more of an outside guy. I would think that Worley, Baker and Jones would all be more likely middle guys, with Browning possibly the heir apparent for next year.
Unless there is some kind of bizarre, shady understory, that has never been written the Micah Parsons "incident" sounds like a bunch of hot air.
Good for the kid standing up for what he believes and not representing that kind of bullshit that those girls were throwing out there.
Click your heels together three times and say it with me...
Cheers to the Dontre Wilson appreciation. Most people forget that the guy was pretty darn good before bravely and unselfishly playing on a broken foot against Michigan State. He was never the same, but he still wasn't bad. He may not have played like Harvin, but he also wasn't as big of a dickhead as Harvin. Also he played for the Buckeyes, not the gators. So in a lot of ways he is better than Harvin. So thanks for not being Harvin, Dontre and good luck out there
And he has a sick ass jean jacket.
Well Mr. Byrnes, you should be reading some Patrick McCabe, you could get back to your Irish roots and read an author who still regularly uses the word Louche. It seems that every shady bastard in the books has "a cigarette dangling louchely from his lips". Great stuff.
Maybe the "Lattimer" pronunciation is a shout out to the movie The Program, with Omar Epps and James Caan. Lattimer is the roid rage guy who is head butting the windows out of cars at the end. In fact, Duane Davis (who is also in Diggstown, one of the finest films ever made) is also in it. And he happens to be new Buckeye Wyatt Davis's father.
I love the hell out of JT. We should all be overjoyed that we have another year with him. But the guy is getting some well deserved criticism. His passing last year was flat out not good enough and certainly not accurate enough. I get that some of the timing issues are equally on the wideouts, but we need better from our quarterback. That being said, I believe that he can and will provide better this year. His leadership, experience and awesome competitive drive are vital for what is still a fairly young offense. I appreciate what the guy has done for the program, and hope that he can get better at the things that he needs to. I also think that the coaching staff not emptying the backfield with no tight end on obvious blitz situations would not hurt. As much as JT and the receivers and the line struggled, I think that the calling of games was just brutal. Wilson and company being some fresh voices cannot hurt. I cannot wait to see what the offense looks like this year. I think that we will all be pleasantly surprised.
I live in Alaska, where The Game starts at eight in the morning. I went out the night before and slept through the three alarms that I had set. I looked at the clock and said Oh Shit! I missed The Game. I sprinted to the television and turned it on just in time to see a michigan touchdown. And then they lined up for two and I was really thinking Oh Shit now. I could not bear the shame of Brady Hoke winning again. Then a timeout. And then I went from thinking Oh Shit to Oh Fuck and cock sandwich and whatever other profane thing I could think of as my alcohol injured brain tried to come to grips with the concept of Brady Hoke performing a victory dance and crying big crocodile tears of joy. They snapped the ball and TYVIS FUCKING POWELL happened and cured my hangover and saved my year in on fell swoop. Thank you Tyvis.
I am happy to see the dude back in Columbus. Whatever his faults, John Cooper, created an environment that brought Buckeyes back to the school almost constantly. It seemed as though former Buckeyes in the NFL were fixtures in the weight room. I don't know if it is an evolution of league attitiudes toward off season workouts or liability issues, or what, but the more we can get those guys back on campus, the better.
If that is the same Donnie Abraham that used to play for the Bucs under Lovie and with Hardy Nickerson, I think they can justify hiring the guy. He played forever, and is totally qualified. Harbaugh on the other hand....
I could not agree more. We emptied the backfield on about eight million third downs, and it seemed like every time was a pick or a sack. There is a reason that the coaching staff underwent a huge shakeup on offense. I appreciate what Warriner did for the O line, but I was surprised that he became our coordinator. It was a mistake to put him there. Urban is human, he makes mistakes. Warriner as coordinator was a mistake. Continuously emptying the backfield on third down was a mistake. It's okay to say that. We still love him and think be is the best.
Robert Snead AKA Shazier Jr.!!!
The St Brown boys are straight genii. I have not seen many high school highlight reels that compare favorably (or at all) to Shazier. That Snead kid is a beast!!! Talk about playing like your hair's on fire.
A great reminder that these opportunities for these young men are fleeting. However long they give us a chance to cheer their accomplishments as Buckeyes, all we owe them is a thank you.
That kid looks like a legit six foot five with the acceleration of a sprinter about a foot shorter. I am sold.
Does anyone know if Sheffield will be here for spring ball?
The original Chik-Fil-A was called The Dwarf House. It's the only Chik-Fil-A that I have actually been to.