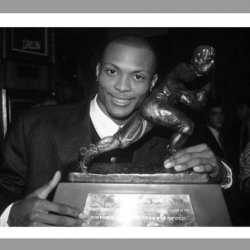 Yance
Westerville, OH (via Westerville, OH)
MEMBER SINCE August 24, 2015
Buckeye born and bred. Theres more here for later.
Favorites
SPORTS MOMENT: Man.. There's a few great memories thanks to the Buckeyes & Lebron. I'd have to go with being at The Game showcasing the No.1 & No.2 ranked teams in the country as my best live moment, although stomping Wiscy 59-0 in Indianapolis is a close second especially when considering what followed.
COLLEGE FOOTBALL PLAYER: Braxton Miller/Eddie George/Joey Galloway
COLLEGE BASKETBALL PLAYER: Aaron Craft/Michael Redd/Scoonie Penn
NFL TEAM: Cincinnati Bengals
NHL TEAM: CBJ
NBA TEAM: Lebron
MLB TEAM: No
SOCCER TEAM: Tottenham Hotspur & the EPL in general
Recent Activity
At the end of the day, whatever Ryan Day chooses I'll support until proven wrong.
No, I don't think this would happen at all. The question was posted to settle a debate.
None of the players listed had to compete with the level of players Zach will for PT as a Freshman
Nick Bosa competed with Tyquan Lewis, Sam Hubbard and Jalyn Holmes for PT. You think there's 3 guys of that caliber in front of ZH?
LJ's commitment to not putting true freshman in situations where they may fail suggests he'll get limited snaps (a la Nick Bosa). That bing said, the DE position is probably not quite as strong as it was when Nick was a freshman, so there could be more opportunity depending on how quickly ZH adapts.
One thing is certain: LJ will coach the hell out of this man!
Yes it does!
A little backstory behind the thread: my cousin and I work together and he thinks Day absolutely promises the starting job to Fields to get him to commit and Martel transfers. I figured the 11W faithful would also tell him he's absolutely wrong.
@mhenning2 where are ya?
Don't sweat the 2020 guys pulling back -- that's to be expected when a HC leaves. 2020 recruits weren't top priority before the news break, and shouldn't be top priority after. We have time. 2019 signing day is right around the corner, that's where the focus is. Take care of the most important first (2019 class), figure out how you're going to align your staff going forward, and then go provide the 2020 guys the reassurance they need.
Larry Johnson needs promoted to Co-DC/DL coach with Marcus Freeman as co-DC/LB coach! I'll refrain from speculating on anything else.
"this guy said, in all seriousness, while his buckeyes beat one of the toughest teams in the country (?) by 20 points"
For starters we have yet to beat one of the toughest teams in the country... and the Spartans quite literally handed us the game after snapping a punt over their heads, botching the ensuing kickoff, and following that up with two turnovers in their half on consecutive drives. Yes, good defenses cause turnovers, and we played about the best defensive game I've seen all season, but it's MSU..... let's not get ahead of ourselves. Plenty of room for improvement prior to TTUN week! Let's not act like we didn't struggle with a mediocre at best MSU....
I may be overly optimistic -- and admittedly, I usually am -- but I think this is just an honest response to a lot of false speculation. I don't think he's laying ground work to step away, though I completely understand where people may hold that opinion. I think Urban is providing an answer to those who have been questioning his demeanor on the sideline. Aside from losing balance vs. IU, Urban has always been very emotionally involved and overly anxious on the sidelines. I don't see any difference this year from years past -- but that's just me.
Time will tell. I don't want to jump to any conclusions quite yet! Hopefully we have him for years to come!
Right on, Hov. Could people overreact more? lol.
Anyone know where to find statistics on Haskins completion percentage on throws of 20 or more yards?
...to win the game. But, as Musburger would point out, that wouldn't favor optimistic Buckeye fans this week. Need to score 4 more than they do!
Very good point, but this game should be very competitive. Hopefully our offensive firepower is just too much to keep up with!
Bucks and Ducks, absolutely.
Curious, could you set this to put two games in one question, and have voters choose the result they're most confident in? That would create some interesting discussion imo...
ie: Do you take game 1 Team A vs. Team B or game 2 Team C vs. Team D? And who covers?
a. Team A -3
b. Team B +3
c. Team C -4.5
d. Team D +4.5
Whatever they did to slow him down in the 4th qtr last year... do that, all game.
Good to hear Bosa plans to return.
Time of the defense to show up! Saturday can't come soon enough, but I'm sure Meyer would argue otherwise. Need to prepare for a great PSU offense!
I agree here. This game has the looks of being an offensive battle. I think we have the edge in that regard, but the Happy Valley White Out has significance we can't ignore! I'm expecting a similar result to the TCU game, but I don't expect PSU to shoot themselves in the foot as much as TCU did. Could be much closer in score as a result.
**Insert "Cmon man" gif here**
Urban is back! This was impressive given all the scrutiny he's received. I thought he was very poised and authentic here.
.
.
.
Now let's move on!!
Even if it's the sports hernia rumor floating around on Bucknuts, then it would be 4-6 weeks, and maybe they'd go conservative and have him sit a full 8 weeks which times up for the Nov. 10 game against Michigan State.
But they didn't. That game got way out of hand after the first half. TCU destroyed SMU. Did you only stay up for the 1H?
I know it's normal fandom, but the TCU message board community seems to think we're "drinking the kool-aid" when it comes to how good our team can be. I completely understand it comes off that way, but there's definitely something the air with this team. It's just different. I'm beyond excited to watch us smack the living crap out of these guys on Saturday night, purely for the satisfaction I'll feel when I return to the killerfrogs forums Sunday morning!
Easy money... lay the points and take the over. Buckeyes offense rolls. 42-17.