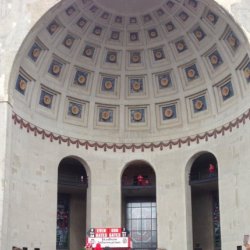 xyzner
---
SW Florida (via Cincinnati )
MEMBER SINCE October 16, 2013
Favorites
SPORTS MOMENT: Being in the Shoe for the win over Michigan in 2006
COLLEGE FOOTBALL PLAYER: Teddy Ginn
COLLEGE BASKETBALL PLAYER: Scoonie Penn
NFL TEAM: Bengals
NHL TEAM: Eh?
NBA TEAM: Lakers
MLB TEAM: Reds
SOCCER TEAM: Qué?
Recent Activity
Yes, a Herbstreit that was roommates with DJ Byrnes.
The otter image on the headline is an A+ effort, troll job of MGoBlog. I love it.
On top of him being a former writer of this site, he also is an OSU grad right? I think he was just trying to do his job and be fair. Maybe he tries a little too hard to be fair, but I'd rather he error that way, then just come off as an OSU homer. I'm not saying I agreed with his tone or opinion, but he gave his honest take, wrong as it was. I think the goal of those pieces is to get the feel of optimism from the other side.
If you need to read pro-buckeye pieces by him, they're probably somewhere on this website.
If Ohio State wins they jump to 5 behind Oklahoma. Oklahoma needs to lose 1 of their next 2, and OSU needs to win out. Everything else doesn't matter.
Agree with everything you said, except 2006 Gators had 1 loss. Les Miles and his 2007 Tigers however. . .
It's alright, this is the first time Urban let us down in a press conference this year, right?
Reddit's r/cfb game threads are my go to during commercial breaks.
I think this is pretty accurate. Based on Urban's comments on how much he values his wife's opinion, on even football related matters, it's almost impossible for her to not have passed along these occurrences to him. Even more, Urban doesn't strike me as an oblivious person, in fact it's well documented he's the opposite of that. It's why he's successful.
It's 1 - Urban knew and for whatever reason cared too much about Zach to see things for how they really were or come to terms with it, then decided to lie about knowing.
Or
2 - He clings to his own wife not telling him something about this and he had no idea. He then has to hope Ohio State buys it and that nothing else comes out. I unfortunately find this one hard to believe.
It seems like Urban damned himself by not just being more forthecoming and honest in the press conference. I love Urban and don't want him to go, but he would have done himself a ton of favors by just apologizing in the press conference for failing to stop this way sooner.
Agreed it is bs that the SEC plays the chicken shit Saturday business. But regardless Slive played his angle, and he played it well. The SEC run of championships was extremely impressive and those SEC teams weren't playing the UABs of the world in 7 straight national championship games. As a big ten fan, I just try to rationalize it all as Slive having 4 extremely great things working for him in tandem: Nick Saban, Urban Meyer, having the most talent rich area of the country, and ESPN (who despite our despise, carries a lot of eyeballs and therefore a whole lot of weight nationally). I hate the SEC, but no doubt about it, Slive was playing with a loaded deck but he played his cards extremely well. Delaney has done the same thing for the big ten despite playing with all the cards stacked against him.
We don't even get to hope Oregon is good in 2019. 2019 season will require going undefeated, regardless of how tough the B1G East is. ESPN won't care, so neither will the playoff committee.
And 9/16 are probably SEC schools that get away with 8 in conference games, terrible OOC schedules that likely feature FCS teams, and teams that never leave being south of the Mason Dixon line.
Yep. The 2019 OOC schedule is about as lame as they come. It would be nice if they could have scheduled another one off neutral site game to make up for losing the home and home with TCU. I can hear the ESPN talking heads ranting about it already.
If you're replacing marshmallows with hotdogs, I'm not sure we're any better off.
This was my thought too. A 50/50 chance of being drafted based on your high school star rating is pretty damn good. Anybody know the % of 4 stars and the % of 3 stars that get drafted?
This article is so spot on my feelings, I swear you copied it straight out of my brain. The one thing I really like about the Bengals taking buckeyes is that it helps me invest in them a little more. If the Bengals lose, I won't lose sleep (thank god). But, if they lose with Buckeyes than it starts to matter a little more to me.
I won't be surprised if he tears it up for them. I feel like any of our backs could be the feature back at all schools outside of maybe 5 in the entire country. It's a good problem to have. I hope he does big things for them and helps pulls some upsets against Clemson/FSU/Notre Dame/Miami.
Cool to see 11 Dub doing this. This is the type of content I come to the website for. Also whatever fills the time between football season, I'm all for.
Haha to be honest, this made me laugh because I had to look it up today too. Shovel shaped incisors (front teeth) actually seem to be a trait a lot of native Americans have (something to do with historically being hunter-gatherers leading to teeth that were better suited for it). Obviously, the Indians logo shows quite a drastic image of that.
For some reason I'm having a hard time picturing a large majority of Tenneseans being social justice warriors. I think that had everything to do with them thinking Schiano was not a good enough coach for their program (which they're wrong about) and smearing his name to get their way.
I'm with you on the overly PC culture, but not in this case. The logo is the problem. I try to look at it like this: Call a team the Africans and have a a similar caricature with a cartoonish black color for the "skin tone" along with large features. I think we could agree that that would be messed up. I mean the indian logo is literally a red man with a large nose and teeth, that plays right into old stereotypes.
The Redskins are on the other side of this - appropriate logo but messed up team name.
In this case? I'd say the Native Americans.
I'm with others - just do the "C" and put a feather on it. I think FSU and the Braves do it right. The Redskins? Not so much.
In other news today, the sky is blue.
Fromm leading the way is also kind of curious given most of the UGA fans on Reddit cfb think Fields will end up the starter.
I'm with you, but if Ohio State beats Wisconsin they have every right to claim that 4th seed when you look at the other teams vying for it.
Add in the fact that Fresno also lost to UNLV and its even more of an outrage. USF, with 1 loss before falling to UCF in a thriller couldn't even sniff the top 25 of the CFP poll. I just don't get it.