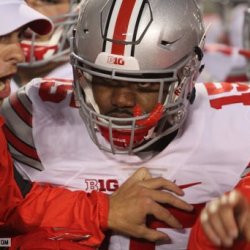 XTOWNBUCK
from Xenia, Ohio
MEMBER SINCE September 04, 2015
2014 Alumni, Construction Professional. Lifetime Buckeye.
Favorites
SPORTS MOMENT: 06. THE GAME. Storming the field.
COLLEGE FOOTBALL PLAYER: Cardale Jones
COLLEGE BASKETBALL PLAYER: Mike Conley
NFL TEAM: Browns
NBA TEAM: Cavs
SOCCER TEAM: USA
Recent Activity
im going to have a fields day with this
Just wanted to bump this to sort of pat myself on the back. Skimming the comments I was the only one that thought this was a possibility. Everyone else thought I was crazy!!
Where's my cookie!?!?
who was taver johnson trying to hang with?
@osudray:
Keep your list with this change
OL- LeCharles Bentley- every year this guy preps o-lineman for the NFL. Why not get paid big bucks? I'm sure he isn't hurting for cash, also sure he likes his lifestyle and recruiting and coaching would change that. But why not reach out?
I don't know enough about coaching to just assume a great player would make a great coach. I see it all the time in my line of work, a great worker doesn't make a great manager.
7-0 against the dark side!!!!!
What will the recruits think?
In all seriousness I need to find the next most likely riot situation and park my car there. I would love to have it totaled and collect the gap coverage on it.
Anyone seeing any major upsets or streaks ending anytime soon?
it's obvious to me the saints will pick him up.
all i'm saying is best #2 we've had is Mike Doss.
Doss>Jenkins>Pryor>Dobbins
Did they even try with OSU?
Sorry it happened, hope it wasn't a cover-up.
Antonio Pittman was a stud!!!
All of Ginn's highlights seem to feature him breaking someone's ankles. Love it!!! And sadly Ironic (RIP 06' NATTY)
It's actually Four 5-stars if you count kendall sheffield
Should be a day 1 leader for any team he chooses.
That graph might as well be in spanish.
Bosa sounds like a riot on Saturday nights, good grief is that guy about as dry as it gets.
As a resident of Xenia, the only local restaurant I suggest you visit is Nick's. Everything else will probably disappoint.
Would it be considered dirt to know if a player(s) didn't live in dorms, and instead luxury apartments? Is it something that should just be kept secret or is there no harm no foul? The fact I am even asking makes me think I should just protect the kids privacy.
As a fan it's not my "job" to do anything. I paid for a ticket to be entertained, and if I am not being entertained then I reserve the right to sound my displeasure.
If a comedian isn't funny, I wouldn't laugh to encourage him.
Sounds like a participation trophy to me.
Side note, I did not attend this game, I did not boo this team publicly. But I won't lie and claim that I haven't disagreed with punting on a 4th and short, or running the QB draw when everyone knows you're going to. I just dislike the notion that admins/coaches/players get upset at fans that boo their team. It's like getting 110k restaurant reviews all at one time, and your food sucks. So do better.
I wonder if it's the current oldfields owner or an owner from before that. I can't speak to the current owner as I haven't been to Oldfield's in 8 or 9 years, but I remember Karaoke Thursday's like they were yesterday. The place had a good vibe. Old school, dive bar feel is tough to pull off in such a large space, good luck to em. For what it's worth South Campus Gateway is run by slumlords, I wouldn't move in there.