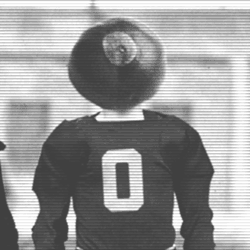 xenocide78
---
Member since 21 August 2014 | Blog
Recent Activity
I don't comment at all on this site, just read. But this is glorious.
How good are the Bourbon drinks? Been reading the Situational for awhile now and keep meaning to try them. Any particular one that is especially good/bad?
Glad to hear that the defensive line doesn't expect much of a drop off. Excited to see what the other guys can do with their chance on the field. Nice to hear that we will get Schutt back either after the bye week or the following week. He's been eating up some space in the middle so far, as can be seen in the stat lines of McMillan.
I agree with you. I don't think he has a great chance to win it, but most definitely deserving of the nomination.
I loved that line by Meyer. And as an added bonus was the fact that all the players knew Meyer and the rest of the staff was going to push them until it was found.
I don't comment often on this site...but this was an absolutely amazing video. Loved it. Such a great season that I know I'll remember for many years.
Great article. I have truly enjoyed watching the work Warriner has done over the past few seasons with our offensive line when it continually under performed under the previous regime. As long as they continue to block well, and we find a solid replacement at RT, our offensive line will be a strength next season and allow us to get rolling early.
I was literally laughing out loud in my office at that. Glad 12 Gauge is returning though.
Completely agree. Love reading this stuff.
I'll never forget somehow seeing the game at a Buffalo Wild Wings in Virginia and there being this considerable Oregon presence, and that by the halftime they were silent. Then the 3rd started up and things got dicey. This one felt great. We weren't supposed to be able to beat Wisconsin and slow down Melvin Gordon, no way we could handle the physicality of Alabama and Amari Cooper on the edge, and lastly we couldn't slow down the speed and tempo of Marcus Mariotta and the Oregon Ducks. But we did it all. Anyone who doubted this team (and there were tons who did), all were served up a nice slice of crow. It was amazing, from Wisconsin through Oregon. The improbable, or as many thought...the impossible, happened. No one is silencing me as a fan for another year.
Absolutely great GIF for this.
Step away for a few minutes and all the numbers are seemingly gone.
172. EZE going to lead us to victory
I love Evan Spencer. That kid has heart and is going to be missed. You're right Spencer, "let's go play ball."
I don't think he's bitter. It sounds like it was probably a 52/48 lean for him kind of thing because of what Mariota has done for Oregon. Either way, bitter or not, he might want to work on that offensive line before picking against us.
I completely agree with IronPastor...I wasn't even logged in, and did so to give you an old school +1.
I just need some pads now, I'm ready to go coach!
Would like to see him get the majority of the snaps. S. Miller has been good for us all year, I just feel like Frazier offers more to the defense as a unit. Either way, if those two men can hold their own I like our chances in the trenches.
Jalin Marshall+Dontre Wilson returning kicks? I love it. You can't kick away from all the speed.
Mo...if this is you (and I suspect it is). Get off my page bro!