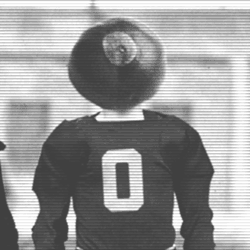 wyatt
---
MEMBER SINCE December 03, 2013
Recent Activity
I'm just glad we have Larry Johnson teaching, motivating and developing these guys.
It takes guts to even bring up the subject of mental health. A great first step.
Great update on the possible OSU bb recruits. Both Eugene Brown and Scottie Barnes are ready to play now. Very impressive in the videos.
Loveday looks like a typical Purdue player.
Price gouging has its limits. People can have better experiences with friends watching wide-screened TVs.
Coach Urban did too little too late. He should have followed his own rule. Domestic violence is a deal-breaker.
Alabama and Georgia are in the same conference but never play each other. Their schedules are a joke. Duke, New Mexico State, Murray State, Arkansas State......
Politicians can delay/screw up/mismanage anything. Four years? They don't take four years to get their pay raises.
About 2% of NCAA players make it to the NFL. This is typical of college football.
After teaching in Samoa for a few years, many claim the Samoan food helps. Palusami, taro, sapasui, Fa'alifu talo, oka. They fill you up quickly. A lot of coconut cream, taro, and more coconut cream.
He will make good money playing in Europe.
Same here. I got the injury from overtraining for a marathon. It was painful even walking to the car. Took about 3 months off doing only elliptical machine exercise. Can't hurry the body repair...especially for old geezers like me. Just did the Toledo marathon in April.
I can't think of an NBA player I dislike more than Grayson Allen. It's not even close.
With that salary, Conley would play any place. Didn't know Memphis even had an NBA team. /s
The funniest story I've heard today. Thanks.
Great for Denzel to start this program. Heart disease is the no 1 cause of death in America. My brother died from a heart attack at a young age. Family history and diet are major reasons. Google the 10 worst foods for heart health and you will see. My family grew up eating all of those foods. I learned and now run marathons. Thanks, Mr. Ward.
Great update on the round ball game. Thanks
Australia already produces many players ... mostly kickers Put some bangers on the barbie and have a VB. G'day mate.
The greatest coaches of all time have a common quality. The ability to recognize talent. Following recruiting is fantastic
KJ is talented and smooth. I like what I see.
All new players must have the name of CJ., AJ., EJ, KJ, LJ, or only initials? /s
Good one I'll go with do-be-do-be-do.
Best decision for him and the team. He's not ready for the big boys.
Mahalo and great to have a former Hawaiian player going to Columbus.
The Smith family almost makes the Kardashians look normal.