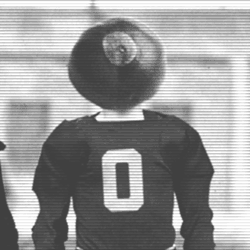 wyatt
---
Member since 03 December 2013 | Blog
Recent Activity
Like the saying "happy wife, happy life"
Even J.T. jumped in there and gave Tate some push in the black stripe video. Both Tate and Davis were not afraid to admit some early mistakes and struggles. Love the team chemistry. We might have a decent team developing.
Don't rewatch the Penn State game.
Nosker House for me. The original one before being rebuilt.
To me, a donut is a donut. They're all good.
A lot of room to grow but he's the man for the job.
Everybody likes free things. Great idea by Holtmann.
After watching videos, Danny Hummer looks like a left handed Aaron Craft.....stealing the ball and making assists.
I'm always impressed by how these players handle interviews. At that age I didn't know anything. Some will say I still don't.
I don't know about his competition but once Washington is past the first line of defense, he is gone. Punt/kick off returner written all over him.
John Cooper's problem was that game. https://www.elevenwarriors.com/2013/06/22916/ohio-state-football-the-complicated-legacy-of-john-cooper
Yes, John Cooper liked to play true freshmen, subscribing to the theory that "if a dog will bite he'll bite as a pup."
Shaun Lane, his father Garcia Lane, was also an outstanding player at tOSU. Story of never giving up. http://www.vindy.com/news/2015/jul/19/lanes-road/
Joe Burrow looks like a real leader. I expect him to be the first in when J.T. needs a breather or during cleanup time.
The personal conduct policy is wide ranging and open-ended. Goodell has all the power. Take your medicine and get ready for the other 10 games.
Looking forward for the entire WR group to "create space" during games. Zach Smith the teacher time.
Harbaugh is funny and stupid and crazy.
Zeke should shut up, do his 6 game suspension and grow the f" up.
Tyquan Lewis in the broad jump and 225? Paris Campbell, Ward and Webb in everything? Never heard of a 40" vertical (Sheffield), J.T. sneaking in the 3 cone, Dobbins looks like he has it. Does 25 lbs x 9 times qualify for a 225?
Winning and developing players are the best recruiting tools in the box.
There are about 10 schools that are college basketball royalty. We aren't there right now but I like our direction.
I hope for the best but I still say the Schott is the worst home court in America. Need to get an electric atmosphere, raucous crowd where other schools hate to play in.
Tim Capehart went to Clemson (booooo) and I think Greg Olson to Miami of Ohio. All 5 division 1 players.
Does this mean his "keep feeding me more" gesture will stop?