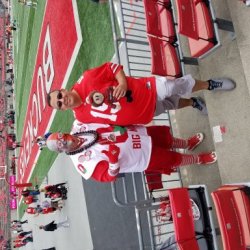 Wyandot Buckeye Fan
---
from Upper Sandusky
MEMBER SINCE August 22, 2015
Love the Buckeyes, hate TTUN.
Favorites
SPORTS MOMENT: Watching Ohio St. football win the National Championship in 2002 and 2014, and the Cavs winning the 2016 NBA championship. And watching the Upper Sandusky Rams win the division 2 State Championship in boys basketball in 2005, and watching Jon Diebler set the all time scoring record in the state at 3,208, which will never be broken.
COLLEGE FOOTBALL PLAYER: Ezekiel Elliott
COLLEGE BASKETBALL PLAYER: Jon Diebler
NFL TEAM: Cleveland Browns
NBA TEAM: Cleveland Cavs
MLB TEAM: Cleveland Indians
Recent Activity
SOME of skull session is okay, not the entire thing.
That's just my opinion, I just feel like Urban the last couple of years as let coaches slide, and not playing the best players. I just have this feeling that if Ryan isn't going back home to coach New England he'll be here fo 20 years. I don't know him personally but from the interviews I see him do, I get this vibe that he really likes it here, and he has the skills and mindset to get the best players and to compete for Natty's a lot.
The ass beatings by Iowa and Purdue happen in back to back years. And Urban said after the Iowa ass beating that it wouldn't happen again. But it happened again last year, and that's exactly why they shouldn't of gotten in the final 4. Urban refuses to hold his friends/coaches accountable.
You nailed it right on the head. Jabrill and Rashan Were good football players, but NOT great football players. Which should tell you they didn't receive the great coaching up North.
Ryan Day will be better than Urban Meyer, that's a guarantee. He will NOT ever get blown out by a nobody. It just goes to show you it wasn't the players fault on defense last year, it was Urban's friends that were the problem. There isn't nobody on this site that can argue that. The only other team Ryan would leave for is the New England Patriots. He is the next coming of Woody Hayes.
That's awesome that they moved the Bucks game to 3:30. Now we get to watch Wisky beat scUM. ichigan has NO chance of winning that game period, something tells me bitchigan is going to have at least 4 losses this year.
Indiana always seems to play us tough in Bloomington. Bucks win 35-21.
Shutout!
Yesterday I thought Dobbins looked like his Freshman year, on that 50 yard run, he showed break away speed. Master Teague is a true power back who will just run you over once he picks up a head of steam.
I don't give 2 shits what they say, nobody thought OSU would pitch a shutout.
Not that it really matters, but everyone knows the Big 12 doesn't play a lick of defense. There is no reason LSU should of moved ahead of OSU, the Bucks won 42-0.
UCLA Bruins suck, that's not a great accomplishment.
Luke Fickell will never be a head coach at a big time program like Ohio St. get over him.
Let's say Devier doesn't drop that pass and Ohio St. beats scUM, 1 win against scUM doesn't mean Luke would be a Buckeye legend? It was already decided before the game that they were going to hire Urban. Luke was 6-7 how on earth does that qualify for a great legacy?
I pretty sure this will get down voted but here goes. Here's to your boy Luke Fickell, he's seems like a great guy who will always be a Buckeye, but he will never be a big time head coach at a big time school. If your a school like Minnesota, Indiana, Illinois and teams like that who want to lose 3-4 games every year, then Luke is your guy. Today should be a sign that Luke isn't a big game head coach. Luke is a tremendous defensive coordinator. Buckeye fans don't have blinders on, it was 42-0. Cincinnati wasn't ready, it was men vs. boyz.
In my opinion he hasn't looked great since his Freshman year. That year he could cut on a dime, just haven't seen that from him, he looks a tad bit slower too.
Ohio State still had 4 & 5 star recruits.
I looked up Cincinnati's schedule last year, sure Luke went 11-2 last season, those 2 losses were too 2 good teams, they did beat Ohio by 4 points I believe, who ended up with 4 losses, but all the other opponents of Cincinnati's suck. My God UCLA had 9 losses last year. So basically Luke beat 1 decent team last year in Ohio. And yet some are concerned with Cincinnati because they beat the Bruins who suck. If the Buckeyes play the way their capable of playing and quit running of 1st down, I'll take the Bucks by 14-17 point win.
When your the head coach it comes with the territory. No question Braxton should of started from the beginning. Joe threw the football everywhere else but on the field at Nebraska.
Oh my God, you can't be serious. If Jim Harbaugh is gone after this year, ichigan will look at 2 guys, Campbell & Brohm. Luke Fickell to TTUN, that's laughable.
Then how on earth did Jim only lose 2 games the year before, and Urban went undefeated the year after Luke?
Luke was never going to leave OSU as long as he was offered the head coaching job. That 2011 year was a trial run, and he failed miserably. Down vote me all you want. There are way too many ass kissers on this site.
Luke's biggest mistake was starting Joe over Braxton. I don't give 2 shits if Braxton was a Freshman, Joe couldn't carry Braxton Miller's jock strap. If Braxton would of gotten the majority of the reps their record wouldn't of been as bad as it was. The year before Luke became head coach Jim lost 2 games, the year after Luke, Urban went undefeated.
I had no issues, but I was 10' from one.
Your proud of his 2011 record at OSU?