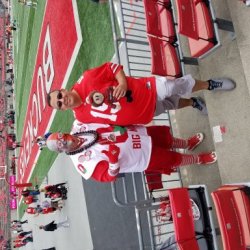 Wyandot Buckeye Fan
---
from Upper Sandusky
MEMBER SINCE August 22, 2015
Love the Buckeyes, hate TTUN.
Favorites
SPORTS MOMENT: Watching Ohio St. football win the National Championship in 2002 and 2014, and the Cavs winning the 2016 NBA championship. And watching the Upper Sandusky Rams win the division 2 State Championship in boys basketball in 2005, and watching Jon Diebler set the all time scoring record in the state at 3,208, which will never be broken.
COLLEGE FOOTBALL PLAYER: Ezekiel Elliott
COLLEGE BASKETBALL PLAYER: Jon Diebler
NFL TEAM: Cleveland Browns
NBA TEAM: Cleveland Cavs
MLB TEAM: Cleveland Indians
Recent Activity
Kaleb Wesson is not an NBA player this year, or next year. Not a chance.
Bye bye!
I thought Shaun Wade was already a late 1st to early 2nd round draft pick. Now he has the potential to be a top 10 draft pick.
It's called resign or be fired.
Luke isn't a big time college football coach.
Luke would be perfect for East Lansing, because their aspirations aren't enormous like some of the bigger programs. Luke is basically the same type of coach like Earl Bruce record wise.
Ryan Day is better then the other 4 coaches recruiting him, that will be the difference.
Now how do you know?
Get a clue you dummy!
So you want Aaron Craft whose never been an assistant before to be Ohio St.'s head coach? That's an asinine statement.
Not with that defense! Don't forget Penn St. scored most of their points in that game from costly turnovers from our offense on our side of the field.
I like Ryan Day a lot, but there was absolutely no reason to even put Justin in that spot where he might have to run. If memory serves me right, Ryan should of called the field goal unit on the field. One could argue that was the beginning of Justin's knee problem that contributed to the loss of his overall athletic ability that MAY OF cost OSU a Natty.
If you don't think Chris is a good coach, then explain to me and everyone else how they smoked North Carolina in Chapel Hill and beat Kentucky in Las Vegas?
I've said this numerous times. Ryan Day is the 2nd coming of Woody Hayes.
I would probably agree with him being just under those other 3 guys you mentioned. That being said J.K. is probably around mid 2nd round to early 3rd round pick. His Freshman and Junior years were clearly better than his Sophomore year. Way to go J.K..
That stadium has had real grass in it since it was built. Don't you pay attention? They shuffle the playing surface out one of the ends, so it can get natural sunlight and rain. It was a shitty surface for both teams.
There was no reason to even try to block the punt. Ohio St. would of got the ball around midfield anyways.
Replay is supposed to get it right every time, and this particular time it F'd up, and cost a team 6 points, at a game where points were hard to come by. Replay fucked up plain and simple.
J.K. never fully completed the play.
I disagree! Would you rather Clemson get the ball at the 40 or their 7 yard line?
Chris Olave is an NFL player you idiot. Fuck off you damn loser.
When points are hard to come by anyways, a touchdown can not be taken away by replay when there clearly wasn't enough evidence to overturn that scoop and score on the fumble. How much more does a player have to have control of the football for it not to be a fumble, the wide receiver took 3 steps, enough said.
Your a moron!
Get the damn blinders off, J.K. never had control. Did you even watch that replay?
Your a fucking idiot, get a clue you fucking loser.