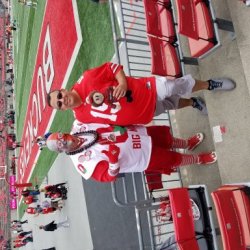 Wyandot Buckeye Fan
---
from Upper Sandusky
MEMBER SINCE August 22, 2015
Love the Buckeyes, hate TTUN.
Favorites
SPORTS MOMENT: Watching Ohio St. football win the National Championship in 2002 and 2014, and the Cavs winning the 2016 NBA championship. And watching the Upper Sandusky Rams win the division 2 State Championship in boys basketball in 2005, and watching Jon Diebler set the all time scoring record in the state at 3,208, which will never be broken.
COLLEGE FOOTBALL PLAYER: Ezekiel Elliott
COLLEGE BASKETBALL PLAYER: Jon Diebler
NFL TEAM: Cleveland Browns
NBA TEAM: Cleveland Cavs
MLB TEAM: Cleveland Indians
Recent Activity
According to NFL.com he's 12th best. The q.b. Index.
In my opinion Baker Mayfield is better than half the q.b.'s in the NFL, I personally go by throwing t.d.'s and int's. And I'm a big Dwayne Haskins fan, but I do think Baker will be a little better just because he's a little more mobile than Dwayne.
I'm sure their all great kids, but they look like thugs.
Heavens no!
Bye bye. Virginia Tech, Lol.
I expected Urban to have 2 NC's, and not go to Iowa and Purdue and get blown out of the water in back to back years. But I will say going undefeated against scUM was awesome.
In that video where are all the fans at?
Eat before you go in, problem solved.
You really don't think it was Thad's fault those players all left? Who recruited those players?
I would probably take Jim too, but Jon Diebler doesn't suck.
I would agree, let's don't forget he made the 3 from a couple foot beyond the 3 point line to tie it up.
I'll never understand tattooing your whole body up. People look like like a walking newspaper.
I think his ego might out way that.
That's 1 opinion.
$$$$$$$$$$$, Southern Cal, sunny all the time.
Isn't it Tate than ran his mouth? Tate was going to be given a fair shake, but he chose to run the other way. Good luck to him in Miami though.
Because the poor coaching lasted for most of the season, especially on the defensive side.
I've actually NEVER did drugs, never! We'll see I guess, nothing at all against Kendall, I just never saw improvement this season from him.
Kick Michigan's ass again, undefeated, B1G & National Champs.
Nice post! No crappy loss against a nobody.
I doubt if he'll get drafted, but good luck regardless.
Well what would you call it not holding your friends/coaches accountable for poor team play?
Were talking 30 point beat downs. Miami won on a miracle.
Winning the B1G, Rose Bowl and beating scUM are all great things this team accomplished, but I want NC's, call it greedy but that's what I want. A team like OSU who is loaded every year with talent cannot go to places like Iowa & Purdue and get smoked in back to back years. Ohio St. and those other 2 schools don't even recruit the same players for the most part. If OSU would of only lost by a touchdown or field goal I could be more forgiving. I hope we don't witness the same thing with the Ryan Day era.
Nice job Tate, don't run your your mouth, then walk.