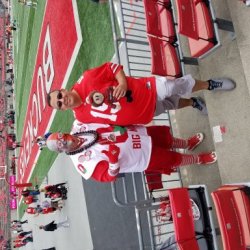 Wyandot Buckeye Fan
---
from Upper Sandusky
MEMBER SINCE August 22, 2015
Love the Buckeyes, hate TTUN.
Favorites
SPORTS MOMENT: Watching Ohio St. football win the National Championship in 2002 and 2014, and the Cavs winning the 2016 NBA championship. And watching the Upper Sandusky Rams win the division 2 State Championship in boys basketball in 2005, and watching Jon Diebler set the all time scoring record in the state at 3,208, which will never be broken.
COLLEGE FOOTBALL PLAYER: Ezekiel Elliott
COLLEGE BASKETBALL PLAYER: Jon Diebler
NFL TEAM: Cleveland Browns
NBA TEAM: Cleveland Cavs
MLB TEAM: Cleveland Indians
Recent Activity
Ryan Day will win 2 Natty's in his first 6 years at OSU.
And Jimmy Harbaugh is bringing the boogers.
I did hear Jon Diebler was done playing basketball, that they are moving back and he's taking the year off to assist his wife with the twins they are expecting.
This might be wishful thinking, and I really don't have facts to back up my claim, but I believe Ryan will win multiple Natty's at Ohio St.
Do you believe every thing everybody says?
I'll be shocked if Urban is done coaching. It's very easy for him to say that now, wait till the Fall.
If 62-39 was close, I'd like to see what a blow out would be, maybe 100-39?
That happen under Urban's watch.
What a choker!
Zeke needs to grow up and get a respectable haircut, he looks like a thug. Pushing a security guard into a metal gate or whatever, really, what b.s.. And that women needs to dress like a women, and not a cheap hooker.
That could be the reason, or having all that money may think somebody can just do what they want.
That's exactly how he played, if there were a ball 5 rows in the stands he would make every attempt to get it.
I got to witness every game that year. When they played Port Clinton at Ashland University in the district semifinal game it was 11 - 0 Upper before 1 min. off the clock in the 1st quarter. When the Port Clinton players came off the floor for a timeout, you could see it in their faces that the game was over. I would say Jake was more of a coach that year to Jon than Keith was, Jake was very hard on Jon that year because he knew Jon's ability, it's called brotherly love.
Jake Diebler one of these days down the road will be a damn good head coach. Just like Aaron Craft when it came to making the NBA, Aaron was a day late and a dollar short, Jake was a day late and dollar short of playing in the B1G. During Upper's state championship season in 2005, that team was a machine lead by the coach on the court in Jake.
I know thank you. Any longer and I thought the busards were going to start noticing me.
Urban had 2 NC's under his belt, Thad hasn't one a NC.
He could honestly add another 20 - 30 pounds being that tall, which he will.
Why wasn't he getting paid more than booger boy?
That is great reading. Someone should ask them if they want some cheese with their whine. That's what scUM gets when they pay your far less accomplished football coach more than your basketball coach. I'll still take the 62 - 39 over this though, but this is still big news. Dan Gilbert sticking it too scUM. O-H
Congratulations Kalen from Jon Dieblerville.
Former Ohio St. player Doug Etzler and Kalen's uncle moved back to his alma mater to coach Convoy Crestview.
What a cluster F.
Tedd Ginn getting hurt on the open kickoff after he scored didn't help either. He was the one OSU player who could stretch the field and put a scare into the Urban lead Gators. I personally don't think Ohio St. would of beat Florida that day, but I don't believe it would of been the ass whipping it was if Tedd were out there the entire game.
In normal every day life a lot of people are overpaid, not just in sports.
I personally like the field turf. The only thing I would change about it is, I would change the letters to gray color, instead of white color.