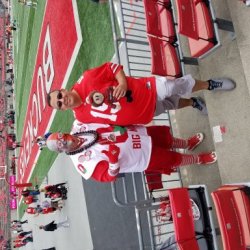 Wyandot Buckeye Fan
---
from Upper Sandusky
MEMBER SINCE August 22, 2015
Love the Buckeyes, hate TTUN.
Favorites
SPORTS MOMENT: Watching Ohio St. football win the National Championship in 2002 and 2014, and the Cavs winning the 2016 NBA championship. And watching the Upper Sandusky Rams win the division 2 State Championship in boys basketball in 2005, and watching Jon Diebler set the all time scoring record in the state at 3,208, which will never be broken.
COLLEGE FOOTBALL PLAYER: Ezekiel Elliott
COLLEGE BASKETBALL PLAYER: Jon Diebler
NFL TEAM: Cleveland Browns
NBA TEAM: Cleveland Cavs
MLB TEAM: Cleveland Indians
Recent Activity
The last time I checked other than Clemson, the ACC is like road kill.
He might start to rethink his decision in 2 years when North Carolina still sucks.
Great post!
I've watched him a few times in high school tournament play, he's pretty skinny. I don't know if he can play B1G or not. Time will tell.
I'll take a dual threat q.b. any day in college football over a pure pocket passer.
Laugh my fat ass off!
Jimmy is already digging deep in the nostrils.
Great post. Jim is more down to earth kind of guy, while Urban is such a ego maniac kind of guy, a little bit to arrogant for my liking.
It's got to be Jim Tressel.
Racism still lives in rural America, people act like their not, but deep down they are. Probably because the vast majority of them have really never been around black people, to realize there are a lot of fine black citizens, who the majority of them just want to live a happy life, like us white citizens. But when you have racists pigs who are supposed to be protecting you, and doing the opposite, and putting their knee in your neck, when you have been detained with handcuffs, and your no threat to a law officer, then that's why they protest. I just wish it were peaceful protests, but then again, whites aren't the ones who are getting bullied time and time again. That cop and the other 3 idiot officers should absolutely be ashamed of themselves for their stupidity and racist asses.
Man that's excellent work. I remember Jim Harbaugh saying he was a foot short, which is total b.s.. If you weren't looking right down the line at the play, you surely can't speculate if J.T. got it, or didn't get it. Clearly watching that video now, he most certainly got it.
I can't say for certain it was a 1st down, but I know what was ruled on the field, and there wasn't enough evidence to overturn that call.
6'3" is pretty short for a 2 or 3 guard for Div.1, let a lone B1G Conference. Hopefully the kid can grow a couple inches or so. Ohio St. has a good coach recruiting him, in Jake.
Just like the postal service's message. What can Brown do for you.
I just wish people would quit speculating months or years down the road, and see on how bad it may or may not get, just take it month by month, and see what the damn data is telling us. I'm hoping other things can open back up at the end of May, small family owned businesses can't take much more. And furthermore Acton is depressing as all get out. And when Mike trys to make in mandatory to wear masks when you go out in public, then this is no longer America anymore.
What idiots!
I thought Shaun Wade was a late 1st or early 2nd round pick this year.
Work now and hope everything works out and in 3 years he will become a millionaire.
National Championships is the ultimate goal.
I don't know how anyone can hate Paul, he seems like a quiet guy, really doesn't say a hole lot.
That's b.s., that's what made Ohio St. a blue blood of college football.
1. Hayes 2. Tressel 3. Meyer 4. Cooper 5. Bruce 6. Day, only because 1 season as head coach.
While Cooper was 2 - 10 - 1 against scUM, Bruce was always 6 - 4 or 7 - 3 per season, except for his 1st season as head coach.
Size and speed = major D - 1 recruit.
Great post! And that's exactly why they won't get in, chicken shit.