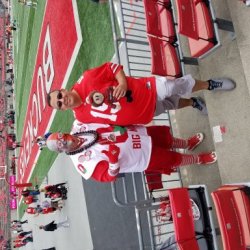 Wyandot Buckeye Fan
---
from Upper Sandusky
MEMBER SINCE August 22, 2015
Love the Buckeyes, hate TTUN.
Favorites
SPORTS MOMENT: Watching Ohio St. football win the National Championship in 2002 and 2014, and the Cavs winning the 2016 NBA championship. And watching the Upper Sandusky Rams win the division 2 State Championship in boys basketball in 2005, and watching Jon Diebler set the all time scoring record in the state at 3,208, which will never be broken.
COLLEGE FOOTBALL PLAYER: Ezekiel Elliott
COLLEGE BASKETBALL PLAYER: Jon Diebler
NFL TEAM: Cleveland Browns
NBA TEAM: Cleveland Cavs
MLB TEAM: Cleveland Indians
Recent Activity
With Chase coming back that will fire everybody up, Bucks win by at least 3 touchdowns.
I think this was Cade's 4th game playing, so I assume they will probably red shirt him.
Nice win in a shitty environment, hard to get up for a nobody. On to Penn St..
I'm fairly certain me and 10 of my fat ass friends could beat Rutgers by at least 1.
A lot like Terry Glenn, including the same type frame.
Next year's offense is going to throttle teams. It has the potential to be record setting. With Justin, Master, Chris, Garrett and Jeremy, that's clearly going to scare the shit out of defensive coordinator's.
Villanova just got taken behind the woodshed! I wasn't expecting such an ass whoopin. D.J. Carton threw the ball down like it was an orange.
How much of LSU have you watched?
I think Ohio St. deserves to be #1, in all 3 phases of the game all year they have looked like a national champion. LSU damn near let that 20 halftime lead slip away on Saturday, they were an onside kick away from losing. If you didn't know any better and you woke up Sunday morning and you saw the score of 73 - 14 you would just assume Chase Young played. With Chase Young playing Ohio St. could hold any of those other national championship competitors 14 points under their average. Ohio St. can score points on offense, defense & special teams. Ohio St. is the total package. I don't need some damn committee to tell me that Ohio St. isn't #1.
Joe is a very good q.b. and he did the right thing by moving on, he's doing great things this year. I posted a topic this morning about Joe Burrow not signing and looking pissed off up in Ann Arbor in 2017 and people were ripping my ass without even watching the damn video, and some how the topic got pulled, which honestly is b.s.. There were plenty of other players there that didn't play, but yet there were still happy about the win. I think if Joe doesn't get what he wants he gets pissed, I've watched a lot if his games this year, he is cocky.
The game in Ann Arbor.
Joe Burrow isn't a team player. Watch the end of the 2017 video when the team is singing Carmen Ohio. Before anyone argues with me watch the video.
That's not near high enough, I bet their have close to that at halftime. This is going to get ugly, 79 - 3.
Once the CFP poll comes out they should just eliminate these 2 poles, especially the coaches poll. LSU has 55 1st place votes and OSU has 5, that's a joke in itself.
My top 4, 1, Ohio St. 2. LSU 3. Clemson 4. Oregon.
I absolutely agree. In my eyes the officials were having sympathy for Maryland.
If Ryan Day is here for 15 - 20 years he is the 2nd coming of Woody Hayes.
Your right about Chase being a game changer, but I don't believe it will hurt Ohio St. possibly not having him for the B1G conference games.
It seems like everytime Ohio St. has a play set up on special teams Chris Olave is involved.
As of right now my top 4 would be 1. Ohio St. 2 LSU 3. Clemson 4. Oregon.
I don't think Penn St. is that good.
Don't be jumping the gun till all the college games are done. Minnesota 3rd, get real!
This game was never in doubt. Next week will probably be worse.
Maybe she stayed at a Tom Bodet hotel and he left the light on for her.
Penn St. isn't in Ohio St.'s league. With or without Chase OSU will beat them by at least 3 touchdowns.