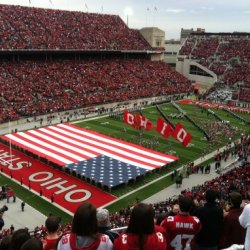 WrightBuckeye
---
Member since 10 November 2013 | Blog
Favorites
SPORTS MOMENT: Rushing the field at the 'shoe
MLB TEAM: Reds
Recent Activity
How do you purpose we win in the playoffs with an inept offense?
Negative yards in the 3rd quarter. Sums it up.
I just wanted USC to win so I could rub it in my mother in laws face when OSU dropped 49 on her precious Trojans.
Sparty doesn't have a secondary. They will get destroyed by Clemson or Oklahoma. Sparty v Bama would be much like the BIG Championship. What's better for the BIG, a loss by Sparty in the semis or a loss in the NC?
Money talks. I believe his salary went from $1mil to $3.5.
Buckeyes playing poorly, and my mother in law is in town. I'm in for a long night.
He was cited for an illegal u turn. I asked my cousin who works for CPD. Ironically enough, I was told that had JT stayed in the line for the checkpoint he probably would have driven right through, as CPD only checks 1 in 4 cars.
We are in Dublin, but are willing to drive to Cicny if need be.
One of those comments that should be read out loud before posting.
We have found a few potential renters, but the complex said they will have to go through an even more stringent rental application process than what I had to. Why they do this I don't know, because either way they are getting their money.
Hmmm.. no sarcasm font, that's not good.
They can't bother us forever, I mean look at them their cholesterol levels are probably through the roof.
I'd also like one of the Michigan AD texting during an important 3rd down.
I wouldn't let Brady Hoke anywhere near my daughter!