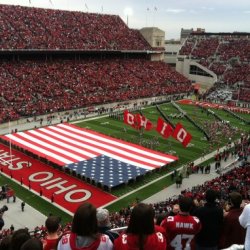 WrightBuckeye
---
MEMBER SINCE November 10, 2013
Favorites
SPORTS MOMENT: Rushing the field at the 'shoe
MLB TEAM: Reds
Recent Activity
The loss of Coombs didn't help either.
We have no leaders on this team. When have the talent but no one to spark the fire. Ridiculous.
Really only have to get to the weekend.... Someone else will lose. ND going down to Navy I'm calling it now.
Much has been said about Urban's "loyalty" in regard to keeping coaches around the program past their prime. Surely this plays a significant role in his sideline demeanor. He knows he whiffed on these hires, and your can be the he has talked to each of the coaches about the on field production (or lack thereof). He is probably dreading the tough conversation he has to have with his coaches/friends he hired and tell them they are fired.
Very well said. I also think the coaching turnover plays a role in the teams poor performance. If I remember correctly Urban only asks for 2 years out of his coaches at which point they can leave. Does Saban do the same at Alabama? It seems like his coordinators end up staying longer, although it seems to be changing in be last few years.
The best DE in the country just walked away earlier in the week (I don't blame him for leaving as I would too, but that's another story). You can't tell me that didn't affect the d line.
True, but he did get smoked in big games. To this day the 2006 National Championship stil upsets me. With Tress we used to say he couldn't win big games. Urban has one a fair share of big games, and lost some he shouldn't have. Does it make it easier to swallow a loss to a 3-3 team vs a 12-0 team, nope it still sucks, but it's just how it works sometimes.
I'm going to have to wait and see, as I remember saying he had lost his fire after the VaTech game in 2014 and we all know how that year turned out. I'm not saying the team is going to turnaround and win the Natty this year, but I don't think it is fair to count him out just yet. Only time will tell I guess.....
How do you purpose we win in the playoffs with an inept offense?
Negative yards in the 3rd quarter. Sums it up.
I just wanted USC to win so I could rub it in my mother in laws face when OSU dropped 49 on her precious Trojans.
Sparty doesn't have a secondary. They will get destroyed by Clemson or Oklahoma. Sparty v Bama would be much like the BIG Championship. What's better for the BIG, a loss by Sparty in the semis or a loss in the NC?
Money talks. I believe his salary went from $1mil to $3.5.
Buckeyes playing poorly, and my mother in law is in town. I'm in for a long night.
He was cited for an illegal u turn. I asked my cousin who works for CPD. Ironically enough, I was told that had JT stayed in the line for the checkpoint he probably would have driven right through, as CPD only checks 1 in 4 cars.
We are in Dublin, but are willing to drive to Cicny if need be.
One of those comments that should be read out loud before posting.
We have found a few potential renters, but the complex said they will have to go through an even more stringent rental application process than what I had to. Why they do this I don't know, because either way they are getting their money.
Hmmm.. no sarcasm font, that's not good.