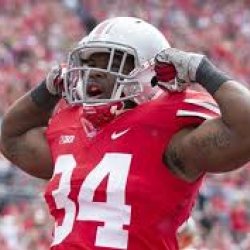 wrathofAJhawk
---
Chicago (via Chicago, IL)
MEMBER SINCE July 22, 2014
Started from the bottom now we here.
Favorites
SPORTS MOMENT: 2002 National Title Game
COLLEGE FOOTBALL PLAYER: Ryan Shazier
COLLEGE BASKETBALL PLAYER: Greg Oden
NFL TEAM: Bears
NHL TEAM: Blackhawks
NBA TEAM: Bulls
MLB TEAM: White Sox
SOCCER TEAM: That's not a sport
Recent Activity
Do you think 12 pounds is a lot to gain for a massive human like that?
He is so good. If he stays healthy he can torch NFL defenses without a doubt
I don't get how this is relevant to Oklahoma and Clemson having not played a game.
Oklahoma didn't play Clemson..
Agreed, and it's 100% not 99.9%.
MOAB is a real thing lol.

Call of Duty borrowed it..
Harrison blitzes a fair amount and browning had a big pressure on a blitz last night
He plays pro football for the Browns.
I'm sure he's shown his face in the state of Ohio at some point..
Never understood the hate for Mike Hart. That guy was a warrior on the field and played RB about as tough as I've seen anyone play it in the past couple decades at the college level, jersey colors aside.
In that case get his Hudl page updated with the new lifting numbers and 40 time! The difference for a college coach's appetite in a LB running a 4.6 and 4.8 is definitely substantial.
Best of luck in the recruiting cycle
I'm sure he's good, but look at his Hudl page he's a 4.8 40
And not the sharpest one in the shed, either.
You'd hate to police anyone's opinion? It's the internet..
You "wouldn't want to be" a 4-star talent who will go to college for free and potentially play a sport for millions of dollars?

Doubtful..
Wish the kid the best and move on. This is why everyone hates OSU fans.
Brett McMurphy must have created an 11W account
Buck68 What do you do for a living?

You have to be a college professor, right? Actually I'm 99% sure you were my Econ professor at OSU
OSU gives out scholarship money to all students who score above the median incumbents for grades and ACT scores. I had a ton of scholarship cash for academics and am not even that bright to be honest lol.
Should HAVE stayed* not should of.
Clearly, the valedictorian gene did not get passed on to you.
You aren't a team player, you're actually not even a player at all lol you're definitely irrelevent
Lol tough guy asking for injury to an 18 year old
Cowards. Absolute Cowards
Not even worth clicking on the article. We all know it will rank the top 5 as
1. Alabama NC
2. Alabama NC
3. LSU NC
4. Alabama NC
5. 2014 Alabama even though OSU wasted them in New Orleans
The hit on Apache's highlight tape at 0:14 is such a bad cheapshot haha