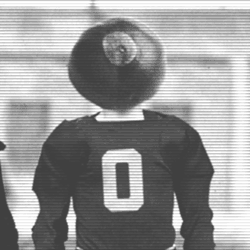 wpbbuckeye
---
Jupiter FL (via Columbus OH)
MEMBER SINCE August 16, 2012
Favorites
SPORTS MOMENT: OSU beats UM in 1975 in AA, in Archie's final regular season game. I was there. A 12 year old's dream!
COLLEGE FOOTBALL PLAYER: Archie!
COLLEGE BASKETBALL PLAYER: Kenny Smith
NBA TEAM: Heat
MLB TEAM: Marlins
Recent Activity
Zero chance Urban would take this job. That program is a mess right now. FSU alums in South Florida have practically lost interest in the team. And why would Urban want to move to Tallahassee at this point?
"He worked out on the court with his older brother, Andre Wesson, at Woodward Park Community Recreation Center." Hey, I won an intramural league championship at Woodward Park Rec in 1978 as a 9th grader! Nice to see hoop greats of today continue to spend time there :)
Talented player, I hope he thrives at his next stop. Good luck!!
I never saw Kern but saw the others on your list play almost every game. Hoying and Germaine were good enough but don't have Greene's resume. Hoying never beat UM, vs. Corny who rallied the team from down 7 in 4th qtr in AA to keep the 1975 unbeaten. Germaine had a great season but split time with Stanley Jackson for a year, so body of work is somewhat thin. Schlichter and Greene were both outstanding and won a lot of games, I could go either way on that one. Anyway, point is I think he deserves more consideration for top 5 status. I would personally rank him ahead of JT behind Kern and Troy.
I disagree with Kevin on the Corny Greene legacy. Silver football winner, loses 3 games in his career, Rose Bowl MVP and HOF, and he's almost certainly not in top 5 all time? What criteria are we using?
I will echo Buckeyestu on this. Seems like a great addition. Welcome!
I love these stripe-removal videos. Reminds me that these are just kids—enormous kids, but still. Go Bucks!
Great job getting his degree already! Impressive.
I missed Galloway's prediction. Where and when did he make it? Did he elaborate on his reasoning?
First combined no-hitter thrown in California since July 13, 1991--Skaggs' date of birth.
For me as a Marlins fan, eerily reminiscent of the first game back after Jose Fernandez's death in 2015. RIP to both.
Best of luck to Mr. Slade!
Buck68 is the only person to receive a degree in "Creative Writing While on Hallucinogens," with a speciality in avoiding simple declarative sentences. AE could never be Buck68 because there will never be another Buck68. For which I am eternally grateful.
I agree that you would be lucky to have either one as your team's coach, but not sure about Matta stepping into a better situation at the outset. Matta's first team was on probation AND not very talented.
A clumsy way of phrasing the fact that that team was slow and not very athletic, but I don't recall any players taking offense.
To say Coop inherited less NFL talent on that team than other OSU coaches hardly does justice to the team Coop took over. Indiana had more NFL talent than Ohio State that year. Some of the starters would have struggled to start for some MAC teams. There is a reason it took 5 years for OSU to become a top team again. I am happy to see Coop being appreciated for what he was--an elite evaluator and developer of talent.
That was my reaction, too. I caught a few Cowboys games on SiriusXM the past couple of years and the Dallas announcers loved Smith. I hope he catches on.
Surprised at how the DTs are distributed. Vincent on Scarlet, Haskell Garrett on Grey? Probably shouldn't read too much into it, but isn't that what Spring Game rosters are for?
played fantasy baseball for years and loved it. No time these days to keep up with the day-to-day stuff. But recently I have played Whatifsports.com's historic fantasy baseball, where you buy a team of players from 1880-present and you compete with other teams over 162 games. Their computer simulates each game. Pretty cool, but I think you need to play a lot of seasons to figure out the best players for the $ (in other words, my teams stunk the couple of times I played).
I've been asking a lot of hard questions lately," McGregor said. "The schools down south were really honest with me, and that's why I plan on going to Michigan, Notre Dame and Ohio State again. They're the schools from the Midwest that have been recruiting me the hardest."
I found this to be an interesting comment. I read it as, "you are not at the top of the list of the players we would take at your position." Any insights, Taylor?
I put a December 5 reminder in my calendar last year to look back on Stewart Mandel's summer prediction that OSU would finish 4th in the Big 10 East. I think I will do the same with Tom Fornelli this year, The problem with the glut of sports internet sites/TV channels is that every season is silly season. Need to drop a CFP story in March? Write something that will be sure to infuriate a large fan base.
His take isn't biased or outrageous by any means, but we should all just admit that nobody knows anything about how this season will end up (well, except that Alabama will likely finish in the top 2).
1968 Purdue. I was 5 and in attendance with my dad and grandfather. Not sure I had any idea what was going on. I think I might have gone to a game the year before that, but I can't remember who played.
First game I really remember was the 1970 Rose Bowl. I remember my mom crying over that game. It prepared me well for future Rose Bowl disappointments in the years to come.
Urban once said recruiting is #1 skill set for an assistant. If Stud was a crummy recruiter, he wouldn't be here. Its not like he was an unknown quantity when hired. Besides, a lot of recruits mention their relationship with Stud in the many interviews that appear here in The Hurry Up and on other sites. To me this sounds like a personal thing on Bill G's part.
Ahhh, yes, Linn-Marr and the Andersons. Must have my Iowa high schools confused. Thanks!
Great info, It seems to me that we have recruited kids from Bettendorf in the past, and may have even landed one. Have we ever had a Bettendorf alum on the roster?
Rest easy, Reds fans. It is almost impossible to come out on the wrong end of a trade with Mike Hill and the Marlins. I think if you offered a life-sized mannequin of Ed Armbrister and a bag of slightly-used baseballs, the Fish would take it. Though to be fair, an Armbrister mannequin would be at worst our second-best outfielder.