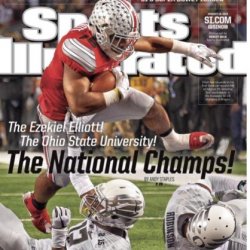 WoullyBear
---
Stark County, the home of football (via Massillon)
MEMBER SINCE November 24, 2015
Favorites
SPORTS MOMENT: Watching the bucks win the CFP
Recent Activity
Any chance Elias Ricks flips from LSU?
Is Gill going to be a big part of the offense this year, or will he have to wait for KJ to move on after this year? I'm hoping they don't get too gadgety with him and make it obvious that when he's in a sweep or bubble is coming.
I feel like this is being blown out of proportion. I think Day's vision for this team is like a AAA version of the patriots. Great QB, playmakers at WR, and a stable of serviceable RBs to rotate. We don't need a Zeke anymore, although obviously it would be great to have one. I see us in 2020 using a guy like Teague or Crowley to pound it a la Legarrett Blount/Burkhead, and a Demario/Gill to catch the ball and take a few hand offs a game like a James White. RB has never been a problem for OSU and I don't foresee it being one going forward. Remove yourselves from the ledge folks.
Maybe unpopular opinion here, but I liked the black jersey/grey pants combo they had the QBs in for the spring game better than the all black
Reeeeaaallll shame how long it takes to see a TTUN commit on there :)
Hey guys, was wondering, what's your opinion on Tom Luginbill and ESPN's new rankings?
Another that came to mind for me, Emory Jones. Maybe he doesn't get homesick like Baldwin and sticks around. Obviously undoes a lot of the dominoes that fell this off-season in the quarterback room, but an interesting hypothetical.
I believe Van Haaren was a one time TTUN insider, so I'm sure his input really helped out our recruits.
The mention of Dean made me think about Carlton Davis, who we had as a diamond in the rough but he flipped to Auburn on signing day. Think he ended up a Freshman AA and a 2nd round corner
Can we please start an Elias Ricks blind and baseless speculation thread to clear out some clutter
Needed this type of presence BIG TIME after missing out on Rondale Moore and Wandale Robinson the last two cycles. The way he will complement the other three guys will be so beautiful to watch. Miller and McCord must be salivating at this group!
Pretty sure it was Dwight McGlothern, he's a Corner in the 2020 cycle
He must be not early enrolling if he's only down to 10 at this point?
Yeah shame on you MI Buckeye for not knowing Michigan newspaper politics
You got your wish Stan the Man
Considering the fact rivals doesn't have him nationally ranked and has him lower for in-state rankings than about 25 kids I've never heard of, I think 247's rating may have a little more accuracy here.
Buddy...if he was looking at UCLA, USC, and Texas, you don't gotta have a 12 win season to keep him.
Taylor posted a thread saying he expects him in by the end of the week
You're doing an awesome job Taylor, thanks for the info!
Spooner, when the time comes you better just skip from 68 to 70 because if you create a part 69 the jokes will fill it up in 30 mins or less.
Little ditty, about Jack and Bijaaannnnnn
They were tagged you just cant tell from the embed. I just thought head coaches weren't allowed to retweet graphics and things of that nature of kids they haven't signed yet. Everybody relax.
I saw that and serious question...is he allowed to retweet that?