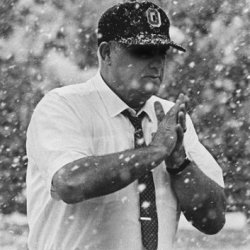 Woodysghost
---
Member since 02 February 2014 | Blog
Recent Activity
Anyone else you seeing the staff asking to take a Grey Shirt besides Sibley?
That is fantastic news. I also remember Birm saying he was hanging out with his "big bro" Kwon.
I must confess, for a VERY brief moment during the sugar bowl when Alabama was up early I had a thought in the back of my head it was going to be 2007 all over again.
I'll go with 9 route. I remember reading that thread about all 10 of his accounts being banned and crying laughing so hard at the comments.
All amazing articles that take a lot of time to do well. But with that said, the amount of time DJ must spend gathering content and writing each week should go noticed. My votes for the Skully.
Better late than never I guess.,I am in inside sales for a heavy construction equipment dealer here in Columbus. Approaching the move to outside sales here soon.
42-17 the good guys
All black jerseys would go really well with a michigan night game...makes you wonder.
Can't wait to throw a few back for charity.
"Everyone have a coke and a smile and shut the f*** up!" -D.B to the UM fan base.
A medical condition had me not being able to drink beer for a while so I moved to cider. The best I have had BY FAR is Smith and Forge hard cider. It's kind of random which stores you can find it at. But it is delicious, not too dry and not to sugary. Plus, it looks like a man cider.
Samuel 74
The person who sold you the tickets could have upgraded them so the person using them doesnt need to show an ID. IF you need to show an ID it says in giant black bold letters on the ticket, you would of noticed. They probably just upgraded them so you didnt have to worry about it. (I think its like $20ish a ticket to upgrade from staff/student to normal)
I'm with you. Even if I 100% knew i was going to be a Buckeye I wouldn't mind taking a trip to Alabama or USC or Oregon to see a big time College game. All about experiences man.
McMillan was in on kickoffs.
Sleek. Smooth. Dangerous. Perfect.
Any one know if finish line will have them in store? More specifically the finish line at Tuttle mall.
Sitting at work crying because i'm laughing so hard at these reviews.
Currently using the S5 and I have the same problem.
It's a disaster. They're ruining the entire flow of the game with constant flags. It's almost unbearable to watch.