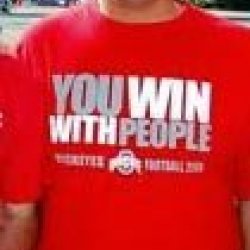 Woodylives®
---
Leander, Texas (via Fairborn, Ohio)
Member since 29 November 2011 | Blog
Favorites
SPORTS MOMENT: 2003 Fiesta Bowl victory over Miami
COLLEGE FOOTBALL PLAYER: JT Barrett
COLLEGE BASKETBALL PLAYER: Aaron Craft
MLB TEAM: St. Louis Cardinals
Recent Activity
And Brees played for Westlake, which is Matthew Baldwin's high school's bitter rival!!!
I agree with you, this kid can play, and he plays at an ABSOLUTE QUARTERBACK FACTORY. New Arkansas Coach Chad Morris used to coach there, when Lake Travis won 5 State Championships in a row, and they've had QBs that include Michael Brewer, the QB for VA TECH when they beat OSU in 2014, future Heisman winner, Baker Mayfield. Not many HS programs can say that their last 8 starting QBs went to Division 1 schools. http://preps.blog.statesman.com/2017/07/17/matthew-baldwin-8th-straight-lake-travis-qb-to-make-college-pledge/
I think that Baldwin might be able to help out at OSU!!! GO BUCKS!!!
It's hard to believe that, with USC being the bowl rival that we've played against the most, that it's been since 1974 that we've beaten those guys!!! It's going to be nice to play them on a neutral field, and with so many alumni from both schools living in and near the Dallas/Fort Worth Metroplex, there should be a very large amount of fans from both teams in JerryWorld!!! Let's just hope that OSU is motivated for this tough challenge!!! GO BUCKS!!! BEAT USC!!!
Nothing would help the Buckeyes more than Georgia beating Auburn. It would obviously eliminate the Tigers, with their 3 losses, but it would also hurt Bama's strength of schedule, leaving the Tide with no Conference Championship, and a loss to a Non-Conference Champion. I know it's the situation that OSU was in last year, and hopefully it doesn't come back to bite the Buckeyes, this year, because OSU got in over the Big Ten Champ in 2016!!!
Get ready, because I believe that the only person that will be willing to take over that dumpster fire in Knoxville will be BRADY HOKE!!! The Hoke era in Knoxville should be fun to watch. (I wonder if he'll call the the Crimson Tide ALABAMA STATE?!?!?!)
I have the 2017 victory over michigan on DVD ready to go!!! These make GREAT stocking stuffers!!!
Email me at Woodylives69@yahoo.com
GO BUCKS!!!
I LOVE featuring Frank's banners on the cover of my DVDs of THE GAME!!! He gets a KICK out of giving them as gifts to this friends and family!!!
GO BUCKS!!!
If anyone wants a copy of my Collector's Edition DVD of the Penn State game, please email me at Woodylives69@yahoo.com It really turned out beautifully!!! It includes ESPN College Gameday, the entire game, with commercials edited out, and the Post game interviews, and the Press conferences with Urban and James Franklin. GO BUCKS!!!
Does anyone else want the catalogue? Today is the last day for the awesome deal!! GO BUCKS!!!
This is the last week for my Half price sale on my 400+ Buckeye DVDs. Please get back to me by Friday, October 14th.
Woodylives69@yahoo.com
GO BUCKS!!!
Here is a link to the pictures of the Trilogy DVDs.
Did you email me at Woodylives69@yahoo.com to get my catalogue of games?
My DVD collection is now over 400 games!!! GO BUCKS!!!
Woodylives69@yahoo.com
I had a DVD copy of the 1996 Ohio State beatdown of Pitt with me in Dallas for the National Championship game, and I asked May to autograph it, and he told me to f**k off!!!
I work out, and watch a LOT of the 400 Buckeyes games that I have on DVD!!!
I agree, and my cover art is pretty impressive. https://www.flickr.com/photos/56633926@N03/shares/3325i9
If you would like the 2014 Big Ten Championship spanking of Wisconsin, let me know.
2011 was a difficult year for the Buckeyes, but it was Braxton's freshman year, so it's cool to go back and watch how he played when he was a pup, ESPECIALLY the 40 yard TD pass to Devin Smith to chap the enormous ass of Bert Bielema!!! GO BUCKS!!!
I have over 300 Buckeyes games on DVD, so I'm going to keep archiving them until I croak, and then my son will hopefully keep the tradition alive. I mean, since ABC doesn't care so much about regular season games, there are plenty of Buckeye football moments out there that my grandchildren might not ever get to see, if it weren't for my collection. GO BUCKS!!!
I LOVE Frank's signs, and they usually end up on the cover of my scUM DVDs!!!
Please email me at Woodylives69@yahoo.com for the 2014 Big Ten Championship game and 300+ other Buckeyes games on DVD!!!
GO BUCKS!!!
I have all of them on DVD, with tons of post game coverage, and beautiful Buckeyes artwork on the disks and cases. If you are interested, please shoot me an email to Woodylives69@yahoo.com
GREAT read! Thanks for the effort! I agree that they game will shape up much the same way the the Mississippi State game, with Alabama being more conservative than usual, because Satan knows that if they turn it over against the Buckeyes that our offense could possibly roll the Tide. Prescott was able to move the chains by making timely runs when nothing was available downfield, but his interceptions cost the Bulldogs way too many times. If Cardale takes what the defense is willing to give, I think that ultimately our speed guys will make enough plays to have the Tide defense on the field way too long to be able to have them compete with us in the fourth quarter. Barring turnovers, this might be an astoundingly easier game than even us Buckeyes fans could hope for. I love our chances.
Oh, I think that Lorenzo Charles, Michael Jordan and Keith Smart might have an argument with you on the greatest shot in the history of college basketball...