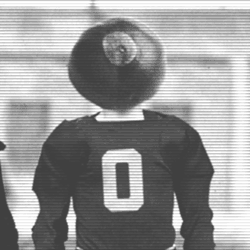 Woody1967
---
Powell, OH (via Columbus, OH)
MEMBER SINCE September 06, 2015
Born and Bred a Buckeye till I am dead.... well even after that in my Buckeye coffin.
Favorites
SPORTS MOMENT: 2002 National Championship about to collapse in the stadium as time ticked down to 00:00
Recent Activity
Skip the non conference games..... that gets us into October.
What hotel are the Buckeyes staying at here in Phoenix?
Like Wisky game we only paper we were supposed to destroy them but these games never seem to work out that way ....IMO just score more. At this point it comes down to who controls the line of scrimmage, who makes less mistakes and who scores just one more point. I know it's cliche but just win. A win gets a chance to go to 15-0 and a dance in New Orleans.
Hilariously written. Just win baby!!!
When was the last time we had three 5 star running backs visit in a 30 day period (Milton, Robinson and now Evans) let alone the same recruiting year? A lot of y'all know more than me but I can't remember that in the last 30 years.
I am thinking Tressel was the coach for many of these games.
BOOOOOOOOOOOOOOOOOOOOOOOOM??
Hey Martell.... want to know a little bit about humility and maturity? Read this........ https://www.theplayerstribune.com/en-us/articles/jalen-hurts-thank-you-alabama
Hope this ok to share here!!
So Fields to tOSU and now the amazing dream of some that we see Jalen Hurts to tOSU could become a reality too. We will know if Fields can play in the next 4- 6 weeks. Would that be crazy or what?
Quit being mean. "My slippery rock friends allowed my boys to attend Clemson as preferred walk ons. I know I know they aren't good enough for tOSU and would be too tough on my marshmallow sons for fantic tOSU fans who expect too much to actually walk on there since they are not good enough to be offered a real scholarship but I can afford it" . Says helicopter parent Kirk Herbstreit with tears of parental tears in his eyes.
Great video and full of truth!! Thank you Urban for all you have done. One more victory!! My hope is he does work with the Athletic Dept in some form or fashion. He is a master at motivating and can still help so many.
It's sad.... seriously when tOSU didn't have his back you could feel him choking on that shit sandwich. When is the Drake announcement??? BTW Fire Drake NOW.
I take the perspective that my own expectation is that we sometimes play down to the level of our competition especially in the Big Ten or even sometimes an Ohio school. I was cussing at the screen like alot of us yesterday because we frankly looked horrid on D but then again if you looked over the D we were missing like 4-5 key starters. On the Oline I am thinking they are so focused on pass blocking that they are not sealing the blocks, pulling guards are slower and not getting to second level like they have because I don't think they overnight just forgot how to run block because its not like Weber and Dobbins got worse all of a sudden.
We did get a lot of young players in the game and even got a chance to watch the likes of former 5 star Justin Hilliard play meaningful snaps. His two pass deflection probably saved potential TDs at worst FGs so that was nice too see...... after watching so many Top 25 teams fall yesterday I am glad to have won the game. I think we all agree we better be up for Purdue on Saturday night or they will knock us off. Just win baby!!
How does it go? "We all got a little dumber after this post".
Tbone still brain damaged from a Tbone car accident... Common Man my arse.... move on people. These are circus clowns playing for attention from the crowd.
I was at the game and frankly Dline played better after Bosa went out as they picked it up. When I got home I watched on replay and felt the same. One man's opinion for what is is worth and I am not getting paid to glamorize anything.
Ok.... let's move on. Be done with it for God's sake. I have heard and read more remorse from Meyer and one would think he was an ax murderer. You are paid to coach a football team. If the media wants to ask more about this tell them to read your next book and made for life movie when you retire. For now can we just move on. And frankly you aren't doing things right in life if you don't have a few haters. Mother Teresa and the Pope even have haters. Come on let's focus on FOOTBALL and leave all the other drama to FakeBook and Tweeter folks.
It will be interesting to see our talent lined up against theirs.. on paper out 4 & 5 stars far outweigh theirs by double or even triple.... I think the sky is the limit for both Wade and Okudah. Great comparison just hope they stay healthy.
Anyone know what hotel the team is staying at this year? I know for NC against Oregon they stayed at the Hilton Anatole.
The National championship game?? Doubt that would happen now if it's the Cotton Bowl he does a "Ward"...
Hmmmmm.... all those who thinking lying to the media is grounds for water boarding!!
'If you like your health care plan, you'll be able to keep your health care plan' or if 37x wasn't enough maybe....
'If you like your doctor, you'll be able to keep your doctor'
Ummmmmm....He didn't lie listen to the context of the question and what Zach Smith just said on 105.7!!
Beside since when is lying to media a crime?
[This comment was edited for violating the commenting policy regarding politics.]
Stand for what you believe and never cower. UFM is a rock star. Take Smith and Drake down!!!
I thought Oden was going to play? No mention of him on team the last few articles?