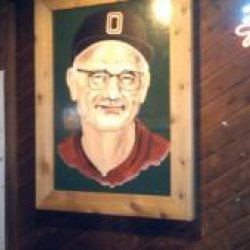 Woody16111
---
Cleveland Heights, Ohio
Member since 08 July 2013 | Blog
01' OSU Alum
20-17-1 against TTUN
Steelers Suck!
Favorites
SPORTS MOMENT: 3-January-2003
COLLEGE FOOTBALL PLAYER: Anybody who sacks the _ichigan QB
NFL TEAM: Browns
NHL TEAM: Blue Jackets
NBA TEAM: Cavaliers
MLB TEAM: Indians
SOCCER TEAM: Crew
Recent Activity
Everybody gets a trophy these days
Other exercise machines found in Rich Rod's gym ... the "Fat Melting Jiggle Machine"
I like the potential here, going back to up-tempo. I think that was a reason things got bogged down on offense
There is no substitute for good play calling.
Don't lose the power aspect of the offensive philosophy
Coach Freeze sheds a whole new light on the term "Butt-Dial"
Regarding Spielman V. OSU - all I have to say is be careful what you wish for, you just might get it.
I hope this is settled out of court and the brass at Ohio State finds someone with an ounce of smarts to regulate, internally, how images are used for commercial purposes. This is a clear case of OSU not taking care of IT'S IMAGE/HISTORY/TRADITIONS all in the name of a big money deal.
With that said, every day we inch closer to paid athletes in college sports which will lead the the evisceration of amateur sports.
Cases like these always have far reaching tentacles with unintended consequences.
Looking back at the *ichigan game, one glaring weakness on this OSU squad was the O-line.
If OSU can't get that part fixed, it's going to be a long NYE in the desert.
And think about who would likely be next, Bama who has the best D-line in the country
The OSU QB had some issues, but a lot of trouble passing was caused by blown blocking.
Credit to OSU for coming together at the end to seal the deal, something *ichigan couldn't do with a veteran squad
Playoffs are another animal, and you can easily get exposed
God Bless #74 John Hicks
Eternal rest grant unto them, O Lord, and let perpetual light shine upon them. May they rest in peace.
Ever notice that 99% of the folks who do these fan meltdown videos are 1. alone and 2. have southern accents?
Question: What is to be made of the fact, as Meyer stated in the presser bullets, that the offense has regressed since Oklahoma?
How can a team play it's biggest game on the schedule outside of that school up north, WIN it BIG and take multiple steps backwards?
Is this the signs of a young team getting ahead of themselves?
Is this signs of Coaches losing their edge and not being innovative enough?
Honest questions, and questions that frankly we should have been asking after Indiana, but I like others don't seem to look at that stuff after a win.
A horse collar tackle from the mid-back region, a blown P.I. call that clearly distracted our WR from catching the ball - yeah I'm salty Buckeye fan this morning, who cares.
Nothing changes for the Buckeyes, except the W/L line.
Ohio State needed to beat Michigan and win the BIG Title - same holds true.
No matter the score of this game, or any game in the future, at least my Alma Mater didn't harbor one of America's worst child rapists for 30 years.
Oh, and good luck in the Holiday Bowl
It's 9:10 a.m. on a chilly late October morning, the Cavaliers are back and the Tribe is in the World Series and one thing remains true, Michigan Still Sucks!
O Line let up, let's hope that was just a bad game and not signs of something worse
I would like to see game tape showing the receivers down field - are they having issues getting open?
Anybody else think J.T. holds onto the ball too long?
This pic was taken last year. Dude was 259lbs then, now as a soph PSU has him listed at 271
I don't fault the guy for being fat, hey I could lose a few lbs. but it's not everyday you see at kicker pushing three biscuits
DaeSean Hamilton doesn't support Harambe
A Penn State grad is still a bit underqualified to be a gas station attendant
They say that when you bottom out there's nowhere to go but up, but I have confidence in PSU's ability to stay stagnant where they are
Hey Kyle Kalis, give me a call before you stop by so I can polish up the national championship trophy for you
Is there anymore of a pathetic excuse for a college football head coach than Brian Kelly?
Wooooooooooooooooooooooooooooooo! Eat shit, Ric Flair.
This is epic, "Mic Drop" - could have been the entire Skully with one point.
And yes, Ric Flair can eat a big ole' shit burger
The thing about being a 16xWorld's Champ is you lost it 15 times. Sort of like his ex-wives.
But then I harkened back to Socrates' 2008 declaration:

"You're a first-half team! We're a fourth-quarter team!"
​
9/23/2006 - The look on JoPa's face right before he starts running, while pacing on the sidelines, says it all. This was a textbook "Southwest Airlines - Wanna get away" moment
Because of Zeke, I've become a Cowboys fan, and I never thought I'd see the day I would feel all warm and fuzzy for the Cowboys.
Don't forget the stupid fumble recovery reversal
Lack of an effective vertical attack on offense will hunt this team towards the end of the season, especially come playoff time if the Bucks are fortunate enough to make the playoff.
It's a young team, there are lots of swings but with Coach Meyer I like my chances every time, record speaks for itself.
I honestly think Wisconsin came out on fire due to their bye week. Ohio State is going to have to deal with the same next week, but thankfully a much less talented team.
Everyone is going to give us their best shot, and the squad has to be ready for that from the get go. You can overcome it just based on raw talent most of the time but when Michigan and the playoffs/bowl teams come around, and the talent is virtually even you will get burned.
This is the lessons that a young team needs to learn, and I know they are because this is the best coaching staff in the conference and perhaps the country.
The D only looked off once in the second half, and gave up a TD while getting gashed up the middle. Concerned but not worried.
Too bad about Hazell - I think he has what it takes but Purdue was a tough putt for anybody
9-33 won't get it done either
As for OSU assistants if anybody on that list I would hope it would be Fickell
Fickell deserves a shot, if he wants it.