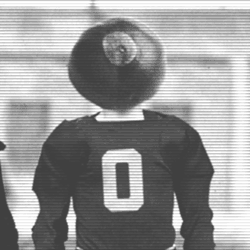 Woodshed
---
Member since 10 August 2012 | Blog
Recent Activity
Wiltfong CB was for Georgia.
yuck
Oh good. I was looking for a thread where people tell me about how JT is terrible and all of the woes of osu's Past fall on his shoulders.
just not enough threads telling me this.
Andrew Lind left. Not Andrew Ellis.
This.
visits osu often and says they lead for the longest time. Visits Uga 2x on his dime (and hasn't visited osu since either of those visits).
Then completely changes his decision timeline.
did I mention he also said Uga is his leader now?
i would love to be wrong but it's not hard to see where this is going.
Jack has 2 years of HS left.
Umm. Tressel wasn't trying to keep it close.
he knew the other team wasn't coming back because they couldn't if his team kept the ball.
he coached that way because he could, and because he knew what he was doing.
Wow that's a lot of data/info.
well done staff!
Oddly enough, Harrison never really talks about Meyer. It's always about coach Johnson.
Osu is recruiting a 2020 kid from there right now I thought? Isn't the traynum kid from there?
really?
next year is the only year osu doesn't have a very solid OOC opponent.
This season osu plays 2 power 5 teams OOC. If he chose osu he would play Oregon twice and likely ND. Not to mention the brutal B1G east schedule and 9 game conference slate every year.
oh and "during his recruitment" osu played Oklahoma twice.
AJ Hawk.
my favorite LB play I have ever seen though was by RDS when he went "over the top" on monte ball and hit him so hard he fumbled on the goal line. Ball had no idea what hit him.
Now you're arguing semantics.
Cute indeed.
You can't lose what you never had.
osu misses on TONS of "cant miss" prospects every single year.
i would also argue that Harrison isn't as "cant miss" as players like chase young, nick bosa, etc. those kids were much further along in their respective developments than Harrison is. Most analysts have said Harrison's ranking is based on his massive potential.
it would be great if Harrison chose osu. It would suck if he didn't. But to over-dramatize it is hilarious.
charles Woodson didn't go to osu and guess what, osu has won 2 national titles since then.
"huge blow to the program". Give me a break.
"A giant blow to the program"
you cant be serious right?
Posts like This are the reason the internet sucks.
Getting close to being over all of it TBH.
Osu has had a higher avg star rating than Uga every year urban has been here but 2014.
It sure doesn't seem to me that osu is "letting go" of bell.