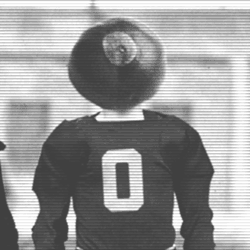 woodrow130
---
Jerseyville il (via Jerseyville)
MEMBER SINCE July 07, 2016
Favorites
SPORTS MOMENT: State softball player
COLLEGE FOOTBALL PLAYER: Tim Fox
Recent Activity
Keep Olava and Wilson healthy the rest will be fine.
I wonder who decided joe Burrow couldn't play Quarterback for Ohio state?
Looked like Fields was under throwing open receiver s i hope it was because of his knee problems.
Looks like they came out overconfident.
Sit 9 and 11 and play 17 every snap till he needs a blow
Who decided Joe Burrow couldn't play Quarterback?
He has excellent straight line speed. But i can't remember anytime he caught a good back from behind last year.
I wonder who's gone? Can only have so many coaches
PURDUE clobbered OSU, then got trashed by Auburn 63- 14. I'm concerned. About Washington. Peterson always has special plays ask Oklahoma
Not ready for NFL
I think losing Bosa took the wind out of the defense for a couple of games. They showed up against * ichigan that's all that matters.
12- 1 says all i need to know
I enjoy his work this year. Just hoping it's not his last.
I hope he has a long healthy life. Pressure can be debilitating. I remember Dick Vermeil at the Eagles. Burn out got him. The public doesn't know what real pressure he was under. Thanks coach.
I'm not sure what satisfied means. But #48 for MSU a walkon made the Oline look slow and not 5 star.
Posters are right 50 % want a win 50% watch to see a loss.
Hate the black uniforms
I think they should've started recruiting saturday night. Looking for 3&4 star kids who want to play with pride for OSU. You can have to many 5* prima donns on a team
Id ask coach of he knows the meaning of insanity, doing the same thing over and over looking for a different outcome
It started when Ward last year wouldn't play in the bowl game but was allowed on sideline. A trend that will continue.
3 and 2* plus walk on kicked the shit out of a roster full of 5* stars?
3*2* and walk on beat the shit out of "5*" recruits from all over the nation. Maybe we need some hungry 3* with attitude on OSU.
Looks like the whole team stayed home
Looks like a long rain delay. Weather forecasters where to begin.
Didn't Craig Cassidy wear # 43 ?