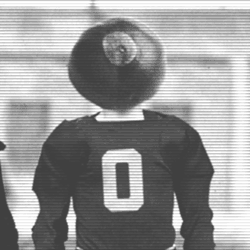 wolfy2014
Member since 15 September 2012 | Blog
Favorites
SPORTS MOMENT: Holy Buckeye, Game of the Century (the real one)
COLLEGE FOOTBALL PLAYER: Andy Katzenmoyer
COLLEGE BASKETBALL PLAYER: Jon Diebler
NFL TEAM: Cincinnati Bengals
NHL TEAM: Columbus Blue Jackets
NBA TEAM: San Antonio Spurs
MLB TEAM: Cincinnati Reds
Recent Activity
for centuries
The one bad portion of that wonderful, glorious journey
UV to offset all the downs that are coming. IMO, the route trees are a huge part of the problem as well. So many times we would see 4 wide, and they would all run 2 yard routes and stand and look at the qb. The coverage would sit on these, so there would be no open targets, even though they were doing as the play told them to.
My biggest problem with our wr's however, is once the play breaks down because Beck/Warriner couldn't call any, they didn't run to open places on the field or run to the sideline with JT to help him out. Hoping JT/OL/WRs are all much improved this season in our revamped offense
Had to log in to upvote this SP, perfect
A draft scout would know because the incident happened weeks ago and NFL teams have absurd security and investigative abilities. The draft scout isn't offering his opinion, so I don't get how you get fake news from any of it. But it is what it is.
2 teams tell me the Gareon Conley rape charge is bogus. 1 team feels disappointed in the lack of judgement to put himself in this situation.

— Charlie Campbell (@DraftCampbell) April 25, 2017
This is from one of the larger draft people out there - connected to Walter Football's site. Definitely agree with the team disappointed in his judgement, even if innocent.
You mean the time that he left the NCAA's jurisdiction so they couldn't make him talk about anything shady that happened at OSU? Sacrificing a lot in the draft and $ to do so? Never understand the Pryor vitriol from some "fans"
Easier to protect yourself as a Running QB than as a WR though was my point
Haha, and that dude definitely made the most of his touches Saturday!
He played both spots on Saturday, got a free rush off the edge on Haskins one play, I know I saw him with a practice jersey on playing DT for the Grey as well
I'd be fairly surprised if we put JT in that position to get hit in an actual game. They probably put it on tape just as a red herring for future opponents. But who knows, would be a fun play if it works!
I'm in for whatever format, altho I do prefer ESPN as well like 94 said
+1 to help counter people who can't tell sarcasm without italics. I thought it was funny
Lol, and I'll keep up voting it!
How is it unprecedented?? Way more than 32 nation wide declare early, and have for years. As long as you're a top 100 player, and you've accomplished your goals, go. Heck, plenty of people declare early and go undrafted, so if you watch the sport for the last half decade at least, it's not unprecedented in the slightest
That's because Remound Wright gets the goal line touches so he can leap over the line, seriously
So it's disloyal if one of us said it too? Because our pass blocking sure hasn't looked all season like it looked at the end of last season. I think that's pretty damn honest. And how does OSU owe Herbie everything? Dude is good at his job, regardless of where he came from.
Had to sign in just to say how much I wish I could down vote this post. I have never desired to do so before but wow. I imagine you would follow some Michigan fans lead if he had ever lost a game
Not a problem, I was confused sometimes too, because just looking at Bennett and Diesel you would have thought Bennett was the clogger, but for whatever reason that set up just didn't work well
Well Indiana was the SEC East champion...
If I recall correctly, it was Diesel playing the 1-technique (lane clogger) last year because our run defense was horrible when Bennett was playing it, so Bennett switched to the 3-technique and the run D improved somewhat. Now that Diesel is back where he belongs at the 3-technique, I think the biggest question mark by far is Schutt or someone else stepping up and being effective there. Still remember way too many yards being given up on the ground last year to EVERYONE except Melvin Gordon
Going into last season, I don't think many people would have had a major issue with that. Had a rough first portion of the season, because imo he was too set on their old offense. Towards the end of the season they modified it and Hogan and the rest of the team really took off.
1. Meyer
2. Saban
3. Dantonio
4. Patterson
5. Shaw
Personally, outside of the Michigan 4th and 1 call, I thought the best play was our run game strategy in the National Championship game against Oregon. Everything we did in the first half set them up to make their corrections at the half. Here comes Zeke, though, with the counter that had not been shown all game and Oregon simply COULD NOT stop the remainder of the game. Trophies for all.
1. Ohio State (obviously)
2. Clemson (assuming a healthy DeShaun Watson, who was excellent last season when healthy)
3. Stanford (at the end of last season, Shaw modernized the offense; Hogan looked much better and playmakers made plays. Watch Christian McCaffery this season)
4. Auburn (obligatory SEC team, don't know who will come out of the pack, only LSU leaps off the page if they can get competent qb play)
Ohio State over Auburn
Clemson over Stanford
Ohio State shows Deshaun Watson where he should have gone to school
B10 Championship: Ohio State 52, Nebraska 10 (62)