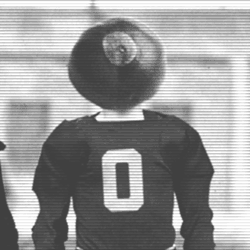 Wolfmuskie
---
MEMBER SINCE April 25, 2017
Recent Activity
I love the physicality he plays with, most exciting commitment of the week!
It's absolutely important... These kids have worked hard for this opportunity, to have it taken away is a nightmare. The NCAA needs to allow a variance to scholarship numbers for any senior athletes affected by this, it's just not right to do it any other way. I couldn't imagine my senior season of lowly D3 getting taken away, I'd have been devastated. Of course, what do I know?
Best of luck #2, onto bigger and better things!! #buckeyeforlife
I'm blaming this loss on Gus Johnson and Joel Klatt... if they're calling this game, we win. Thanks for not spending the money on an osu victory Fox
Georgia lost to a 4-6 SC team... at home. I don't care that osu got jumped, keep winning and we control our own destiny. The sh*t that kills me is the Georgia's, the no quality win Bamas, lose to 6-4 usc Utes... this is an abomination. I don't understand the logic of this committee. Im starting to hope we play two sec teams and beat their brains in, just to take them off their pedestal.
Beating a team twice in a season isn't an easy deal, no matter who you are... there's no reason to give free bulletin board material.
Not trying to be a Debbie downer, but I wish they wouldn't have done it. If we have to play them again, I hate the motivation that might create. With that said, great win and #GOBUCKS !!!
Kid plays fast, reads his keys quickly, keeps containment when assigned, and hits like a freight train. He'll be a standout special teamer first year, may see time by the big ten portion of the schedule on defense. Huge get, might be my favorite of this class to date!!!!
I'm not understanding the 3*.... I love this signing! He and Royer will both be flying around the shoe soon enough!!!
Prince was not great at setting the perimeter on pass protection in a lot of situations. I wonder if he might be better suited to play inside, similar to the transition Alex Boone made. Seemed to work quite well there, any thoughts?
Makes my heart warm... excited to see these guys light it up in the fall!
@kbonay, Campbell is definitely and up & comer... he will be a big name soon enough. I wouldn't be surprised if he's the next coach at usc (just a hunch)
He's a class act... it doesn't make me want to beat them any less. Bucks 38- kitties 17. Haskins becomes the odds on favorite for the Heisman after this week.
Was it just me or did it seem like a no huddle tempo offense would've helped them get into a groove? I think it was just a snail paced attack that hurt them Saturday. Joe looks like a grinder, has to get some better play out of his receivers... saw a few go routes where the defender dictated their path to the ball (or lackthereof)
He reminds me of a less athletic Seantrel Henderson(not a compliment). I'll be surprised if he gets offered. Not trying to be critical, but he's just a big, slow moving body that would get eaten alive at the next level. Best wishes to him though!
After the last 4 weeks, it's never felt better. I feel like a kid on Christmas Eve, can't wait for Saturday!!!
MJ moving to center is a smart move... I think MP will be great, but LT scares the sh*t out of me. Anyone else in the same boat?
Haha I'm with you. Truth be told, I wanted Burrow to win the competition... The limited tape we have on either, it seemed to me that he just had better touch on the flat and intermediate routes. I just wish him well and only want him to lose one game at the end of the season ;)
Beyond excited for this kid. Two teams to root for this season! #alwaysabuckeye #isitsaturdayyet?!
Has anyone heard when LSU is announcing the winner of the QB competition? Sorry for commenting on this article, just figured I'd check.
Ps, 5 more days! #gobucks
Haha just a buddy that knows some people is all... I don't doubt it just didn't know if that had been floated out by anyone for confirmation.
I'd upvote this but don't have the stickers yet
Meh, irrelevant... but heard that Drake wanted to fire him, the BoT wanted immediate reinstatement and he and Urbs got into it... the lack of a handshake between the two on stage after Drake put his hand out make me wonder if it's true?