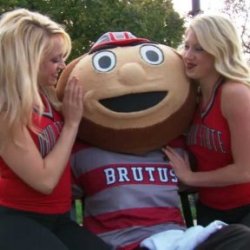 wojodta
---
MEMBER SINCE July 23, 2013
Favorites
SPORTS MOMENT: OSU beating Miami for the 2002 title.
Zeke housing it on Bama.
COLLEGE FOOTBALL PLAYER: X-Brax
Recent Activity
Clemson vs. OSU cause we still owe payback to those fuckers
Clemson's basically playing a group of 5 schedule this year, but no one in the media says a peep about it. They just played possibly the only ranked team they'll play in the regular season. What a joke. If they get upset at some point, they have no business making the playoff even if they run the table the rest of the way.
The SP+ rankings are never that useful. I'm not even sure why people waste time putting them together. It's not unusual for 3 and 4 loss teams to be ahead of 1 loss teams by season's end. I think it's largely based on stats rather than reality. Losses don't hurt teams as long as their stats stay decent.
South Florida over Wisky
Maybe he's predicting Cincy to beat tOSU and PSU to lose 2 conference games.
I just want a level playing field. It's unclear whether that's the case right now.
Dabo didn't offend him so he won't care about this
I watch as much as I can on Saturdays. By Sunday, I'm usually burnt out on football and avoid the NFL.
Not gonna lie. I still wish Urban was here. I love Day though.
Likes Coaching Terminations...just couldn't resist
I'll go with Florida. Was a tough call between them and LSU for me, but their nonconference is pretty tough and there's a bunch of 50/50 games on their conference slate. They could realistically go 7-5 or 8-4.
This one year is way too small to draw a conclusion from. If you showed me that ESPN had lower rankings across the board for the last 5 to 10 years, then yeah I'd say something shady is going on. But for one year, the numbers above don't seem that different to me.
They're a threat to win the west but that's it. I think they're a 7-8 win team.
Don't get blown out by anyone and one loss can easily be overcome. If Clemson loses a game, we would most certainly be ahead of them cause our SOS will definitely be better.
Such a tough call between 2002 & 2014. I'd say 2014 was the funner team to watch just cause they became unstoppable by season's end whereas 2002 was heart attack inducing almost every week.
Every team should be in a conference. Yes. That's just the way it is. It should be the same situation for everyone.
"Everyone should be allowed to lose one game, no matter what." Don't care if it was to an FCS team by 100.
A&M and Carolina are probably 7-8 win teams. Decent but nothing special. The ACC is so bad that is doesn't even matter. There might only be 2 ranked ACC teams by season's end. Who's the best conference team they got? Syracuse? That's pathetic.
This wouldn't have happened if Notre Dame was forced to join the ACC. ND/Clem should have been the ACC title, not a playoff game. OSU should have been in there. Everyone should be allowed to lose one game, no matter what.
The non-con isn't that strong. The schedule overall is actually quite strong. OSU's conference slate this year is probably as tough as anyone in the country. Want to talk about shitty schedules? Clemson would like to have a word.
Not only does chickenshit saturday result in a guaranteed win, but it also gives these SEC teams an extra week to get healthy. It's one less game compared to what the rest of the country has to play. It's one less game where a starter could get hurt. OSU is playing PSU / scUM back to back to finish the year, while these guys are playing high schools. It's BS.
Maybe it was one of the grounds crew? Perhaps this will remain one of life's great mysteries.
Northwestern is the biggest trap game to me. It's the traditional sandwich game between two bigger games. Also NW is a pretty solid squad and it's on the road. Perfect formula for an upset. I hear you on Nebraska, but I feel like a lot people are circling that one. So I'm not as worried about it. I also think Indiana could be an under the radar upset pick. For the most part, I feel like they always play the Bucks tough.
I think it was around '97-'98. I started following cause they are one of the best programs in the country and I always loved their unis.
I bet Clemson will be favored by at least 2 TDs in every game this year. Their schedule is an absolute joke....yet again. They're a lock for the playoff.
They're the new Tennessee.