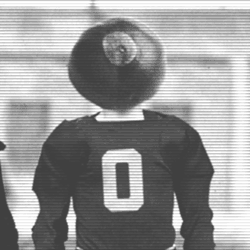 wkfan
---
MEMBER SINCE May 15, 2018
Recent Activity
Forrest Gump and Shawshank
Hope it is nothing else...no off the field issue.
This is not a new phenomenon for KWesson, or for the entire team....and my comment was not specific to KWesson.
We have had an issue with missed layups all season with multiple players. Sure, many of them are contested, but should a team of this caliber be able to finish trough the contact when that close to the rim more than than do?
I think so....
As for KWesson, how many of his misses are within 5 feet of the rim. Same comment about finishing through contact applies.
Now...if we could just make layups and finish around the rim......
Now...if we could just make layups and finish around the rim......
I would be surprised to see DJ back with the team this season.
I am not a fan of this type of PA work.....way too much like the NBA.
Like the NBA, too much 'over the top'......
I did this the last time Ohio State played Northwestern in Evanston.
Actually made a profit from selling the rest of the tickets, after taking the single game ticket prices for the OSU game into account.
BTW, I still get emails, etc from Northwestern addressed to 'Season Ticket Holder'!
Can't for the life of my figure out:
1. Why not much of EJ Liddell last night? 5 minutes?
2. Why is Kaleb Wesson so soft and lazy when you are 6'9" and 250# and want to play in the NBA? 1 for 10 in 32 minutes?
As much as I would love to see him in Scarlet & Gray next season....he would be craaaaazy to stay.
Geaux Joe Burreaux!
Geaux Tigers!
No, they SEC officiating crew did not want the best team in the other semi-final to face the SEC team in the Championship game.
SEC officiating crew had a vested interest in who won this game. Their choice was for LSU to play Clemson, so they made that happen.
If these were to be the permanent jerseys....then they would not be the 'throwback' jerseys.....
Now, would they?
Still do not understand the lack of Brendon White......DNP against PSU, 3 snaps against UM and DNP against Eisc (yes, I know he wasn't in Indy).
No. You cannot get a degree in Exploration...you can in General Studies.
The Bachelor in General Studies (B.G.S.) is a highly interdisciplinary degree that allows students to combine and explore multiple subjects. Students who choose to pursue a B.G.S. (link: https://lsa.umich.edu/advising/understand-degree-options/bgs.html ).
Exploration is pretty much not having declared a major yet.
I would not rank JT ahead of UFM.
RIP, Bump.
You did the best thing that a person can do...raised a great family!
Good for him....Good for us!
Here is more detail on Reason #2 on the MGoBlog site:
(2) Ignore academics
We work just as hard at chasing 4-5 star recruits, but OSU and most other elite programs are also willing to do things that we do not, like:
(a) Taking JUCOs
(b) Bringing in players who are not academically prepared for college and letting them skip class or take online classes.
(c) Aggresively pursuing non-grad transfers and challenging the NCAA to deny them immediate ineligiblity
(d) Keeping the kind of players that Michigan has dismissed for academic or behavior reasons (Brian Cole, Kareem Walker, etc.)
I'm not talking about paying players or cheating (we'll get to that), but OSU gets the best football players it can get period - not the best players who also happen to be good students.
Michigan's academic reputation is an advantage with some recruits, but the lack of flexibility definitely hurts us.
I'll just leave this here for your reading pleasure......
Hoping that the kid feels better.........on Sunday.
Give Pursuit a try in the Short North.
Semi custom made suits that are good quality and a good price (mine was $290 out the door including alterations). Great people at the store to work with you.
Bought one for my son's wedding as did the wedding party. Enjoyed the experience!
Also, I do have a suit from Jos A Bank.....good suit that fits and looks good, but the quality of the fabric is not what the Pursuit suit is.
Knock knock
Who's there?
Banana.
Banana, who?
Knock knock
Who's there?
Banana.
Banana, who?
Knock knock
Who's there?
Orange.
Orange, who?
Orange you glad I didn't say Banana??
There are no rules like 'burden of proof' in the Kangaroo Kourt that is the NCAA compliance arm.......
They can...and do....whatever they feel at the time.