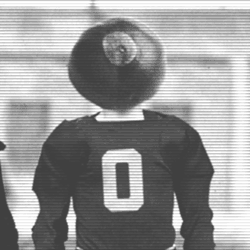 Wjubuckeye
---
MEMBER SINCE August 03, 2018
Recent Activity
https://www.mindpumpmedia.com/
Give these guys a listen
Jason Isbell is an impressive songwriter...good choice
I suggest they take a speed dating approach to their next hire at local bars
Spot on Zonabuck. That's why this loss will haunt me for the remainder of my days
We can point out missed calls or bad calls by the officials all day long but the truth is that is part of the game. We were clearly the better team and that is what is so heartbreaking. We had every opportunity to win the game regardless of the questionable calls but we did not execute. This loss hurts worse than any loss I can remember outside of maybe the National Championship game against Florida. One of the things I took from this game was Coach Day was absolutely out coaching one of the best DC's out there and we have a lot to be happy about in having him for a Coach but this was the first time this year I felt we didn't make noticeable halftime adjustments and got out coached in the second half
Way more nervous this year. This is TTUN's championship game, they will be sitting on their butts watching us in Indy. We are riding high and have only been truly tested by ourselves (PSU would have been a blowout if we didn't turn the ball over). I don't care how well we've played, this is where we show the world who we are and what a Ryan Day coached team is made of. TTUN is a quality ball club with plenty to prove especially with that beat down they received last year.
Good post....we all seen how Florida handled it when Urban retired the first time. I honestly thought the team seemed more stable while Coach Day was filling in for Urban at the beginning of the season and I think it's obvious now that Urban realizes Coach Day is ready to take the next step. I also feel like it will be announced at some point that Urban will be taking a new position at OSU maybe assistant AD?
Booker has even looked good at linebacker in extremely limited action this year and he's a senior.
Something just isn't right in Columbus, OH this year. We recruit at a top ten level year in and year out and we are suppose to have top notch coaches but what we are seeing just doesn't make sense.
I graduated from Beallsville High in 2005
Lenore, West Virginia.....Beallsville, Ohio originally