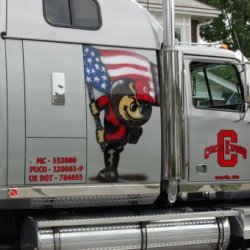 wjpalumbo
---
Member since 06 May 2012 | Blog
Favorites
COLLEGE FOOTBALL PLAYER: Ryan Shazier
COLLEGE BASKETBALL PLAYER: Aaron Craft
NFL TEAM: Bengals
NHL TEAM: Blue Jackets
MLB TEAM: Cincinnati Reds
Recent Activity
To be fair, Wallace wanted to move to wide receiver so not really a QB.
I'm thinking there is a booster who did the ultimate "take one for the team" and sent his wife after Kiffin ala Suzanne Dorn/Rick Vaughn in order to get him out of town.
Not shure, how the humer was mised: in this post
First of all I don't condemn anyone for the mistakes they make because college students make them every day. However, these players have a larger responsibility than the average student. Their mistakes let down their team and their coaches by breaking rules they knew were in place. If you or I make the same mistake in college we let down no one but ourselves. Big difference. If God forbid these suspensions cost the team in Blacksburg they will regret it for the rest of their lives. I for one hope they serve the penalty,learn a lesson, work their tails off to get back in the good graces of the coaches and teammates, and have a great season.
One additional item. These are adults, not kids. They had 18-20 years of growing up with parents and teachers showing them right from wrong so I don't hold them to the "just kids" standard. They are held to an adult standard everywhere is society and are solely responsible for the decisions they make. I'm not saying they're not going to make mistakes just that they are old enough to know better.
I think it is time to think logically about the situation surrounding Luke Fickell and the defense. Urban Meyer kept Fickell on staff as defensive coordinator when he was hired as the only holdover from the Tressel era. When the defense struggled, it was primarily the back four that couldn't cover anyone and were especially bad attempting to cover the bubble screen. Second, the person in charge of defensive backs "left" for a lower division and a job that paid roughly half of what he was making. Lastly, why would a coach as accomplished as Meyer leave a coach who under performed on his staff when he could hire pretty much anyone he wanted? Coach Meyer obviously thinks Fickell is a quality coach or he wouldn't have a job at tOSU.
I saw in a tweet from Bill Rabiniwitz that Grant ran 4.6 -4.7, Heuerman ran a 4.7, and Spencer a 4.4.
How about tOSU v Washington 1993? http://youtu.be/Yt5jwxwSuWE
I wasn't there but friends say it was the loudest game they had ever been to.
I think the big difference that the article fails to point out is that many of the medical disqualifications at tOSU are guys who actually played significant minutes as opposed to Bama players who never saw the field or were gray shirted. Meyer's first year also saw guys kicked off the team (weeded out) for disciplinary/academic/ legal reasons as well.
On a side note, I find it hilarious that the article addresses over signing in the real world of college football and the comments are all about how they recruit in the NCAA 14 video game. It's not the same as real life fellas. Just sayin.
I'm ADD enough as it is but then I had to go back to The Lantern story and figure out who said what about which quarterback! Not cool at 6 am DJ. Not cool at all.
The next time ESPN shoots a playoff commercial, I officially nominate Jacob Jarvis to take the place of Buck-I-Guy.
Couldn't agree more!
I'm past the cute daughter stage though she still calls me daddy sometimes. She now, along with all the other freshman girls, twerks at the school dances in a dress I think is too tight and short. And yes, I am locked and loaded!
Oregon didn't play Stanford football last night. I think all the mental reps Miller took in the Spring are carrying over into every day life. This to me shows great focus.
While I want tOSU to win every game and get upset when they don't, I realize that I live in this thing called the real world. I find it humorous that fans want to fire a coach because a bunch of first year starters fail to execute a game plan put in by coaches who last year everyone thought were the greatest ever. I don't think the coaches called a good game but I'm not going to say they need fired. I'm going to wait for Ross Fulton's breakdown later in the week and listen to what an expert has to say about the game. And for all those people who keep bringing up the 4th down play in last years B1G championship game, get over it. If it worked you would all be saying what a great call it was.
To add to the irony, a golf fan could text BRUTUS to report a violation of the policy he/she saw on television!
I would like to meet the people who thought this was a good Idea. First of all it is a football game. If you don't want to deal with fans being loud and standing up during a game stay at home or go watch tennis and golf. Secondly, I wonder how many people/students (I have to admit I have thought of the implications of doing it myself) are going to text about an "unruly fan" from the comfort of their couch as a joke.
I will post later when my mind is working better. By the way, having knee surgery the opening week of college football > calling in sick for the opening two days of the NCAA BBall tourney!
Either Dottie Sandusky is the stupidest person in the world or the most narcissistic. How can you live with a man for 37 years and not know or have some hint that your husband is a complete monster! My only other explanation is that she is so worried about her "reputation" and appearance so the woman keeps up the charade to keep herself from realizing what a dope she has been. One think that hasn't been in the forefront of the story from the beginning is the thought that Dottie may have known all along what was going on and did nothing to help those kids! This makes her just as bad as her horrifically evil husband!
As a parent, I always wonder when I hear a student athlete say they have no money to buy food or clothes what happened to the people or person who raised them? The athletes parents were obviously able to clothe and provide for them for 17 to 18 years of their life including all of the athletic gear and money for camps etc. Now that their son is in college and not eating at home you would think the parents could send some money for extras since all of the every day expenses it takes to raise a child are now being paid by the university. I am not naive enough to believe that all parents have extra money to send their son so maybe a stipend can be based on the need of the student athlete taken from financial aid forms.
I would guess our assistant coaches are not paid as well as the the schools you mentioned. These coaches have an ability to stay at the school they are at and wait for a quality head coaching job at a school that has a chance to compete on the national stage to open up instead of jumping at a job like Kent State, Cincinnati, Purdue, etc.
Vrabel..."You have learned much young padewan".
JM..."The circle is now complete. When I left you, I was but the learner. Now I am the master".
Have to agree with you on the entertainment value of watching this team develop into something special. They are scrappy on the defensive end and work as hard as anyone in college basketball. As frustrating as this team has been on offense at times (they remind me of how I felt watching the Football Buckeyes on offense under Coach Tressel) I have seen a lot of improvement in team chemistry, aggressiveness, and confidence in the last few games. They are not to the point where I can consider them a legitimate final four team yet but if they continue to improve at the rate they are now I could see them as a contender by tourney time.
I should have a proof reader look at my posts before I hit save. I meant to wright OSU there. Oops!
Two things Craft has that can't be replaced are his leadership and defensive presence. Scott is a great number 2 option but there is no way he can replace Craft in the starting line up. Basketball is a game of momentum changes and the second half is where the game is won or lost. Purdue was playing in front of the loudest crowd I have heard all season (even louder than Duke or it seemed that way on tv) and Craft consistently made big shots and distributions in the second half to end potential runs by the home team.
One other thing that was clear in Tuesday's game was the team's ball movement and agressiveness on the offensive end. They were able to pass the ball around to get open looks and shoot in rythm instead of the stagnet, hesitating, shot launching offense we have seen recently. Craft has a direct impact on flow of the offense. Stats don't give the complete picture of what Craft provides for this team.
Two big issues I see. The guards have no motion or rythm to their offensive game. The either throw up a three or drive into the defense to take a more difficult shot. The only way OSU will start to score is if they get into an area that doesn't have to be behind the arc and shoot a 15 footer in rythm. Second, there is no post presence at all. The only legitimate threat down low is Thomas when he posts up. The big men have been reduced to high screen setters and have no chance to clean up the boards because 1-4 stay on the perimeter. Their best offense came late in the second half when Thomas played on the block.
I agree with everything you said except the importance of confidence. The more this team gets in rythm and starts knocking down shots, the better they will be able to handle the tough situations. Burying Chicago St isn't the important thing here but the ability to get more players involved and in sync will pay dividends in the future.