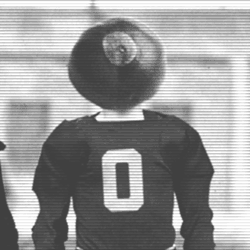 WiliestBuckeye
---
Columbus, Ohio (via Columbus, Ohio)
MEMBER SINCE May 18, 2012
Favorites
SPORTS MOMENT: 2002-2003 NCG Ohio State vs. Miami. We threw a party that evening and the whole house shook on multiple occasions from all the cheering.
COLLEGE FOOTBALL PLAYER: Braxton Miller
COLLEGE BASKETBALL PLAYER: Aaron Craft
NFL TEAM: Cleveland Browns
NBA TEAM: Cleveland Cavaliers
MLB TEAM: Cleveland Indians
Recent Activity
1. LSU
2. OSU
3. Minn
4. Clemson
Forget about last week, with the win over #4 PSU Minn is not only undefeated, but has a better schedule than Clemson. No reason they shouldn't be top 4
Buck68 has always been like that, I used to play an online strategy game that I'm pretty sure he played as well, under a different alias. You always have to think about his posts for a minute, but they all make sense in the end. If you spend the time to decipher his meaning, its usually worth it as well, very thoughtful poster.
Although not everyone has an arachnoid cyst, we do possess arachnoid fluid within the skull. Who knows, you just might have little spiders crawling around in there somewhere!
If you are a terrible team embarking on a multi-year rebuild, then the best choice is to take Nick Bosa.
1. He is the better player, just look at what his brother his doing in San Diego.
2. You will still suck next year and get to draft a QB (probably Tua) then
You want your team to be ready to help your rookie QB not get destroyed, drafting the QB first is a dumb move in situations like this one.
Ever since its inception the downvote has been misused. I don't think the downvote will ever be used appropriately either lol. Its unfortunate as it makes discussions with differing viewpoints more difficult to have.
The Browns definitely had some bad calls not go their way this game. The defensive back 7 needs to start tackling better so future games are not that close.
If you knew you had the skill to adeptly avoid the razor blades and pull out the money, then not only is it a good idea, it's a career.
Great win! If your a coach, that's the exact type of game you wanted when you scheduled TCU. A tough game that we pull through, with tons of coachable material to choose from. A blessing we played TCU 2 weeks before Penn St. Lets come out focused vs Tulane and try to improve even more next week!
A lot of people point to the McMurphy story as proof that ESPN hates OSU, but what if the truth is the exact opposite? McMurphy gets fired from ESPN, then concots a "revenge" story centered around Urban Meyer/OSU. He gets all of the SJW around the nation riled up, which forces ESPN to hop aboard the national narrative. As the truth slowly surfaces, it seems more and more like Urban Meyer did not cover up domestic violence, but the narrative is so far off the rails by that point there is no going back. Now ESPN is forced to further alienate one of the top brands in the country to save face while McMurphy laughs his ass off at his new gig.
These guys say the same thing I have believed to be true for a while now, namely that spread-to-run systems that rely on getting (and winning) 1v1 matchups in space to win on offense do not work against teams of equal or greater talent. The system is fantastic vs teams you outclass, however, which is probably why it's still popular. I just hope moving forward that the head coach of tOSU football, from Urban Meyer and beyond, will use offensive systems that actually work on a schematic level against teams of equal or greater talent. Tressel was guilty of this as well, and I feel this fact has cost OSU a few national championships over the course of this young century. Let's hope the Haskins era is the start of a new strategic paradigm for our buckeyes.
I like anime. I think the fact that it all starts out in japanese limits the audience though, since the english versions are usually much worse. I'm guessing less than 1% of the commentariat on this site are interested in anime, which is why no discussions are sparked. If you want to spark a discussion, you would probably have to educate people/get them interested in it first.
Michigan has the most wins of any college football program in existence. They were beyond dominate in the youngest days of the sport and even as recently as the 90s dominated the best rivalry in sports. This most recent period, from the early 00s to the present day, is possibly the darkest stretch their program has ever endured, while our Buckeyes are in the midst of a golden age. As our rival's recent fate and this past month of August as shown us, this golden age won't last forever. Even giants fall. Make sure to see things as they are and enjoy the good times while they last. Go Bucks.
There needs to be an 11W bumper sticker.
Not only AI, but don't sleep on VR when it comes to education either. Why attend online lectures governed by AI, when you could build a more hands on, experiential curriculum in digital space?
Last 3 Big Ten teams to get to 12-0 in league suffered first (and only) losses vs. Ohio State. Purdue tonight, Illinois in 2005, Indiana in 1993. Amazing stat.

— Jeff Svoboda (@JeffSvoboda) February 8, 2018
Ok, so are the olympics and world championships in a different class of prestige compared to the Yarygin? What's the hierarchy of top level Wrestling Tournaments?
Tier 1: Olympics, World Championships
Tier 2: Yarygin, ?
Tier 3: NCAA Championships?, ??
Something like this then?
Many people think the people who do the best on tests like these study flash cards/take good notes/work on weakness/etc/.
Studies show that people who actually do the best are the ones who practice taking the tests the most. Same thing for regular classes as well.
Studying should therefore look like: Take a practice test, grade yourself, figure out the right answer to all the questions you missed and a strategy for getting them right the next time, Repeat the cycle as many times as you can.
1. IQ is overrated
2. Its much smarter to overpay your surgeons than underpay them.
From my understanding, the numbers are calculated as if relative income = IQ. Therefore, the level of distortion that appears in the rankings is supposed to correlate to how overpaid/underpaid a particular class of jobs are.
In other words, Surgeons obviously do not have an average IQ that high, how far off the mark that number is to reality is supposed to signify how overpaid they are on the whole.
Im not a big wrestling buff, so maybe I am missing something, but why are the Yargvin titles not included in that list? Is it not "the toughest international wrestling tournament"? When talking about notches in your belt as a wrestler, does that not at least put it on par with the World Championships and Olympics? Wouldn't that mean that Snyder has 5 world level titles as well as B&B, being the only one to win the toughest tournament of all twice?
I would recommend Mt. Gox personally.
OSU is up to #11 in the KenPom rankings now. Top 15 seems reasonable come Monday.