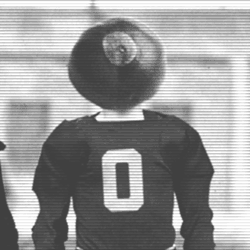 Wildragei
---
MEMBER SINCE August 15, 2017
Recent Activity
Now that brought back a very pleasant memory!
Or announce he is committed to OSU
I agree completely, I just hope in the coming years we finally get the back story on the war between him and Greg which translated into the worst defense in OSU history. Seems pretty hard to believe that suddenly Greg become a horrid DC that cant coach, scheme, or develop players.
Someday we will get the story of the war that was occurring between Greg and Grinch. They obviously did not mesh and the scheme showed it by players being out of position and confused to what was coming.
You are not alone, OSU fans can't believe in the possibility of Xichigan ever dominating either!
It is not surprising at all, it sells clicks and give the talking heads something to fill airtime with.
They are for bribing the press to vote for him as COY. Clearly this is the new tactic that Gene is trying out.
True, there are asshats on here that think Fields should be handed the heisman after one meaningless spring practice.
LOL Fields looked like the inexperienced QB that he is all day. A couple "thuds" rather than putting him on the turf made his running look way better than it is at this point in his development.
What do they say, even a blind squirrel.........
I wonder if you are not onto something with your comment of OSU having a culture to help young men grow into successful grown men.
You made your own point, he had zeeeeeeeeeeeeeeeeeeeeeeeeeeeeeeeeeero input.
The most important thing you identified is the additional wear on the 1st team.
After seeing the hurry up offense during the TCU game I really hope he drives it like a corvette.
I was thinking the same thing about LJ, as a proven rainmaker coaching, recruiting, and developing young men, TOSU would do well to let him do whatever he wants in the program and pay him very well. That being said, if he wanted to be the DC you would assume he would be a DC already.
Oh the window opened alright and in flew a shitstorm the likes ttun has never seen!
Excellent points. The challenge I see is now working for what used to be your coworker and the challenges that often brings.
At the end of the day I suspect that is what makes him so incredibly successful is that he really cares about the young men entrusted to his care. That and he is a defensive genius.
Don't forget that Davis is the best friend of the HC so you can't just put him a corner and work around him. I think as a group we are coming to a collective understanding that Davis was someone that was stuck as an important people in the defense coaching system and does not know how to teach. That made many others who played behind them look bad by trying to over compensate. Perhaps Schiano was dealt a hand that was impossible to play successfully.
Is it possible to think for just a moment that it is possible that TTUN would be much worse off if their savior did not appear. I seem to recall we were discussing a realistic 3 win season for them earlier this year. My point is perhaps creepy Jim is not as bad as we make him out to be and that may be enough to keep him there for many years to come.
As an ace recruiter don't forget he kicked a 4 star DE allegedly to make room for Harrison a month ago only to get trolled by his commitment to the good guys last week.