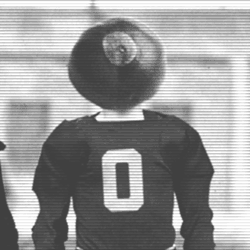 Wildragei
---
MEMBER SINCE August 15, 2017
Recent Activity
Every time I see that blocked FG I get the biggest sh*t eating grin..........
In order to make sure players are safe they we need to cancel football forever. For that matter cancel all activities since life involves risk.
There are several million reasons that keep showing up at the bank every year.
The SEC officiating crew was the reason Vegas put OSU as 2 point underdogs on the opening line. They knew the fix was in and now everyone else does too.
I have just finish my professional analysis of the PSU game and can affirm that we dominated them in all aspects of the game except the ballboy.......
Bo Pelini, you heard it here first.
But, but, but it was a good loss to a quality SEC team so it is as good as a win in any other conference.
Now that brought back a very pleasant memory!
Or announce he is committed to OSU
I agree completely, I just hope in the coming years we finally get the back story on the war between him and Greg which translated into the worst defense in OSU history. Seems pretty hard to believe that suddenly Greg become a horrid DC that cant coach, scheme, or develop players.
Someday we will get the story of the war that was occurring between Greg and Grinch. They obviously did not mesh and the scheme showed it by players being out of position and confused to what was coming.
You are not alone, OSU fans can't believe in the possibility of Xichigan ever dominating either!
It is not surprising at all, it sells clicks and give the talking heads something to fill airtime with.
They are for bribing the press to vote for him as COY. Clearly this is the new tactic that Gene is trying out.
True, there are asshats on here that think Fields should be handed the heisman after one meaningless spring practice.
LOL Fields looked like the inexperienced QB that he is all day. A couple "thuds" rather than putting him on the turf made his running look way better than it is at this point in his development.
What do they say, even a blind squirrel.........
I wonder if you are not onto something with your comment of OSU having a culture to help young men grow into successful grown men.
You made your own point, he had zeeeeeeeeeeeeeeeeeeeeeeeeeeeeeeeeeero input.